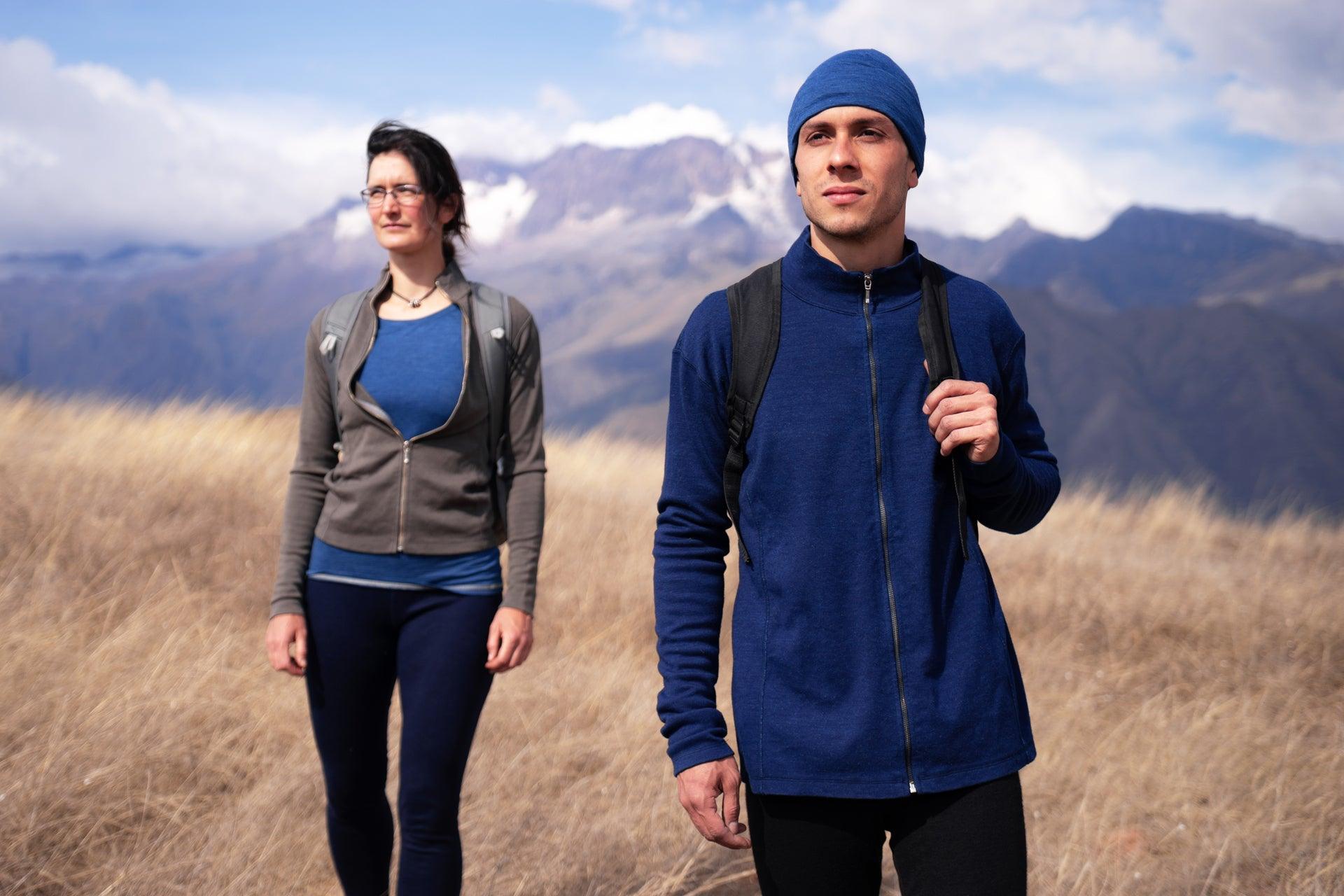 Published Oct 01, 2019 | Updated August 10, 2020
WHY ALPACA WOOL MAKES THE BEST SWEATERS
It's quite possible you've seen an alpaca wool sweater before, but maybe you've never thought of them as a good part of your outdoor gear or travel wardrobe. Here are four reasons why alpaca wool makes the best sweater for the outdoors (in our opinion):
1) ALPACA WOOL CLOTHING IS SUPER COZY
With its extra fine fibers and unique structure, alpaca wool traps air in the knit of the sweater and within the fibers themselves, making it the perfect insulating layer. Alpaca makes the best wool sweaters for fall and winter because:
No other natural wool fiber can beat the softness of royal alpaca wool.

The semi-hollow fibers keep you feeling warm while being highly breathable.

Alpaca wool wicks sweat away from your body to help keep you warm and dry.
2) FUNCTIONAL FIT FOR OUTDOOR SPORT & TRAVEL
Our men's alpaca wool sweater and women's equivalents are designed with travel and outdoor sports in mind, so you can stay warm whatever you're doing.
Designed to fit snugly to your body shape, our base and mid layers move with you as you climb, ski or hike.

The longer length and elongated back panel ensure extended coverage, so you won't feel exposed when reaching up or bending over.

The sleeves are extra-long and thumb holes help keep them in place to form a cozy seal, as well as making layering easier.
3) SUSTAINABLE WOOL FROM THE MOST ECO-FRIENDLY ANIMAL
Peruvian alpacas are raised in the Andes mountains, their natural habitat, so they have developed adaptations which allow them to live in synergy with the environment.

When grazing, alpacas cut the grass with their teeth instead of yanking it from the root, promoting regrowth.

Alpacas have soft, padded feet, so they don't damage the ground or contribute to erosion.

To prevent contamination of food and water sources, alpaca flocks defecate in common dung piles and their poop is used by farmers as fertilizer and biomass fuel!
Even after the fiber is collected, alpaca wool clothing is an eco-friendly option because:

Processes for washing the wool and producing the fabric involve fewer harmful chemicals than other fabrics.

Arms of Andes alpaca outdoor clothing is single sourced in Peru, reducing the overall carbon footprint of production.

You won't need to wash your alpaca sweater much, helping you to reduce water use, because alpaca wool is naturally antibacterial and odor resistant.

Alpaca wool is biodegradable, so won't damage the environment when you eventually throw it away.
To learn more about the sustainability of alpaca wool, see our sustainability page.
4) LIGHTWEIGHT BACKPACKERS AND TRAVELERS LOVE ALPACA
For backpackers and travelers who travel with just a backpack or carry on luggage, space and weight are important considerations when packing. Lightweight items that can be worn on multiple occasions and don't take up much space, are key. Our alpaca sweaters women's collection, like the men's collection, satisfies those requirements by being:
Wrinkle-resistant:

Roll your sweater into a pillow for a long flight, then shake it out when you arrive, for that fresh, wrinkle free look!

Odor-free:

the antibacterial properties of alpaca wool mean it won't stink even after prolonged use or sweating heavily, so you wear it for longer meaning you can pack less.
Lightweight: Alpaca fibers are medullated – which means they have a less dense oval tube in the center – so are much lighter than other wools.
Learn more about the propertoesof alpaca wool on our alpaca wool performance page.
So why choose Arms of Andes alpaca wool sweaters?
1) OUR MANY DIFFERENT STYLES
Arms of Andes has 4 different styles of alpaca sweater in two different fabric weights (or thickness), so we've got you covered for all activities and weather conditions.

Cold climates, snow sports and mountaineering
If you're going somewhere really cold or are participating in winter sports, pairing our alpaca wool base layer with our alpaca wool mid layer will help keep your warmth inside. Having both items in your luggage will give you more versatility: you may be fine with just a base layer under your outer shell when you're being very active, but you'll want to layer on the mid layer while sitting on the chairlift or taking in the scenery; and the stylish mid layers work great over a shirt for après-ski activities.
Travel and outdoor sports
If you're going somewhere with milder climates for hiking, climbing, cycling, trail running, fishing, hunting, or exploring the sites, our alpaca wool base layer should be enough on its own. It's also great to have in your bag in case you get chilly on the plane or during a long bus ride.
If you aren't sure about which alpaca wool sweater is best for you, message us and we will answer any questions you have!

2) WORLDWIDE SHIPPING
Arms of Andes is almost everywhere! We are located in the USA, EU, and Peru and if you need an alpaca wool sweater right away, we can ship anywhere! Feel free to mention how soon you need your alpaca wool clothes and we will sort something out for you.