Skip to product information
Fabric: 100% Royal Alpaca Wool
Fabric Dye: Low Impact Dyes (GOTS)
Fabric Finishing: Silicone (OEKO-TEX)
Thread Dye: Reactive Dye
Label: 100% Organic Cotton
Label Ink: Synthetic (GOTS)

Materials

Fabric: 100% Royal Alpaca Wool
Fabric Dye: Natural Plant-Based
Fabric Finishing: Silicone (OEKO-TEX)
Thread Dye: Natural
Label: 100% Royal Alpaca Wool
Label Ink: Synthetic (GOTS)

Materials

Fabric: 100% Royal Alpaca Wool
Fabric Dye: Low Impact Dyes (GOTS)
Fabric Finishing: Silicone (OEKO-TEX)
Thread Dye: Reactive Dye
Label: 100% Organic Cotton
Label Ink: Synthetic (GOTS)

Materials

Fabric: 100% Royal Alpaca Wool
Fabric Dye: Natural Plant-Based
Fabric Finishing: Silicone (OEKO-TEX)
Thread Dye: Natural
Label: 100% Royal Alpaca Wool
Label Ink: Synthetic (GOTS)

Materials

Fabric: 100% Royal Alpaca Wool
Fabric Dye: Low Impact Dyes (GOTS)
Fabric Finishing: Silicone (OEKO-TEX)
Thread Dye: Reactive Dye
Label: 100% Organic Cotton
Label Ink: Synthetic (GOTS)

Materials

Fabric: 100% Royal Alpaca Wool
Fabric Dye: Natural Plant-Based
Fabric Finishing: Silicone (OEKO-TEX)
Thread Dye: Natural
Label: 100% Royal Alpaca Wool
Label Ink: Synthetic (GOTS)

Materials

Fabric: 100% Royal Alpaca Wool
Fabric Dye: Low Impact Dyes (GOTS)
Fabric Finishing: Silicone (OEKO-TEX)
Thread Dye: Reactive Dye
Label: 100% Organic Cotton
Label Ink: Synthetic (GOTS)

Materials

Fabric: 100% Royal Alpaca Wool
Fabric Dye: Natural Plant-Based
Fabric Finishing: Silicone (OEKO-TEX)
Thread Dye: Natural
Label: 100% Royal Alpaca Wool
Label Ink: Synthetic (GOTS)

Materials

Fabric: 100% Royal Alpaca Wool
Fabric Dye: Low Impact Dyes (GOTS)
Fabric Finishing: Silicone (OEKO-TEX)
Thread Dye: Reactive Dye
Label: 100% Organic Cotton
Label Ink: Synthetic (GOTS)

Materials

Fabric: 100% Royal Alpaca Wool
Fabric Dye: Natural Plant-Based
Fabric Finishing: Silicone (OEKO-TEX)
Thread Dye: Natural
Label: 100% Royal Alpaca Wool
Label Ink: Synthetic (GOTS)

Materials

Fabric: 100% Royal Alpaca Wool
Fabric Dye: Low Impact Dyes (GOTS)
Fabric Finishing: Silicone (OEKO-TEX)
Thread Dye: Reactive Dye
Label: 100% Organic Cotton
Label Ink: Synthetic (GOTS)

Materials

Fabric: 100% Royal Alpaca Wool
Fabric Dye: Natural Plant-Based
Fabric Finishing: Silicone (OEKO-TEX)
Thread Dye: Natural
Label: 100% Royal Alpaca Wool
Label Ink: Synthetic (GOTS)

Materials

Fabric: 100% Royal Alpaca Wool
Fabric Dye: Low Impact Dyes (GOTS)
Fabric Finishing: Silicone (OEKO-TEX)
Thread Dye: Reactive Dye
Label: 100% Organic Cotton
Label Ink: Synthetic (GOTS)

Materials

Fabric: 100% Royal Alpaca Wool
Fabric Dye: Natural Plant-Based
Fabric Finishing: Silicone (OEKO-TEX)
Thread Dye: Natural
Label: 100% Royal Alpaca Wool
Label Ink: Synthetic (GOTS)

Materials

Fabric: 100% Royal Alpaca Wool
Fabric Dye: Low Impact Dyes (GOTS)
Fabric Finishing: Silicone (OEKO-TEX)
Thread Dye: Reactive Dye
Label: 100% Organic Cotton
Label Ink: Synthetic (GOTS)

Materials

Fabric: 100% Royal Alpaca Wool
Fabric Dye: Natural Plant-Based
Fabric Finishing: Silicone (OEKO-TEX)
Thread Dye: Natural
Label: 100% Royal Alpaca Wool
Label Ink: Synthetic (GOTS)

Materials

Fabric: 100% Royal Alpaca Wool
Fabric Dye: Low Impact Dyes (GOTS)
Fabric Finishing: Silicone (OEKO-TEX)
Thread Dye: Reactive Dye
Label: 100% Organic Cotton
Label Ink: Synthetic (GOTS)

Materials

Fabric: 100% Royal Alpaca Wool
Fabric Dye: Natural Plant-Based
Fabric Finishing: Silicone (OEKO-TEX)
Thread Dye: Natural
Label: 100% Royal Alpaca Wool
Label Ink: Synthetic (GOTS)

Materials

Fabric: 100% Royal Alpaca Wool
Fabric Dye: Low Impact Dyes (GOTS)
Fabric Finishing: Silicone (OEKO-TEX)
Thread Dye: Reactive Dye
Label: 100% Organic Cotton
Label Ink: Synthetic (GOTS)

Materials

Fabric: 100% Royal Alpaca Wool
Fabric Dye: Natural Plant-Based
Fabric Finishing: Silicone (OEKO-TEX)
Thread Dye: Natural
Label: 100% Royal Alpaca Wool
Label Ink: Synthetic (GOTS)

Materials

Fabric: 100% Royal Alpaca Wool
Fabric Dye: Low Impact Dyes (GOTS)
Fabric Finishing: Silicone (OEKO-TEX)
Thread Dye: Reactive Dye
Label: 100% Organic Cotton
Label Ink: Synthetic (GOTS)

Materials

Fabric: 100% Royal Alpaca Wool
Fabric Dye: Natural Plant-Based
Fabric Finishing: Silicone (OEKO-TEX)
Thread Dye: Natural
Label: 100% Royal Alpaca Wool
Label Ink: Synthetic (GOTS)

Materials

Fabric: 100% Royal Alpaca Wool
Fabric Dye: Low Impact Dyes (GOTS)
Fabric Finishing: Silicone (OEKO-TEX)
Thread Dye: Reactive Dye
Label: 100% Organic Cotton
Label Ink: Synthetic (GOTS)

Materials

Fabric: 100% Royal Alpaca Wool
Fabric Dye: Natural Plant-Based
Fabric Finishing: Silicone (OEKO-TEX)
Thread Dye: Natural
Label: 100% Royal Alpaca Wool
Label Ink: Synthetic (GOTS)

Materials

Fabric: 100% Royal Alpaca Wool
Fabric Dye: Low Impact Dyes (GOTS)
Fabric Finishing: Silicone (OEKO-TEX)
Thread Dye: Reactive Dye
Label: 100% Organic Cotton
Label Ink: Synthetic (GOTS)

Materials

Fabric: 100% Royal Alpaca Wool
Fabric Dye: Natural Plant-Based
Fabric Finishing: Silicone (OEKO-TEX)
Thread Dye: Natural
Label: 100% Royal Alpaca Wool
Label Ink: Synthetic (GOTS)

Materials

Fabric: 100% Royal Alpaca Wool
Fabric Dye: Low Impact Dyes (GOTS)
Fabric Finishing: Silicone (OEKO-TEX)
Thread Dye: Reactive Dye
Label: 100% Organic Cotton
Label Ink: Synthetic (GOTS)

Materials

Fabric: 100% Royal Alpaca Wool
Fabric Dye: Natural Plant-Based
Fabric Finishing: Silicone (OEKO-TEX)
Thread Dye: Natural
Label: 100% Royal Alpaca Wool
Label Ink: Synthetic (GOTS)

Materials

Fabric: 100% Royal Alpaca Wool
Fabric Dye: Low Impact Dyes (GOTS)
Fabric Finishing: Silicone (OEKO-TEX)
Thread Dye: Reactive Dye
Label: 100% Organic Cotton
Label Ink: Synthetic (GOTS)

Materials

Fabric: 100% Royal Alpaca Wool
Fabric Dye: Natural Plant-Based
Fabric Finishing: Silicone (OEKO-TEX)
Thread Dye: Natural
Label: 100% Royal Alpaca Wool
Label Ink: Synthetic (GOTS)

Materials

Fabric: 100% Royal Alpaca Wool
Fabric Dye: Low Impact Dyes (GOTS)
Fabric Finishing: Silicone (OEKO-TEX)
Thread Dye: Reactive Dye
Label: 100% Organic Cotton
Label Ink: Synthetic (GOTS)

Materials

Fabric: 100% Royal Alpaca Wool
Fabric Dye: Natural Plant-Based
Fabric Finishing: Silicone (OEKO-TEX)
Thread Dye: Natural
Label: 100% Royal Alpaca Wool
Label Ink: Synthetic (GOTS)

Materials

Fabric: 100% Royal Alpaca Wool
Fabric Dye: Low Impact Dyes (GOTS)
Fabric Finishing: Silicone (OEKO-TEX)
Thread Dye: Reactive Dye
Label: 100% Organic Cotton
Label Ink: Synthetic (GOTS)

Materials

Fabric: 100% Royal Alpaca Wool
Fabric Dye: Natural Plant-Based
Fabric Finishing: Silicone (OEKO-TEX)
Thread Dye: Natural
Label: 100% Royal Alpaca Wool
Label Ink: Synthetic (GOTS)

Materials

Fabric: 100% Royal Alpaca Wool
Fabric Dye: Low Impact Dyes (GOTS)
Fabric Finishing: Silicone (OEKO-TEX)
Thread Dye: Reactive Dye
Label: 100% Organic Cotton
Label Ink: Synthetic (GOTS)

Materials

Fabric: 100% Royal Alpaca Wool
Fabric Dye: Natural Plant-Based
Fabric Finishing: Silicone (OEKO-TEX)
Thread Dye: Natural
Label: 100% Royal Alpaca Wool
Label Ink: Synthetic (GOTS)

Materials

Fabric: 100% Royal Alpaca Wool
Fabric Dye: Low Impact Dyes (GOTS)
Fabric Finishing: Silicone (OEKO-TEX)
Thread Dye: Reactive Dye
Label: 100% Organic Cotton
Label Ink: Synthetic (GOTS)

Materials

Fabric: 100% Royal Alpaca Wool
Fabric Dye: Natural Plant-Based
Fabric Finishing: Silicone (OEKO-TEX)
Thread Dye: Natural
Label: 100% Royal Alpaca Wool
Label Ink: Synthetic (GOTS)

Materials

Fabric: 100% Royal Alpaca Wool
Fabric Dye: Low Impact Dyes (GOTS)
Fabric Finishing: Silicone (OEKO-TEX)
Thread Dye: Reactive Dye
Label: 100% Organic Cotton
Label Ink: Synthetic (GOTS)

Materials

Fabric: 100% Royal Alpaca Wool
Fabric Dye: Natural Plant-Based
Fabric Finishing: Silicone (OEKO-TEX)
Thread Dye: Natural
Label: 100% Royal Alpaca Wool
Label Ink: Synthetic (GOTS)

Materials

Fabric: 100% Royal Alpaca Wool
Fabric Dye: Low Impact Dyes (GOTS)
Fabric Finishing: Silicone (OEKO-TEX)
Thread Dye: Reactive Dye
Label: 100% Organic Cotton
Label Ink: Synthetic (GOTS)

Materials

Fabric: 100% Royal Alpaca Wool
Fabric Dye: Natural Plant-Based
Fabric Finishing: Silicone (OEKO-TEX)
Thread Dye: Natural
Label: 100% Royal Alpaca Wool
Label Ink: Synthetic (GOTS)

Materials

Fabric: 100% Royal Alpaca Wool
Fabric Dye: Low Impact Dyes (GOTS)
Fabric Finishing: Silicone (OEKO-TEX)
Thread Dye: Reactive Dye
Label: 100% Organic Cotton
Label Ink: Synthetic (GOTS)

Materials

Fabric: 100% Royal Alpaca Wool
Fabric Dye: Natural Plant-Based
Fabric Finishing: Silicone (OEKO-TEX)
Thread Dye: Natural
Label: 100% Royal Alpaca Wool
Label Ink: Synthetic (GOTS)

Materials

Fabric: 100% Royal Alpaca Wool
Fabric Dye: Low Impact Dyes (GOTS)
Fabric Finishing: Silicone (OEKO-TEX)
Thread Dye: Reactive Dye
Label: 100% Organic Cotton
Label Ink: Synthetic (GOTS)

Materials

Fabric: 100% Royal Alpaca Wool
Fabric Dye: Natural Plant-Based
Fabric Finishing: Silicone (OEKO-TEX)
Thread Dye: Natural
Label: 100% Royal Alpaca Wool
Label Ink: Synthetic (GOTS)

Materials

Fabric: 100% Royal Alpaca Wool
Fabric Dye: Low Impact Dyes (GOTS)
Fabric Finishing: Silicone (OEKO-TEX)
Thread Dye: Reactive Dye
Label: 100% Organic Cotton
Label Ink: Synthetic (GOTS)

Materials

Fabric: 100% Royal Alpaca Wool
Fabric Dye: Natural Plant-Based
Fabric Finishing: Silicone (OEKO-TEX)
Thread Dye: Natural
Label: 100% Royal Alpaca Wool
Label Ink: Synthetic (GOTS)

Materials
Fabric: 100% Royal Alpaca Wool
Fabric Dye: Low Impact Dyes (GOTS)
Fabric Finishing: Silicone (OEKO-TEX)
Thread Dye: Reactive Dye
Label: 100% Organic Cotton
Label Ink: Synthetic (GOTS)
Materials
Regular price
$260.00
Sale price
$260.00
Unit price
per
0% OFF
Alpaca Wool outperforms Merino.
Alpaca fibers evolved in the harsh Peruvian Andes over millennia, to keep you protected on any adventure.
Unique Semi-Hollow Fibers:
• Lighter Weight
• Higher Insulation
Smoothest Fiber Scales:
• Moisture Wicking
• Softer without Felting
Pack lighter, travel farther.
Get the most out of nature with the ultimate performance fiber. Explore the outdoors clean and dry, with naturally anti-bacterial and temperature regulating Alpaca Wool.

❊ Anti-bacterial & Odor-resistant
↻ High sweat-wicking
☁ High breathability
☀ UV - Protection
✓ Light & durable
We put a stop to plastic pollution.
It is our mission to make clothes that allow you to explore nature without contaminating it with microplastics.
This is the first step in making our entire catalog petroleum-free and biodegradable.
We use only biodegradable materials:
• 100% Royal Alpaca Wool Fabric
• 100% Cotton Threads
• 100% Cotton Labels
Size & Fit

• Regular Fit

• Model wears size S

• Model is 5'7", has 35" chest and 37" hips
Shipping & Returns

Free Shipping for US orders over $200 that are purchased from our US warehouse.*

*Items stocked in Peru will occur a shipping fee. This fee includes customs & duties.
View full details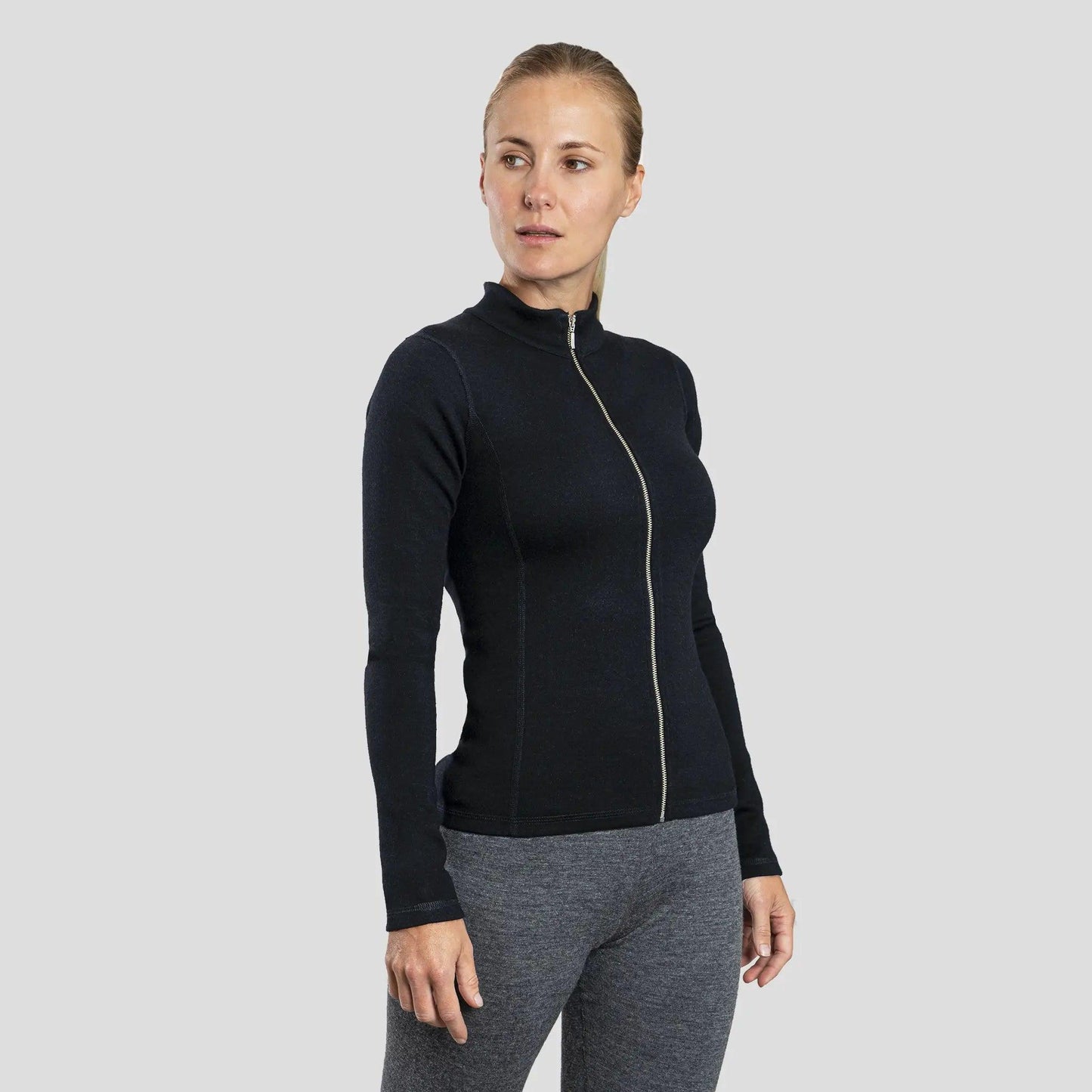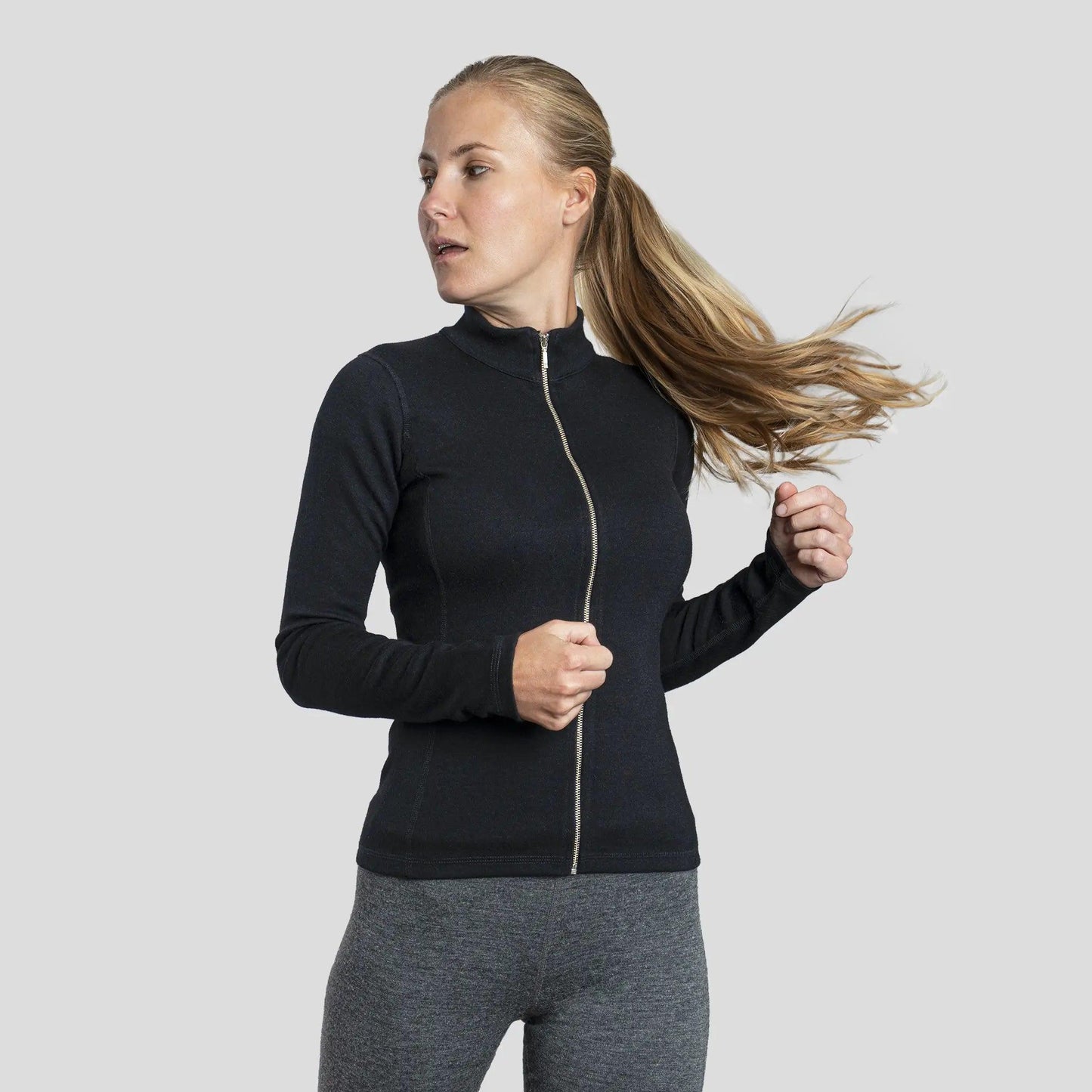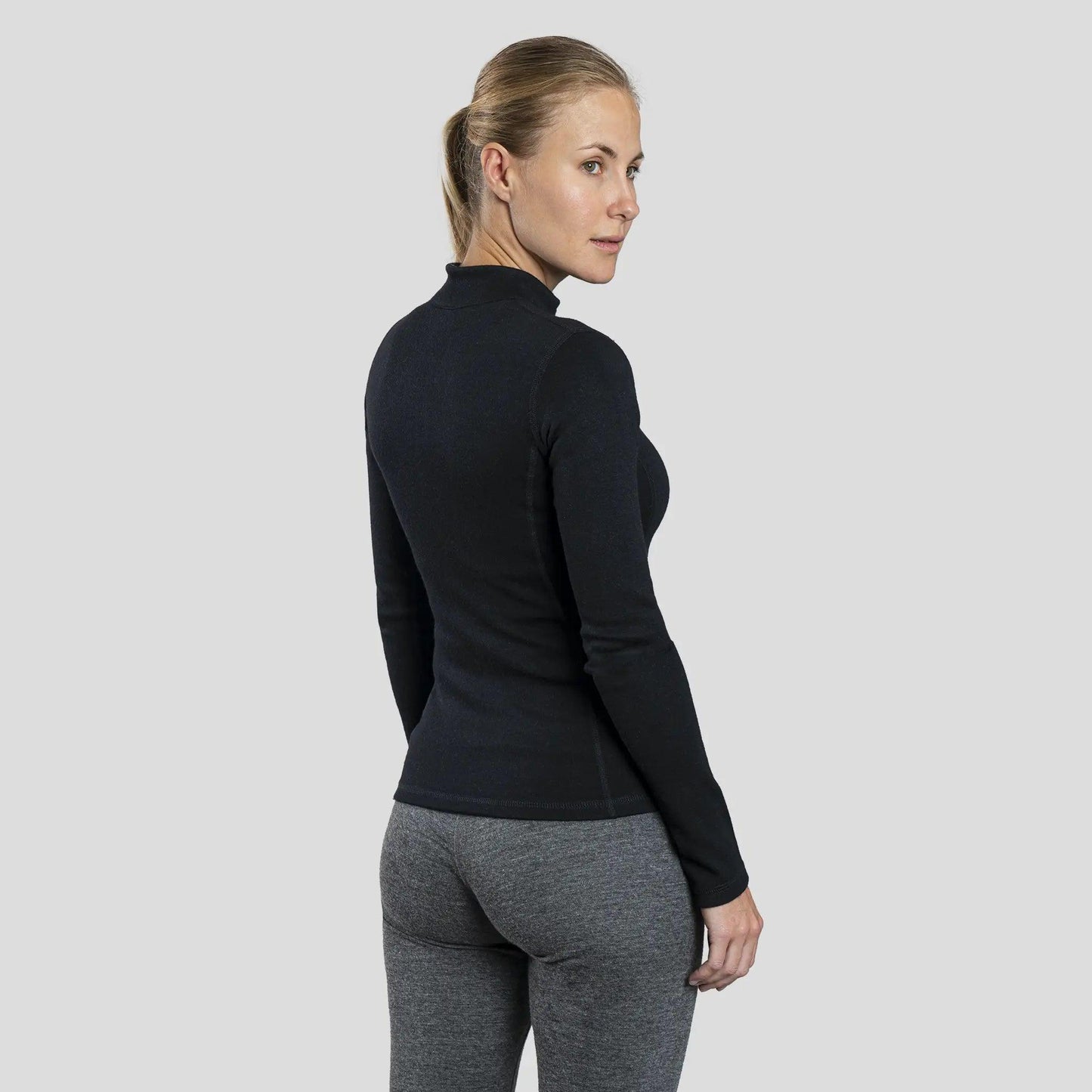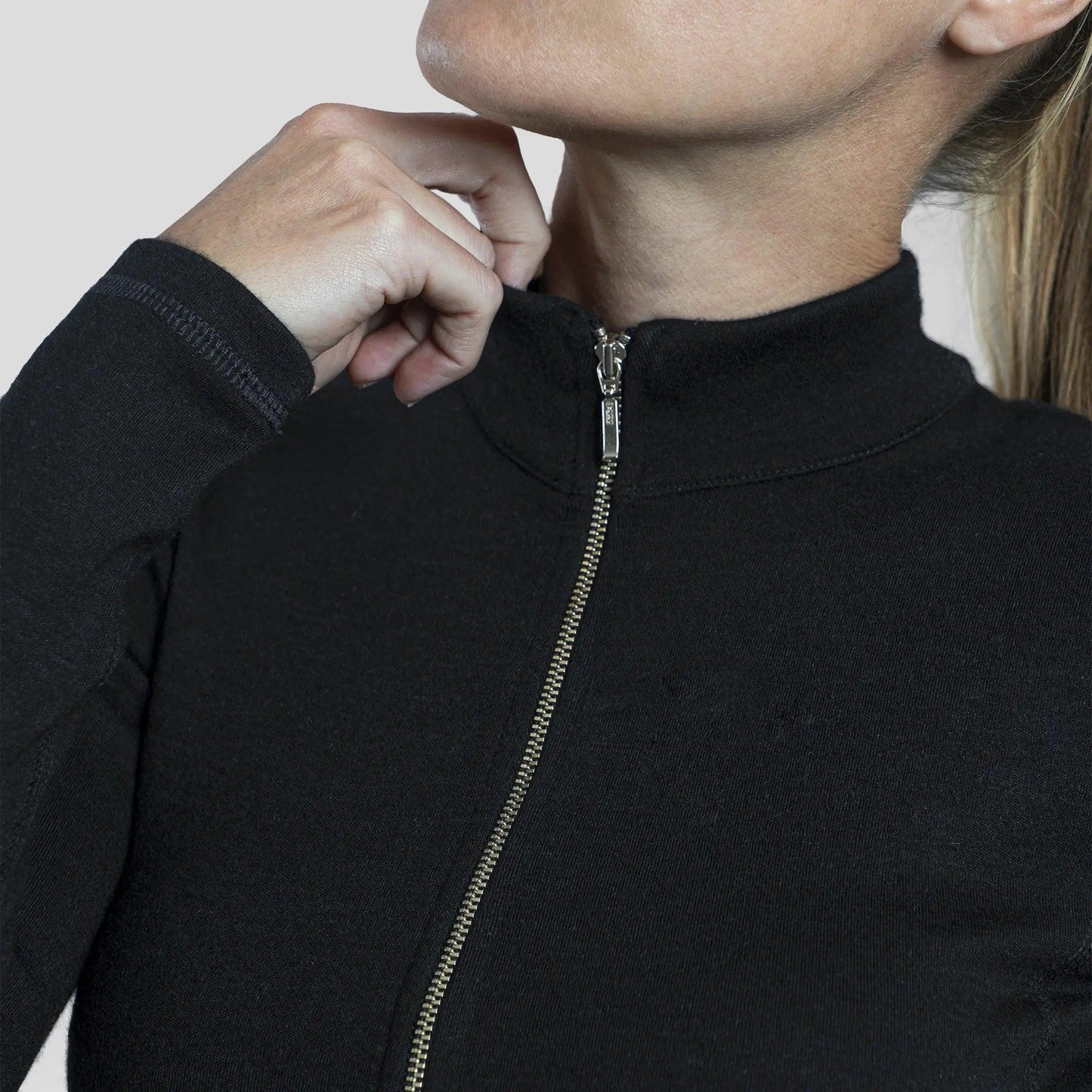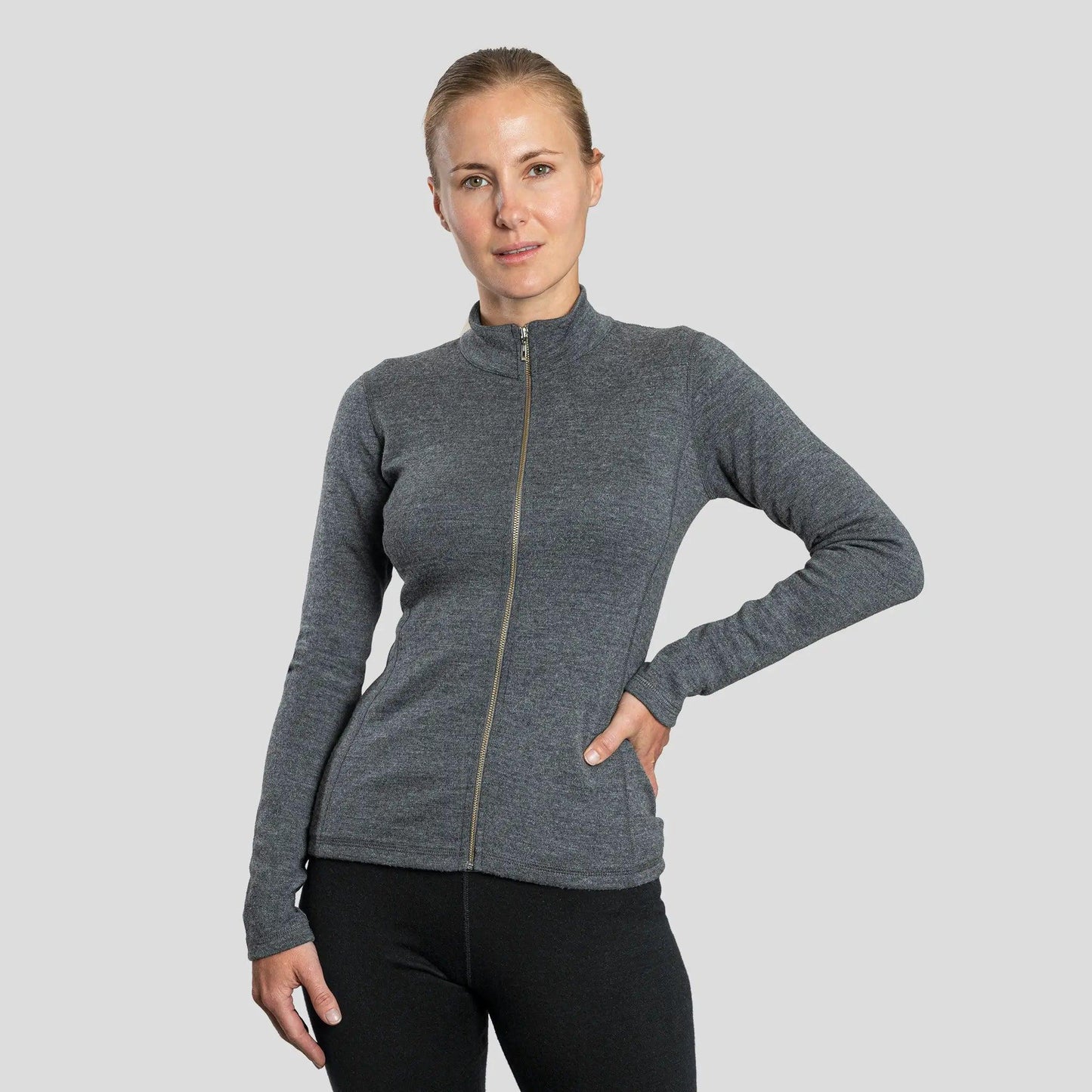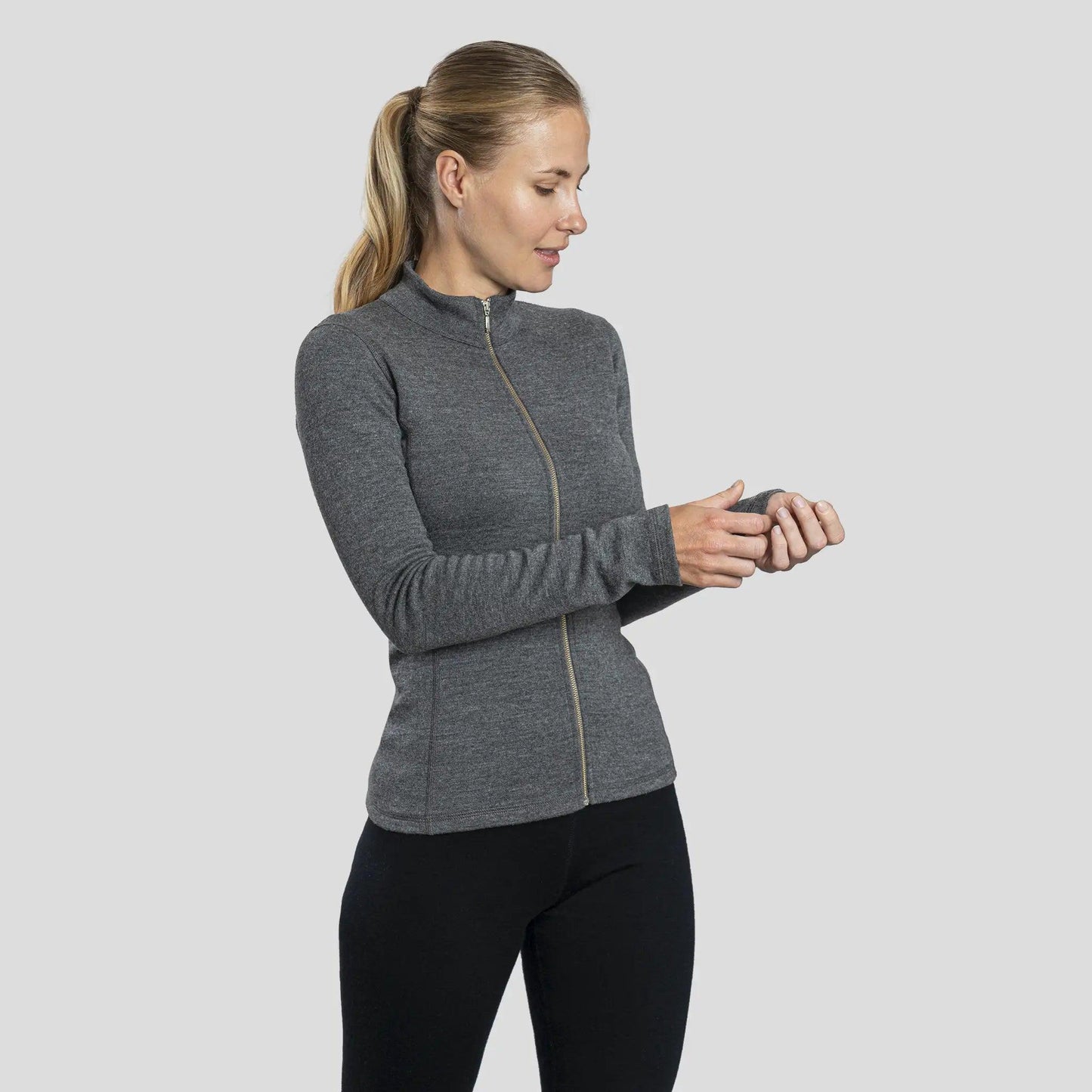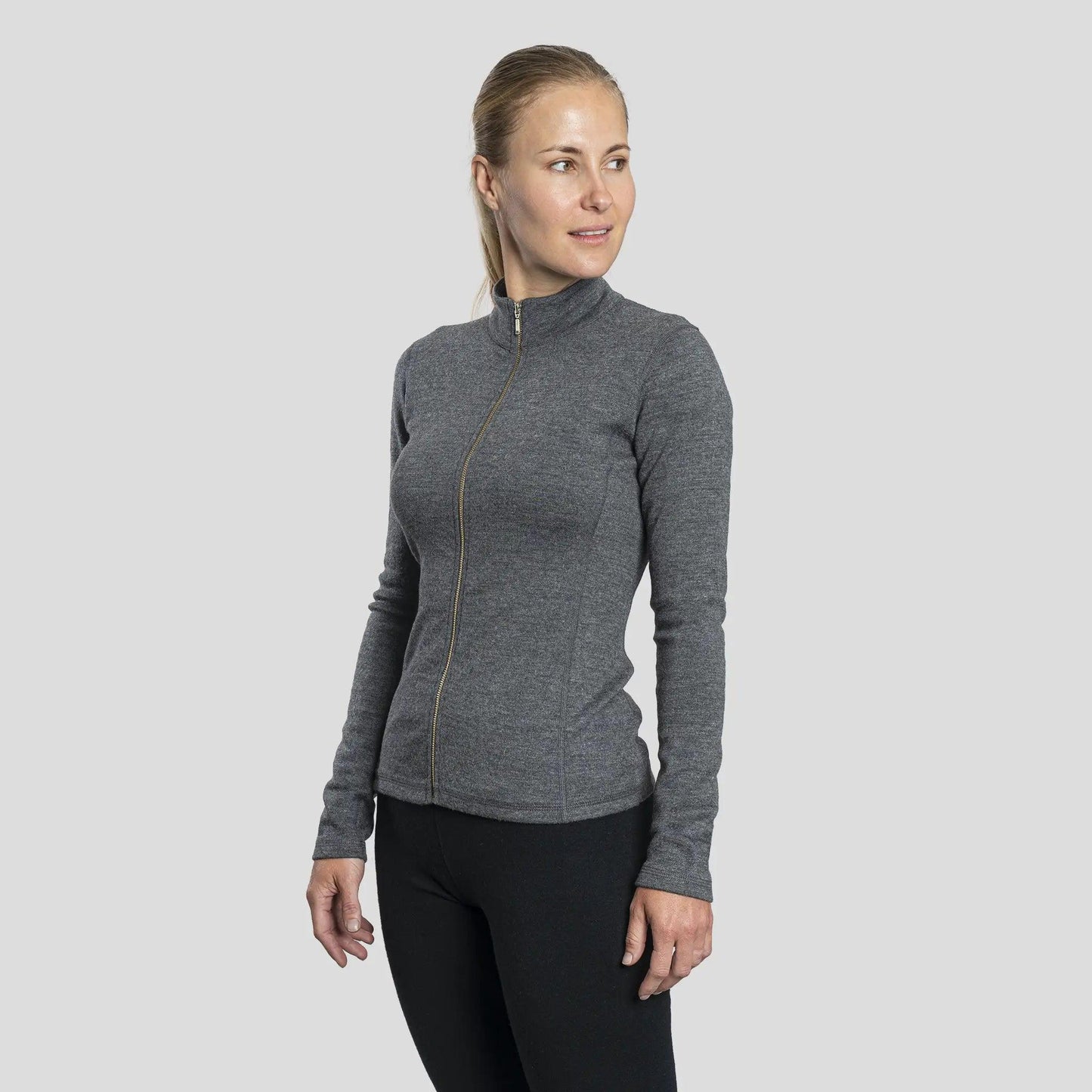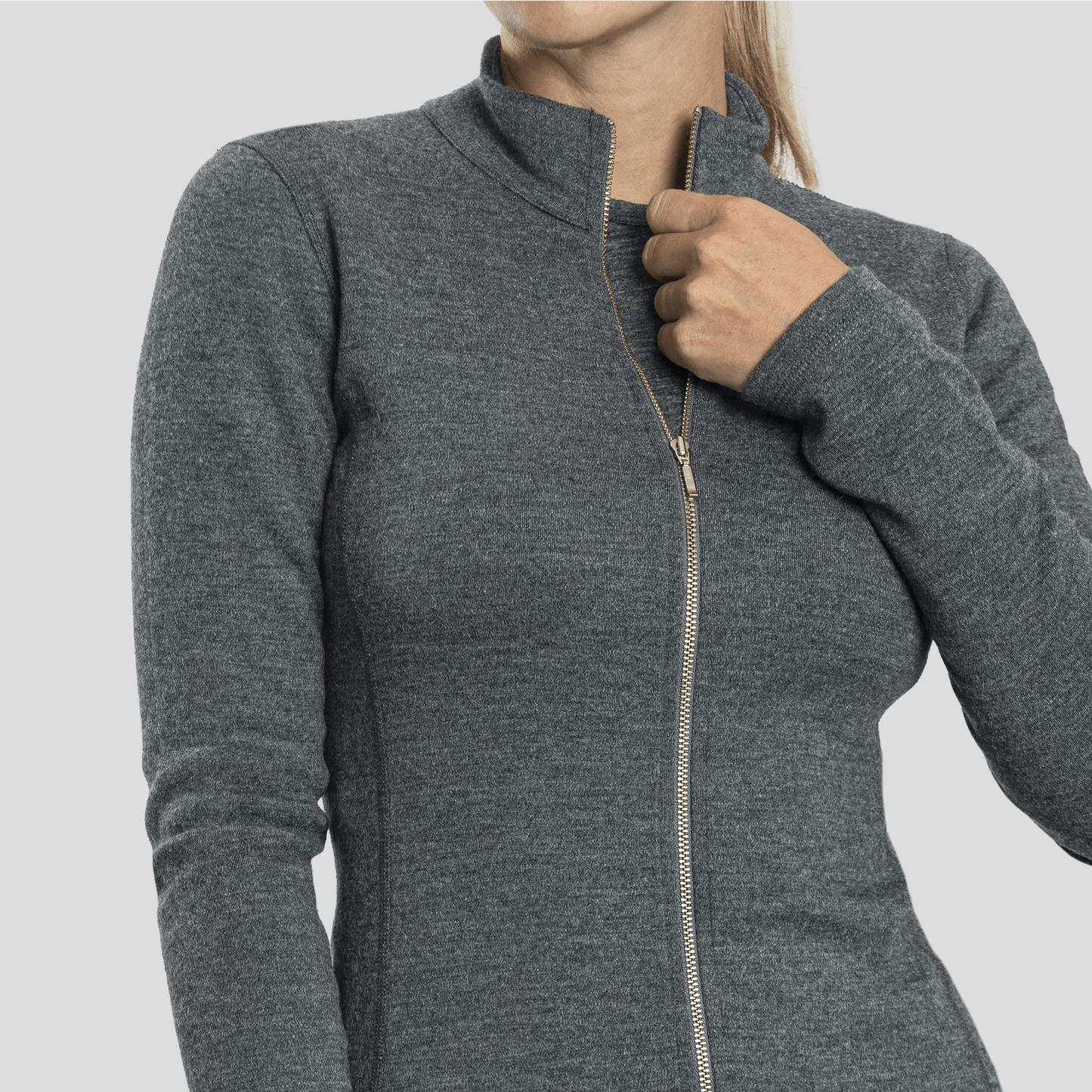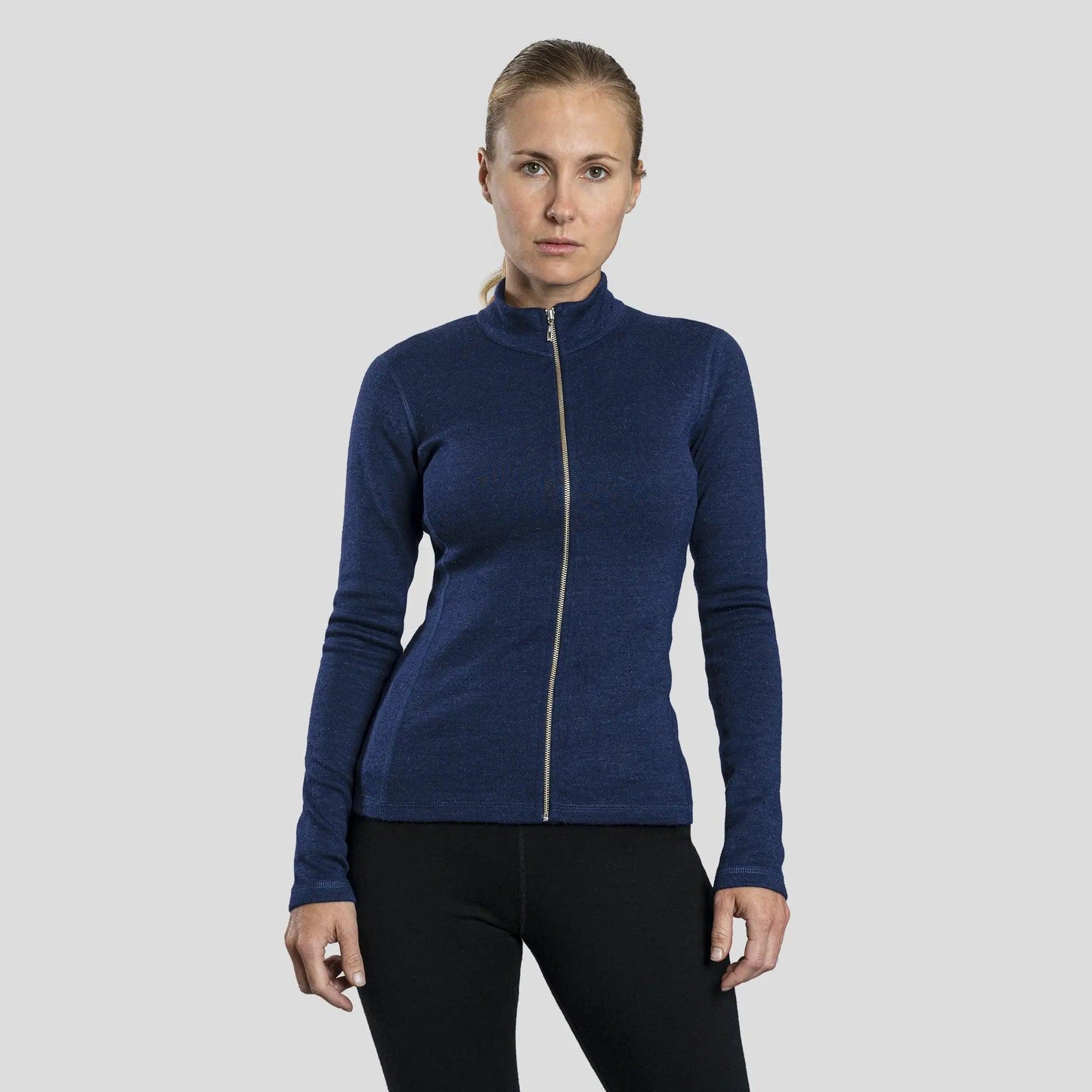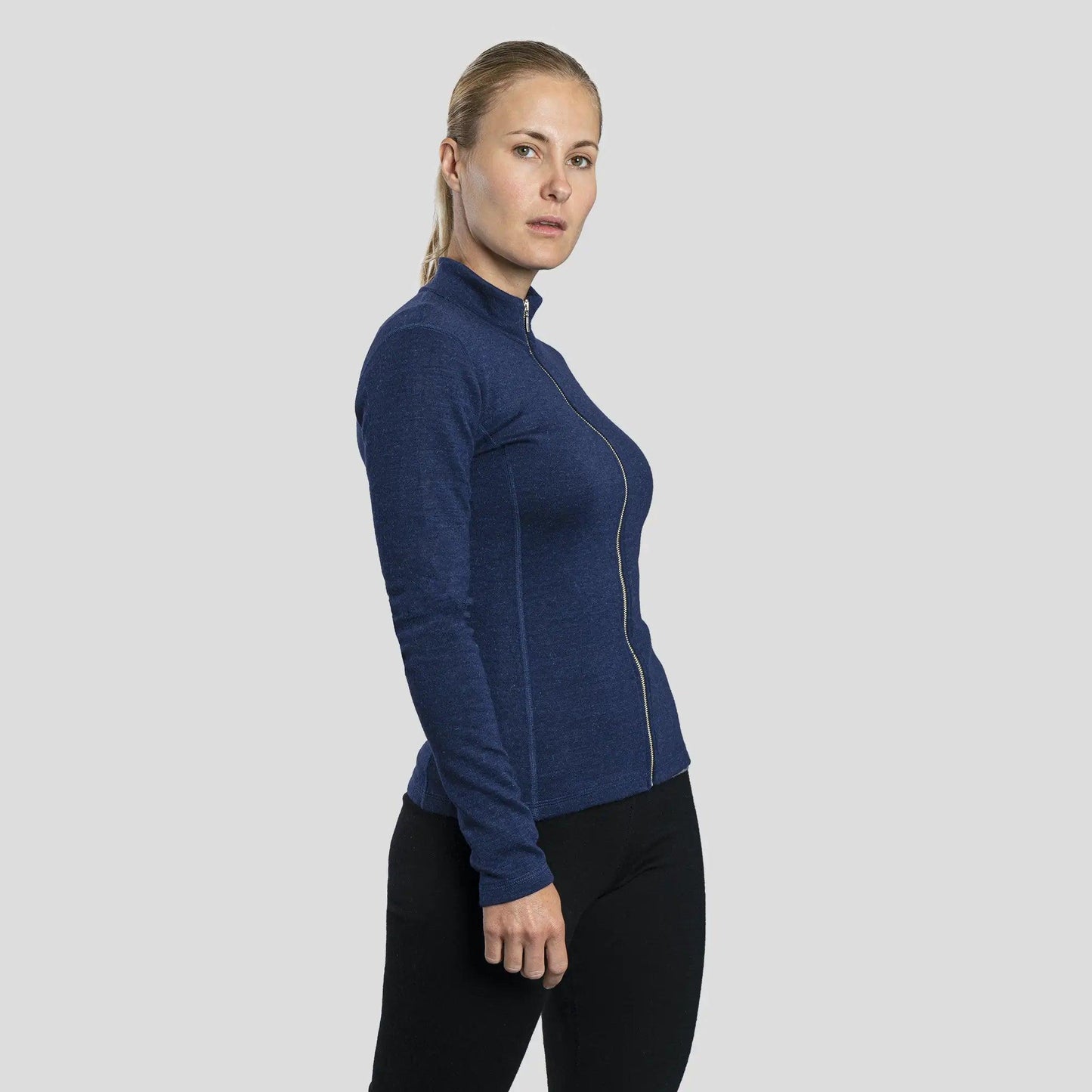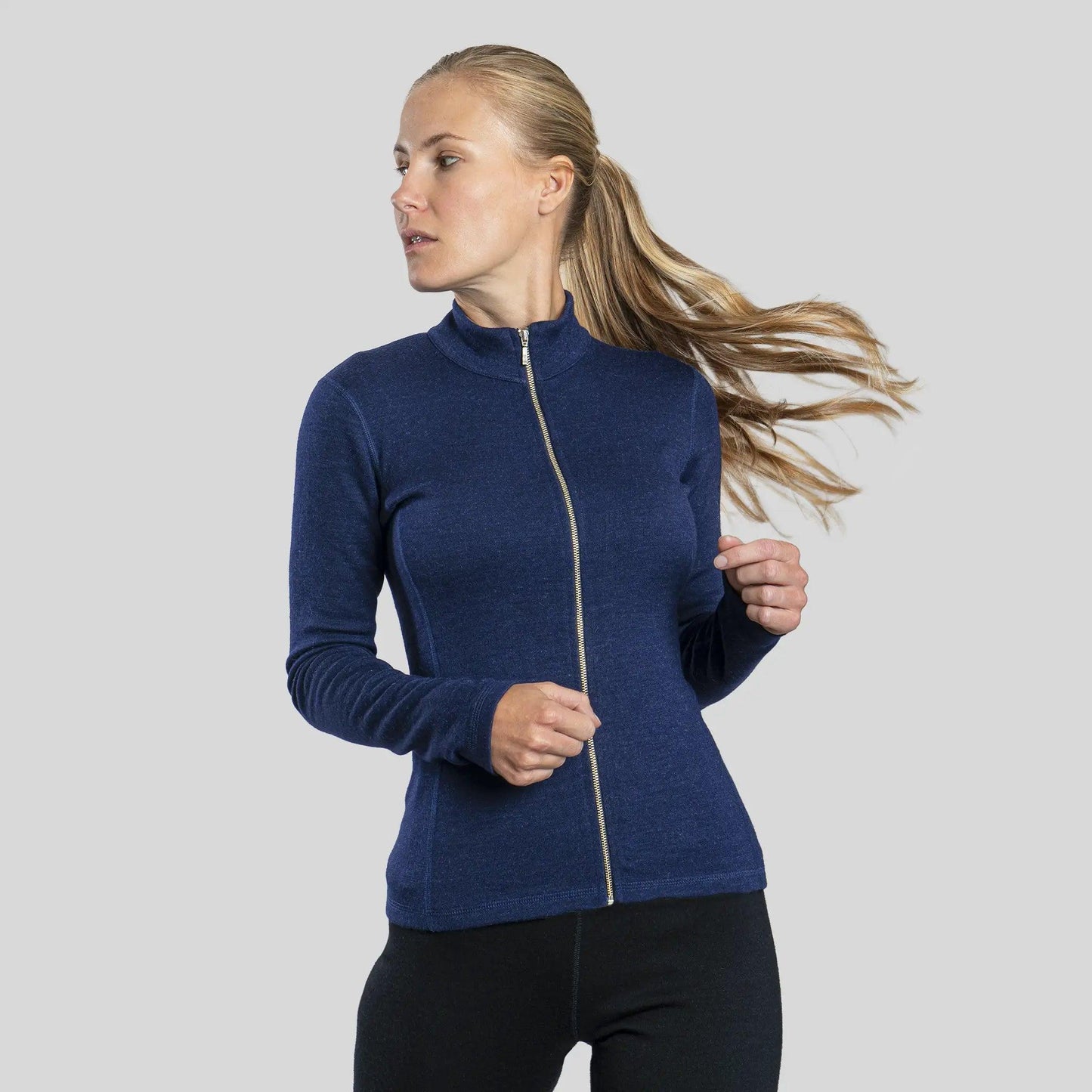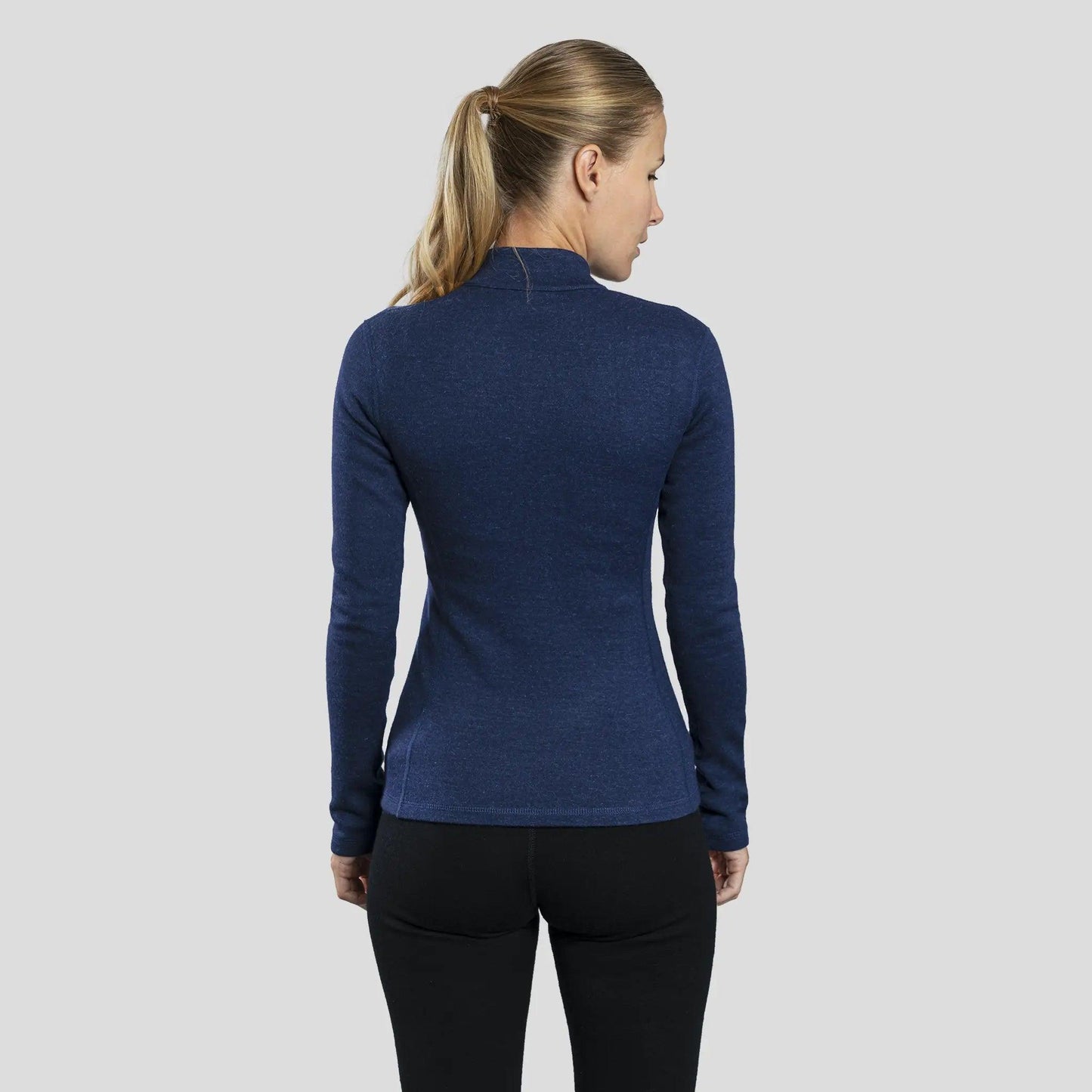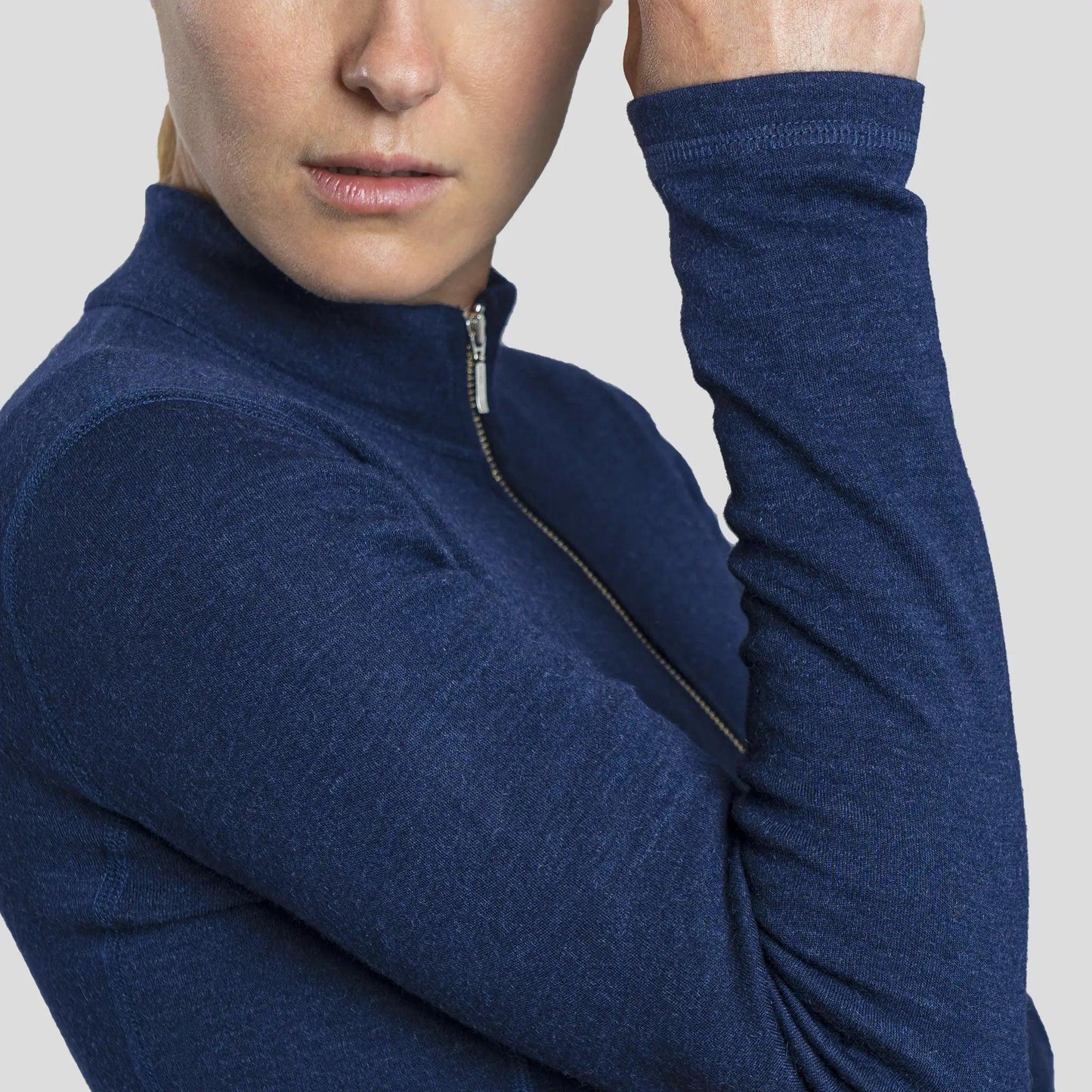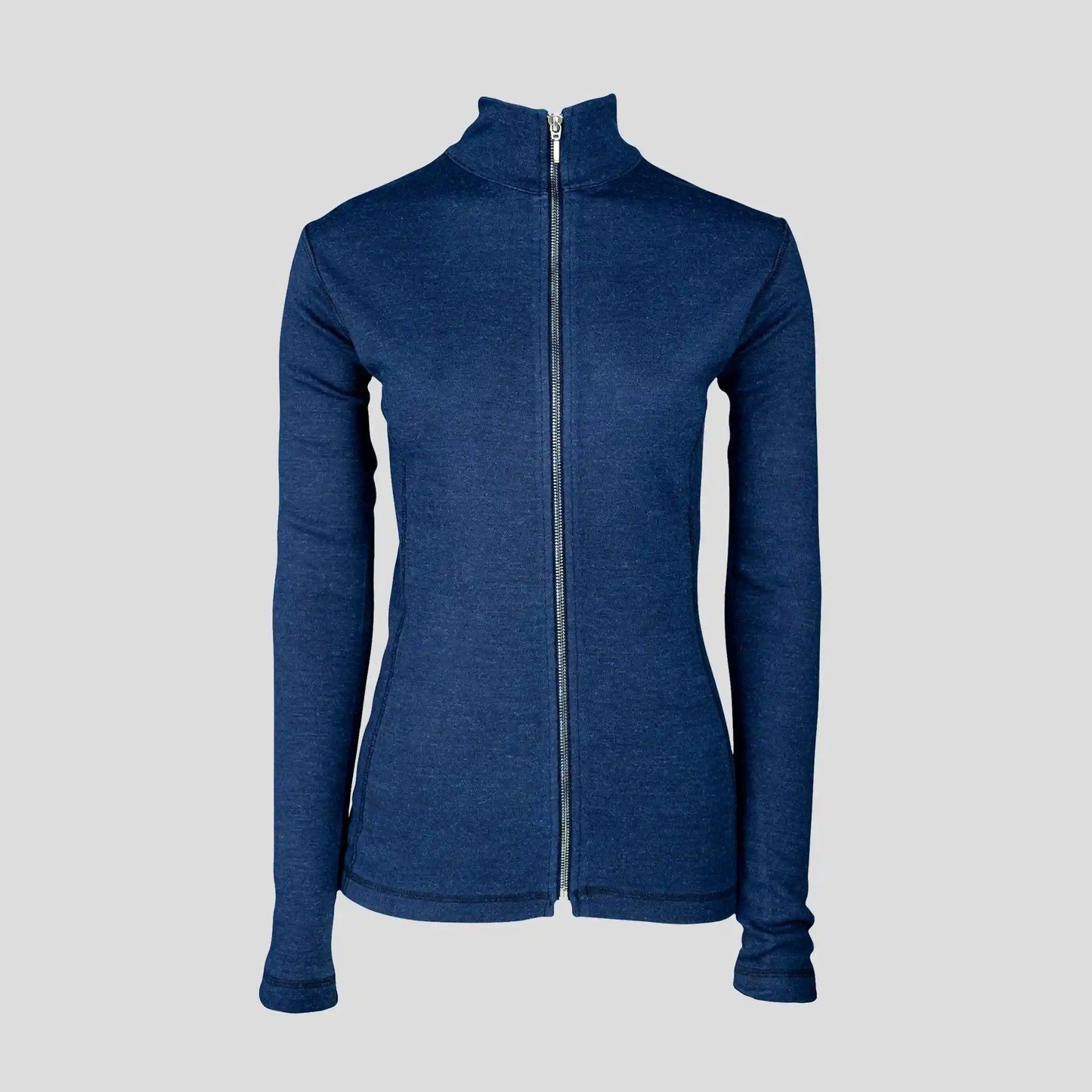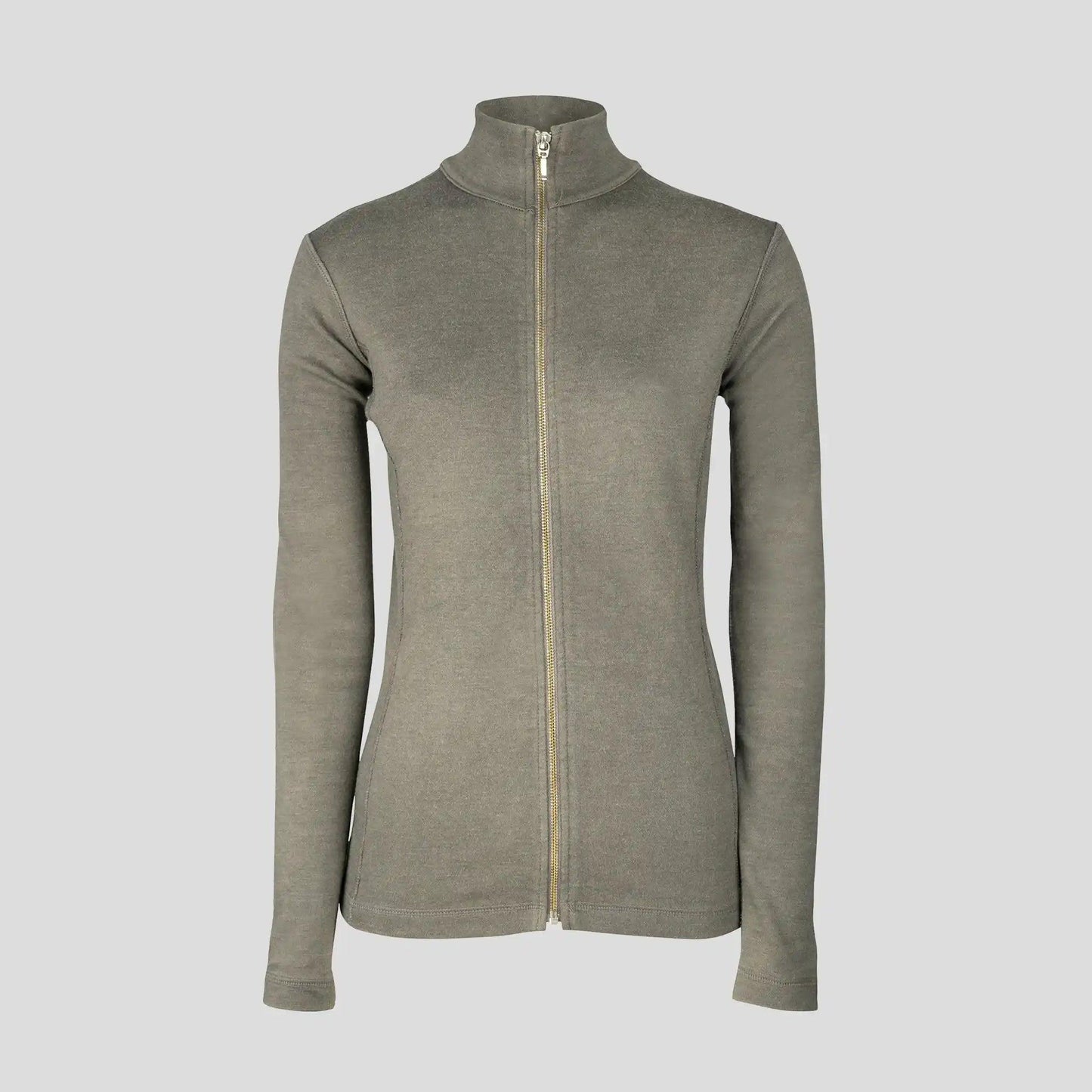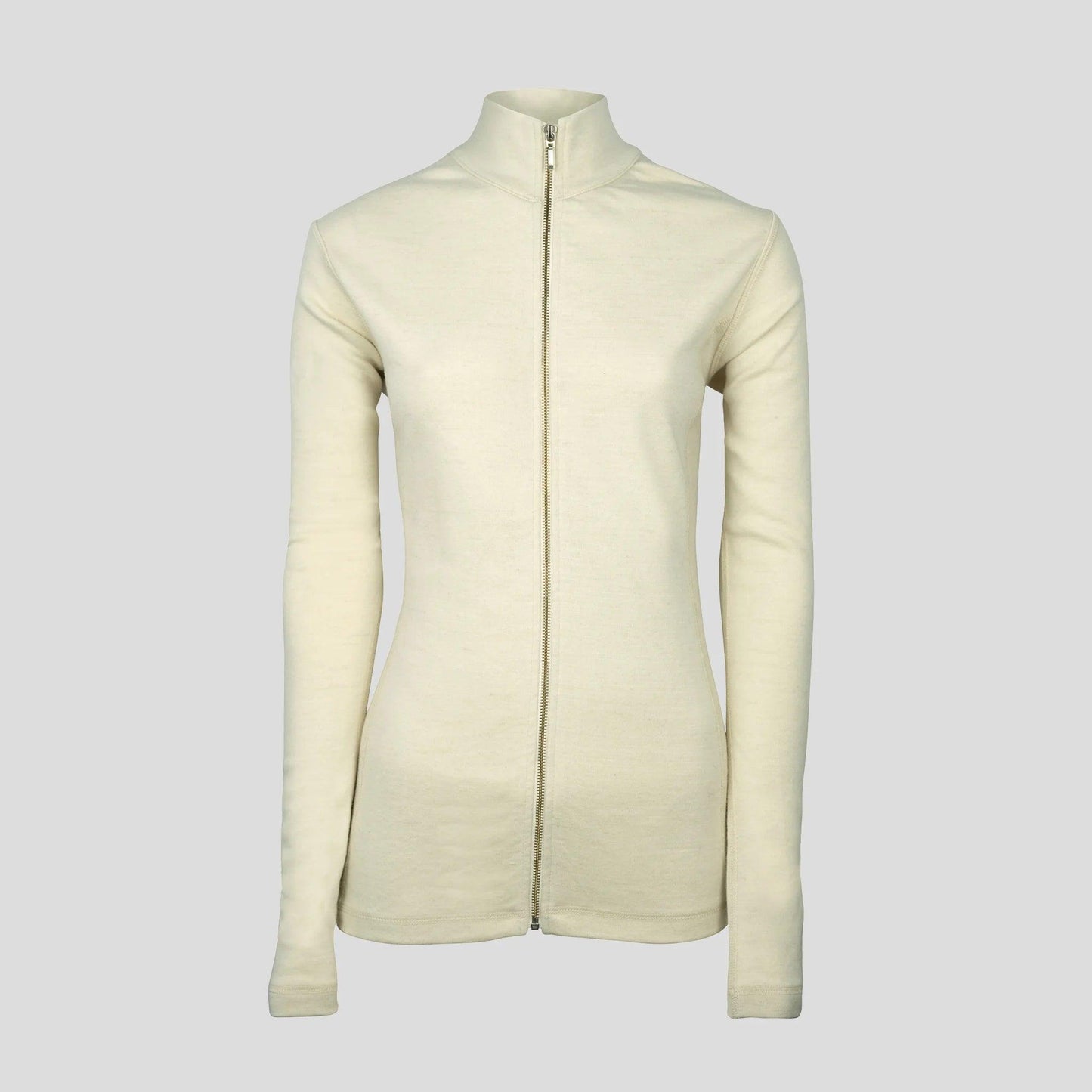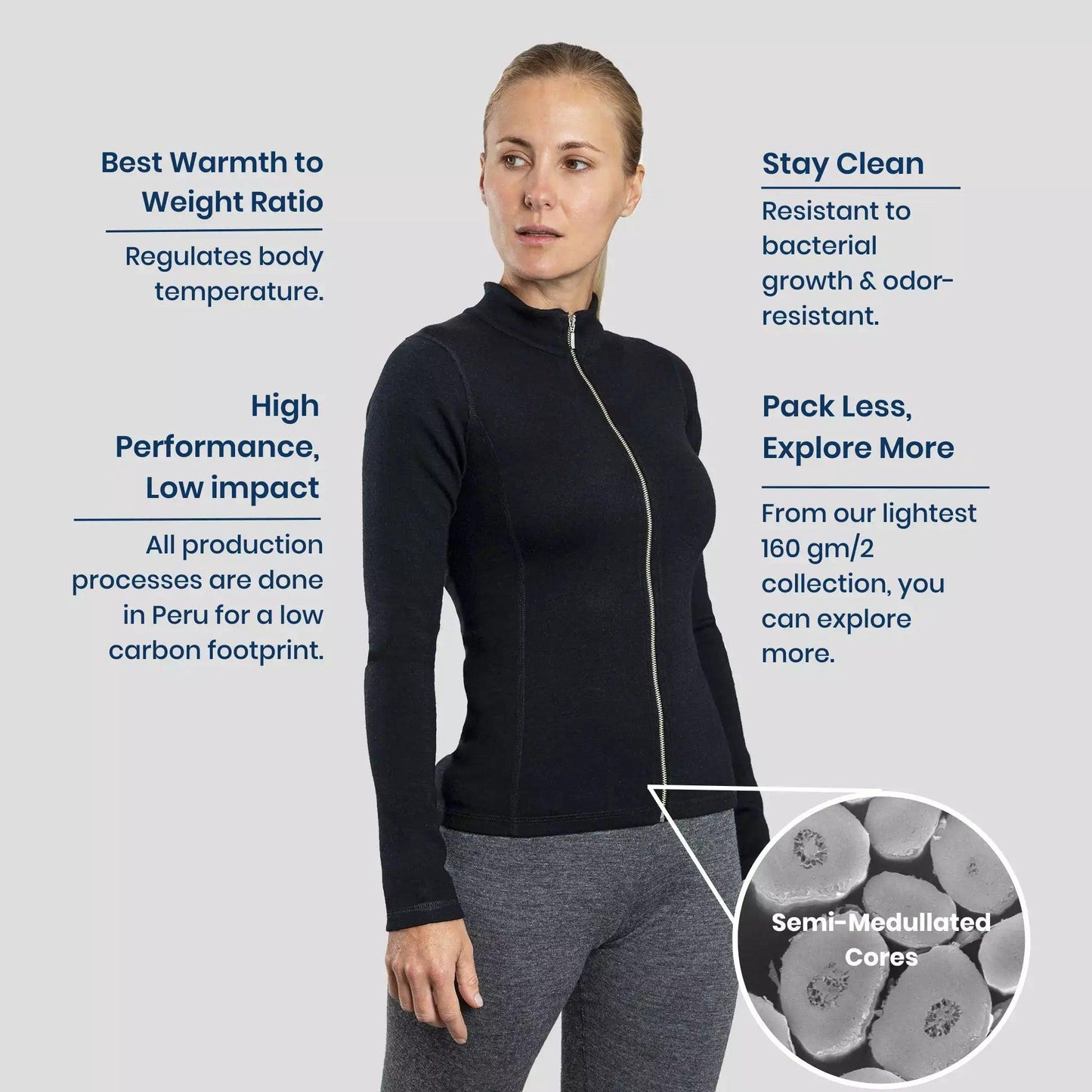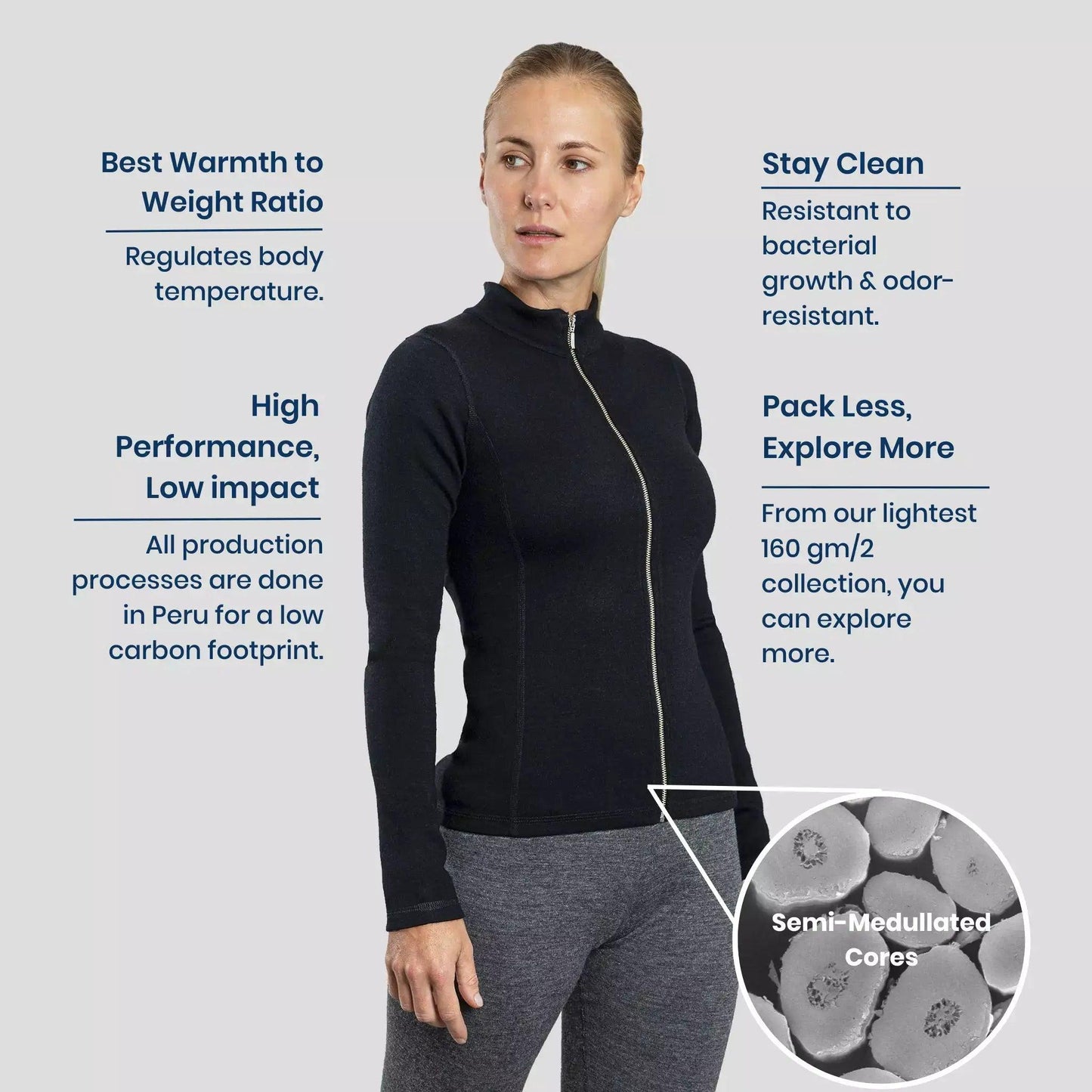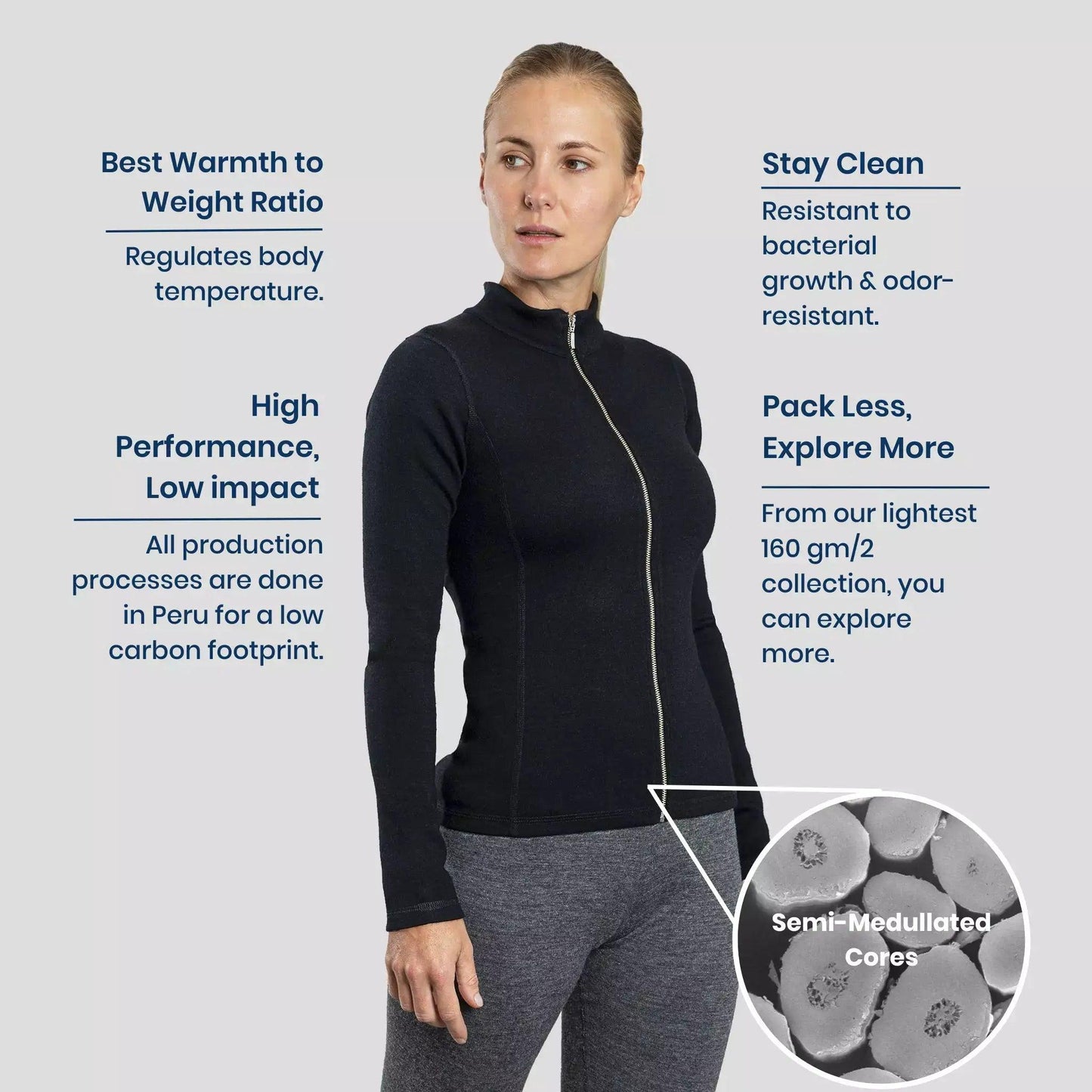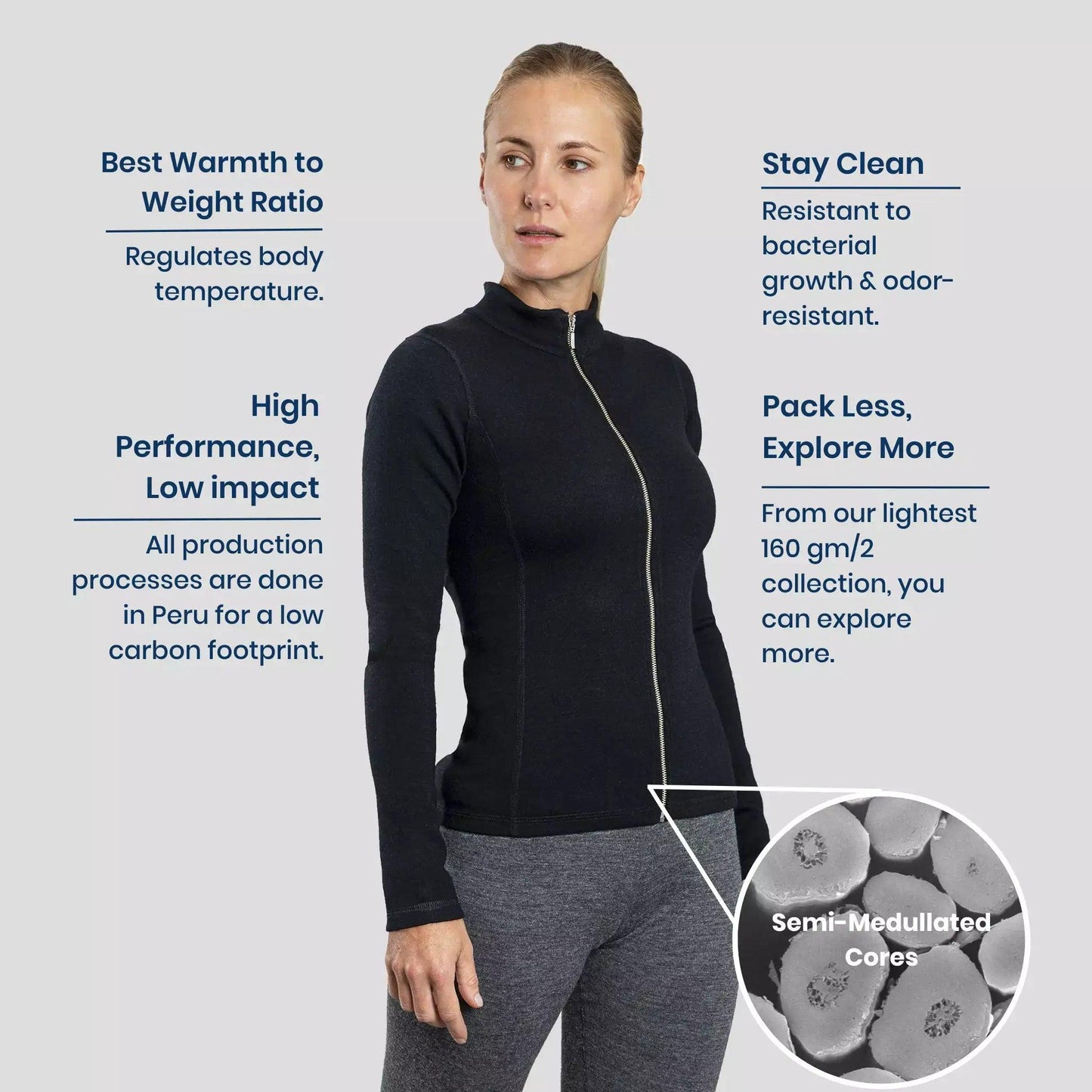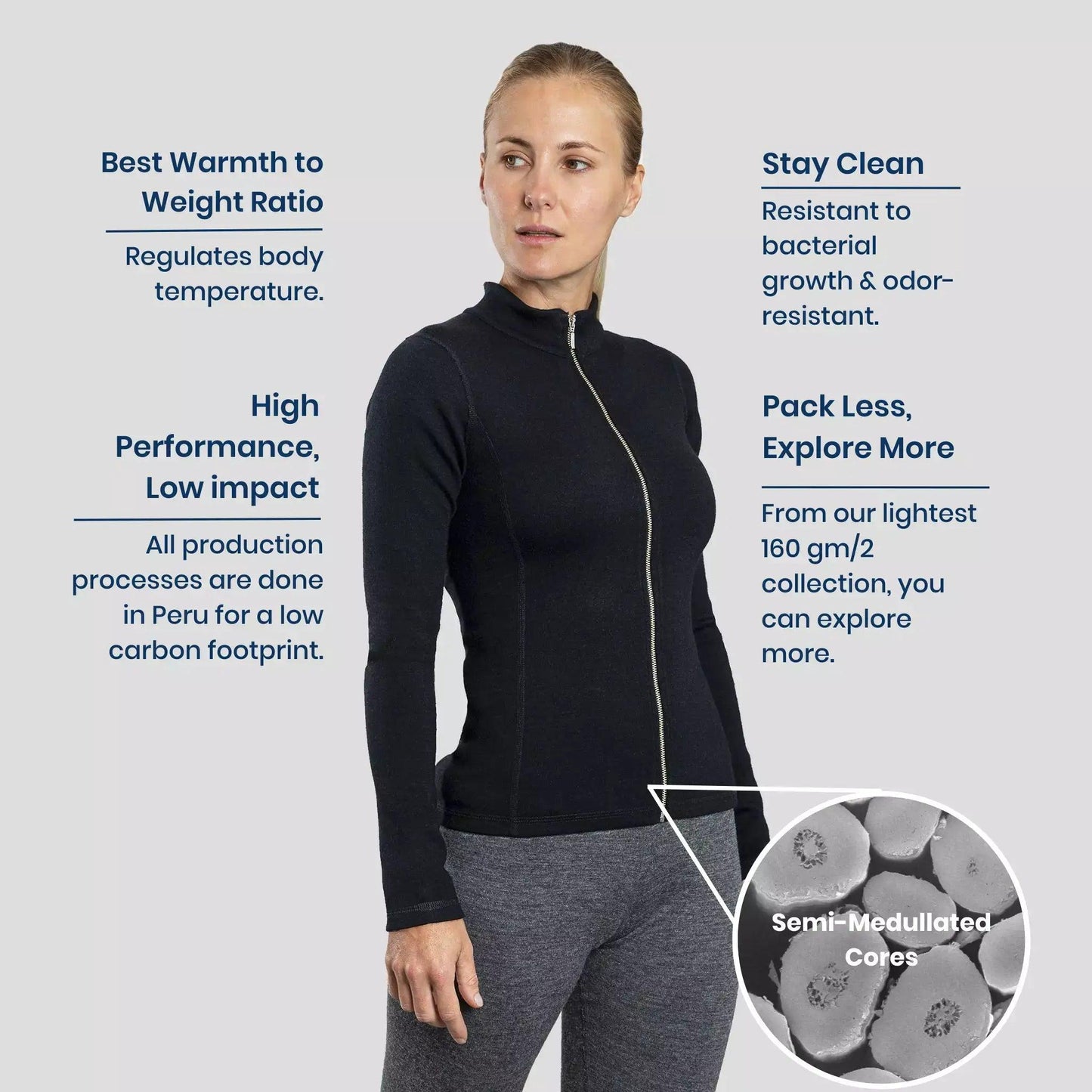 Cozy and looks nice
Quality jacket that looks nice too. Using it as a mid layer on my PCT hike currently. Keeps me warm, wicks away moisture, and is one of my only items that doesn't stink already 😅
Love
Warm, comfy, stylish and chemical free! So worth it
I love love love Arms of Andes.
I love love love Arms of Andes. Both my partner and I have multiple hoodies and sweaters and they are super soft and warm and durable. Make more, please!