Skip to product information
Fabric: 100% Royal Alpaca Wool
Fabric Dye: Low Impact Dyes (GOTS)
Fabric Finishing: Silicone (OEKO-TEX)
Thread Dye: Reactive Dye
Label: 100% Organic Cotton
Label Ink: Synthetic (GOTS)

Materials

Fabric: 100% Royal Alpaca Wool
Fabric Dye: Natural Plant-Based
Fabric Finishing: Silicone (OEKO-TEX)
Thread Dye: Natural
Label: 100% Organic Cotton
Label Ink: Synthetic (GOTS)

Materials

Fabric: 100% Royal Alpaca Wool
Fabric Dye: Low Impact Dyes (GOTS)
Fabric Finishing: Silicone (OEKO-TEX)
Thread Dye: Reactive Dye
Label: 100% Organic Cotton
Label Ink: Synthetic (GOTS)

Materials

Fabric: 100% Royal Alpaca Wool
Fabric Dye: Natural Plant-Based
Fabric Finishing: Silicone (OEKO-TEX)
Thread Dye: Natural
Label: 100% Organic Cotton
Label Ink: Synthetic (GOTS)

Materials

Fabric: 100% Royal Alpaca Wool
Fabric Dye: Low Impact Dyes (GOTS)
Fabric Finishing: Silicone (OEKO-TEX)
Thread Dye: Reactive Dye
Label: 100% Organic Cotton
Label Ink: Synthetic (GOTS)

Materials

Fabric: 100% Royal Alpaca Wool
Fabric Dye: Natural Plant-Based
Fabric Finishing: Silicone (OEKO-TEX)
Thread Dye: Natural
Label: 100% Organic Cotton
Label Ink: Synthetic (GOTS)

Materials

Fabric: 100% Royal Alpaca Wool
Fabric Dye: Low Impact Dyes (GOTS)
Fabric Finishing: Silicone (OEKO-TEX)
Thread Dye: Reactive Dye
Label: 100% Organic Cotton
Label Ink: Synthetic (GOTS)

Materials

Fabric: 100% Royal Alpaca Wool
Fabric Dye: Natural Plant-Based
Fabric Finishing: Silicone (OEKO-TEX)
Thread Dye: Natural
Label: 100% Organic Cotton
Label Ink: Synthetic (GOTS)

Materials

Fabric: 100% Royal Alpaca Wool
Fabric Dye: Low Impact Dyes (GOTS)
Fabric Finishing: Silicone (OEKO-TEX)
Thread Dye: Reactive Dye
Label: 100% Organic Cotton
Label Ink: Synthetic (GOTS)

Materials

Fabric: 100% Royal Alpaca Wool
Fabric Dye: Natural Plant-Based
Fabric Finishing: Silicone (OEKO-TEX)
Thread Dye: Natural
Label: 100% Organic Cotton
Label Ink: Synthetic (GOTS)

Materials

Fabric: 100% Royal Alpaca Wool
Fabric Dye: Low Impact Dyes (GOTS)
Fabric Finishing: Silicone (OEKO-TEX)
Thread Dye: Reactive Dye
Label: 100% Organic Cotton
Label Ink: Synthetic (GOTS)

Materials

Fabric: 100% Royal Alpaca Wool
Fabric Dye: Natural Plant-Based
Fabric Finishing: Silicone (OEKO-TEX)
Thread Dye: Natural
Label: 100% Organic Cotton
Label Ink: Synthetic (GOTS)

Materials

Fabric: 100% Royal Alpaca Wool
Fabric Dye: Low Impact Dyes (GOTS)
Fabric Finishing: Silicone (OEKO-TEX)
Thread Dye: Reactive Dye
Label: 100% Organic Cotton
Label Ink: Synthetic (GOTS)

Materials

Fabric: 100% Royal Alpaca Wool
Fabric Dye: Natural Plant-Based
Fabric Finishing: Silicone (OEKO-TEX)
Thread Dye: Natural
Label: 100% Organic Cotton
Label Ink: Synthetic (GOTS)

Materials

Fabric: 100% Royal Alpaca Wool
Fabric Dye: Low Impact Dyes (GOTS)
Fabric Finishing: Silicone (OEKO-TEX)
Thread Dye: Reactive Dye
Label: 100% Organic Cotton
Label Ink: Synthetic (GOTS)

Materials

Fabric: 100% Royal Alpaca Wool
Fabric Dye: Natural Plant-Based
Fabric Finishing: Silicone (OEKO-TEX)
Thread Dye: Natural
Label: 100% Organic Cotton
Label Ink: Synthetic (GOTS)

Materials

Fabric: 100% Royal Alpaca Wool
Fabric Dye: Low Impact Dyes (GOTS)
Fabric Finishing: Silicone (OEKO-TEX)
Thread Dye: Reactive Dye
Label: 100% Organic Cotton
Label Ink: Synthetic (GOTS)

Materials

Fabric: 100% Royal Alpaca Wool
Fabric Dye: Natural Plant-Based
Fabric Finishing: Silicone (OEKO-TEX)
Thread Dye: Natural
Label: 100% Organic Cotton
Label Ink: Synthetic (GOTS)

Materials

Fabric: 100% Royal Alpaca Wool
Fabric Dye: Low Impact Dyes (GOTS)
Fabric Finishing: Silicone (OEKO-TEX)
Thread Dye: Reactive Dye
Label: 100% Organic Cotton
Label Ink: Synthetic (GOTS)

Materials

Fabric: 100% Royal Alpaca Wool
Fabric Dye: Natural Plant-Based
Fabric Finishing: Silicone (OEKO-TEX)
Thread Dye: Natural
Label: 100% Organic Cotton
Label Ink: Synthetic (GOTS)

Materials

Fabric: 100% Royal Alpaca Wool
Fabric Dye: Low Impact Dyes (GOTS)
Fabric Finishing: Silicone (OEKO-TEX)
Thread Dye: Reactive Dye
Label: 100% Organic Cotton
Label Ink: Synthetic (GOTS)

Materials

Fabric: 100% Royal Alpaca Wool
Fabric Dye: Natural Plant-Based
Fabric Finishing: Silicone (OEKO-TEX)
Thread Dye: Natural
Label: 100% Organic Cotton
Label Ink: Synthetic (GOTS)

Materials

Fabric: 100% Royal Alpaca Wool
Fabric Dye: Low Impact Dyes (GOTS)
Fabric Finishing: Silicone (OEKO-TEX)
Thread Dye: Reactive Dye
Label: 100% Organic Cotton
Label Ink: Synthetic (GOTS)

Materials

Fabric: 100% Royal Alpaca Wool
Fabric Dye: Natural Plant-Based
Fabric Finishing: Silicone (OEKO-TEX)
Thread Dye: Natural
Label: 100% Organic Cotton
Label Ink: Synthetic (GOTS)

Materials

Fabric: 100% Royal Alpaca Wool
Fabric Dye: Low Impact Dyes (GOTS)
Fabric Finishing: Silicone (OEKO-TEX)
Thread Dye: Reactive Dye
Label: 100% Organic Cotton
Label Ink: Synthetic (GOTS)

Materials

Fabric: 100% Royal Alpaca Wool
Fabric Dye: Natural Plant-Based
Fabric Finishing: Silicone (OEKO-TEX)
Thread Dye: Natural
Label: 100% Organic Cotton
Label Ink: Synthetic (GOTS)

Materials

Fabric: 100% Royal Alpaca Wool
Fabric Dye: Low Impact Dyes (GOTS)
Fabric Finishing: Silicone (OEKO-TEX)
Thread Dye: Reactive Dye
Label: 100% Organic Cotton
Label Ink: Synthetic (GOTS)

Materials

Fabric: 100% Royal Alpaca Wool
Fabric Dye: Natural Plant-Based
Fabric Finishing: Silicone (OEKO-TEX)
Thread Dye: Natural
Label: 100% Organic Cotton
Label Ink: Synthetic (GOTS)

Materials

Fabric: 100% Royal Alpaca Wool
Fabric Dye: Low Impact Dyes (GOTS)
Fabric Finishing: Silicone (OEKO-TEX)
Thread Dye: Reactive Dye
Label: 100% Organic Cotton
Label Ink: Synthetic (GOTS)

Materials

Fabric: 100% Royal Alpaca Wool
Fabric Dye: Natural Plant-Based
Fabric Finishing: Silicone (OEKO-TEX)
Thread Dye: Natural
Label: 100% Organic Cotton
Label Ink: Synthetic (GOTS)

Materials

Fabric: 100% Royal Alpaca Wool
Fabric Dye: Low Impact Dyes (GOTS)
Fabric Finishing: Silicone (OEKO-TEX)
Thread Dye: Reactive Dye
Label: 100% Organic Cotton
Label Ink: Synthetic (GOTS)

Materials

Fabric: 100% Royal Alpaca Wool
Fabric Dye: Natural Plant-Based
Fabric Finishing: Silicone (OEKO-TEX)
Thread Dye: Natural
Label: 100% Organic Cotton
Label Ink: Synthetic (GOTS)

Materials

Fabric: 100% Royal Alpaca Wool
Fabric Dye: Low Impact Dyes (GOTS)
Fabric Finishing: Silicone (OEKO-TEX)
Thread Dye: Reactive Dye
Label: 100% Organic Cotton
Label Ink: Synthetic (GOTS)

Materials

Fabric: 100% Royal Alpaca Wool
Fabric Dye: Natural Plant-Based
Fabric Finishing: Silicone (OEKO-TEX)
Thread Dye: Natural
Label: 100% Organic Cotton
Label Ink: Synthetic (GOTS)

Materials

Fabric: 100% Royal Alpaca Wool
Fabric Dye: Low Impact Dyes (GOTS)
Fabric Finishing: Silicone (OEKO-TEX)
Thread Dye: Reactive Dye
Label: 100% Organic Cotton
Label Ink: Synthetic (GOTS)

Materials

Fabric: 100% Royal Alpaca Wool
Fabric Dye: Natural Plant-Based
Fabric Finishing: Silicone (OEKO-TEX)
Thread Dye: Natural
Label: 100% Organic Cotton
Label Ink: Synthetic (GOTS)

Materials

Fabric: 100% Royal Alpaca Wool
Fabric Dye: Low Impact Dyes (GOTS)
Fabric Finishing: Silicone (OEKO-TEX)
Thread Dye: Reactive Dye
Label: 100% Organic Cotton
Label Ink: Synthetic (GOTS)

Materials

Fabric: 100% Royal Alpaca Wool
Fabric Dye: Natural Plant-Based
Fabric Finishing: Silicone (OEKO-TEX)
Thread Dye: Natural
Label: 100% Organic Cotton
Label Ink: Synthetic (GOTS)

Materials

Fabric: 100% Royal Alpaca Wool
Fabric Dye: Low Impact Dyes (GOTS)
Fabric Finishing: Silicone (OEKO-TEX)
Thread Dye: Reactive Dye
Label: 100% Organic Cotton
Label Ink: Synthetic (GOTS)

Materials

Fabric: 100% Royal Alpaca Wool
Fabric Dye: Natural Plant-Based
Fabric Finishing: Silicone (OEKO-TEX)
Thread Dye: Natural
Label: 100% Organic Cotton
Label Ink: Synthetic (GOTS)

Materials

Fabric: 100% Royal Alpaca Wool
Fabric Dye: Low Impact Dyes (GOTS)
Fabric Finishing: Silicone (OEKO-TEX)
Thread Dye: Reactive Dye
Label: 100% Organic Cotton
Label Ink: Synthetic (GOTS)

Materials

Fabric: 100% Royal Alpaca Wool
Fabric Dye: Natural Plant-Based
Fabric Finishing: Silicone (OEKO-TEX)
Thread Dye: Natural
Label: 100% Organic Cotton
Label Ink: Synthetic (GOTS)

Materials

Fabric: 100% Royal Alpaca Wool
Fabric Dye: Low Impact Dyes (GOTS)
Fabric Finishing: Silicone (OEKO-TEX)
Thread Dye: Reactive Dye
Label: 100% Organic Cotton
Label Ink: Synthetic (GOTS)

Materials

Fabric: 100% Royal Alpaca Wool
Fabric Dye: Natural Plant-Based
Fabric Finishing: Silicone (OEKO-TEX)
Thread Dye: Natural
Label: 100% Organic Cotton
Label Ink: Synthetic (GOTS)

Materials

Fabric: 100% Royal Alpaca Wool
Fabric Dye: Low Impact Dyes (GOTS)
Fabric Finishing: Silicone (OEKO-TEX)
Thread Dye: Reactive Dye
Label: 100% Organic Cotton
Label Ink: Synthetic (GOTS)

Materials

Fabric: 100% Royal Alpaca Wool
Fabric Dye: Natural Plant-Based
Fabric Finishing: Silicone (OEKO-TEX)
Thread Dye: Natural
Label: 100% Organic Cotton
Label Ink: Synthetic (GOTS)

Materials

Fabric: 100% Royal Alpaca Wool
Fabric Dye: Low Impact Dyes (GOTS)
Fabric Finishing: Silicone (OEKO-TEX)
Thread Dye: Reactive Dye
Label: 100% Organic Cotton
Label Ink: Synthetic (GOTS)

Materials

Fabric: 100% Royal Alpaca Wool
Fabric Dye: Natural Plant-Based
Fabric Finishing: Silicone (OEKO-TEX)
Thread Dye: Natural
Label: 100% Organic Cotton
Label Ink: Synthetic (GOTS)

Materials

Fabric: 100% Royal Alpaca Wool
Fabric Dye: Low Impact Dyes (GOTS)
Fabric Finishing: Silicone (OEKO-TEX)
Thread Dye: Reactive Dye
Label: 100% Organic Cotton
Label Ink: Synthetic (GOTS)

Materials

Fabric: 100% Royal Alpaca Wool
Fabric Dye: Natural Plant-Based
Fabric Finishing: Silicone (OEKO-TEX)
Thread Dye: Natural
Label: 100% Organic Cotton
Label Ink: Synthetic (GOTS)

Materials

Fabric: 100% Royal Alpaca Wool
Fabric Dye: Low Impact Dyes (GOTS)
Fabric Finishing: Silicone (OEKO-TEX)
Thread Dye: Reactive Dye
Label: 100% Organic Cotton
Label Ink: Synthetic (GOTS)

Materials

Fabric: 100% Royal Alpaca Wool
Fabric Dye: Natural Plant-Based
Fabric Finishing: Silicone (OEKO-TEX)
Thread Dye: Natural
Label: 100% Organic Cotton
Label Ink: Synthetic (GOTS)

Materials

Fabric: 100% Royal Alpaca Wool
Fabric Dye: Low Impact Dyes (GOTS)
Fabric Finishing: Silicone (OEKO-TEX)
Thread Dye: Reactive Dye
Label: 100% Organic Cotton
Label Ink: Synthetic (GOTS)

Materials

Fabric: 100% Royal Alpaca Wool
Fabric Dye: Natural Plant-Based
Fabric Finishing: Silicone (OEKO-TEX)
Thread Dye: Natural
Label: 100% Organic Cotton
Label Ink: Synthetic (GOTS)

Materials

Fabric: 100% Royal Alpaca Wool
Fabric Dye: Low Impact Dyes (GOTS)
Fabric Finishing: Silicone (OEKO-TEX)
Thread Dye: Reactive Dye
Label: 100% Organic Cotton
Label Ink: Synthetic (GOTS)

Materials

Fabric: 100% Royal Alpaca Wool
Fabric Dye: Natural Plant-Based
Fabric Finishing: Silicone (OEKO-TEX)
Thread Dye: Natural
Label: 100% Organic Cotton
Label Ink: Synthetic (GOTS)

Materials

Fabric: 100% Royal Alpaca Wool
Fabric Dye: Low Impact Dyes (GOTS)
Fabric Finishing: Silicone (OEKO-TEX)
Thread Dye: Reactive Dye
Label: 100% Organic Cotton
Label Ink: Synthetic (GOTS)

Materials

Fabric: 100% Royal Alpaca Wool
Fabric Dye: Natural Plant-Based
Fabric Finishing: Silicone (OEKO-TEX)
Thread Dye: Natural
Label: 100% Organic Cotton
Label Ink: Synthetic (GOTS)

Materials

Fabric: 100% Royal Alpaca Wool
Fabric Dye: Low Impact Dyes (GOTS)
Fabric Finishing: Silicone (OEKO-TEX)
Thread Dye: Reactive Dye
Label: 100% Organic Cotton
Label Ink: Synthetic (GOTS)

Materials

Fabric: 100% Royal Alpaca Wool
Fabric Dye: Natural Plant-Based
Fabric Finishing: Silicone (OEKO-TEX)
Thread Dye: Natural
Label: 100% Organic Cotton
Label Ink: Synthetic (GOTS)

Materials

Fabric: 100% Royal Alpaca Wool
Fabric Dye: Low Impact Dyes (GOTS)
Fabric Finishing: Silicone (OEKO-TEX)
Thread Dye: Reactive Dye
Label: 100% Organic Cotton
Label Ink: Synthetic (GOTS)

Materials

Fabric: 100% Royal Alpaca Wool
Fabric Dye: Natural Plant-Based
Fabric Finishing: Silicone (OEKO-TEX)
Thread Dye: Natural
Label: 100% Organic Cotton
Label Ink: Synthetic (GOTS)

Materials

Fabric: 100% Royal Alpaca Wool
Fabric Dye: Low Impact Dyes (GOTS)
Fabric Finishing: Silicone (OEKO-TEX)
Thread Dye: Reactive Dye
Label: 100% Organic Cotton
Label Ink: Synthetic (GOTS)

Materials

Fabric: 100% Royal Alpaca Wool
Fabric Dye: Natural Plant-Based
Fabric Finishing: Silicone (OEKO-TEX)
Thread Dye: Natural
Label: 100% Organic Cotton
Label Ink: Synthetic (GOTS)

Materials

Fabric: 100% Royal Alpaca Wool
Fabric Dye: Low Impact Dyes (GOTS)
Fabric Finishing: Silicone (OEKO-TEX)
Thread Dye: Reactive Dye
Label: 100% Organic Cotton
Label Ink: Synthetic (GOTS)

Materials

Fabric: 100% Royal Alpaca Wool
Fabric Dye: Natural Plant-Based
Fabric Finishing: Silicone (OEKO-TEX)
Thread Dye: Natural
Label: 100% Organic Cotton
Label Ink: Synthetic (GOTS)

Materials

Fabric: 100% Royal Alpaca Wool
Fabric Dye: Low Impact Dyes (GOTS)
Fabric Finishing: Silicone (OEKO-TEX)
Thread Dye: Reactive Dye
Label: 100% Organic Cotton
Label Ink: Synthetic (GOTS)

Materials

Fabric: 100% Royal Alpaca Wool
Fabric Dye: Natural Plant-Based
Fabric Finishing: Silicone (OEKO-TEX)
Thread Dye: Natural
Label: 100% Organic Cotton
Label Ink: Synthetic (GOTS)

Materials

Fabric: 100% Royal Alpaca Wool
Fabric Dye: Low Impact Dyes (GOTS)
Fabric Finishing: Silicone (OEKO-TEX)
Thread Dye: Reactive Dye
Label: 100% Organic Cotton
Label Ink: Synthetic (GOTS)

Materials

Fabric: 100% Royal Alpaca Wool
Fabric Dye: Natural Plant-Based
Fabric Finishing: Silicone (OEKO-TEX)
Thread Dye: Natural
Label: 100% Organic Cotton
Label Ink: Synthetic (GOTS)

Materials

Fabric: 100% Royal Alpaca Wool
Fabric Dye: Low Impact Dyes (GOTS)
Fabric Finishing: Silicone (OEKO-TEX)
Thread Dye: Reactive Dye
Label: 100% Organic Cotton
Label Ink: Synthetic (GOTS)

Materials

Fabric: 100% Royal Alpaca Wool
Fabric Dye: Natural Plant-Based
Fabric Finishing: Silicone (OEKO-TEX)
Thread Dye: Natural
Label: 100% Organic Cotton
Label Ink: Synthetic (GOTS)

Materials

Fabric: 100% Royal Alpaca Wool
Fabric Dye: Low Impact Dyes (GOTS)
Fabric Finishing: Silicone (OEKO-TEX)
Thread Dye: Reactive Dye
Label: 100% Organic Cotton
Label Ink: Synthetic (GOTS)

Materials

Fabric: 100% Royal Alpaca Wool
Fabric Dye: Natural Plant-Based
Fabric Finishing: Silicone (OEKO-TEX)
Thread Dye: Natural
Label: 100% Organic Cotton
Label Ink: Synthetic (GOTS)

Materials

Fabric: 100% Royal Alpaca Wool
Fabric Dye: Low Impact Dyes (GOTS)
Fabric Finishing: Silicone (OEKO-TEX)
Thread Dye: Reactive Dye
Label: 100% Organic Cotton
Label Ink: Synthetic (GOTS)

Materials

Fabric: 100% Royal Alpaca Wool
Fabric Dye: Natural Plant-Based
Fabric Finishing: Silicone (OEKO-TEX)
Thread Dye: Natural
Label: 100% Organic Cotton
Label Ink: Synthetic (GOTS)

Materials

Fabric: 100% Royal Alpaca Wool
Fabric Dye: Low Impact Dyes (GOTS)
Fabric Finishing: Silicone (OEKO-TEX)
Thread Dye: Reactive Dye
Label: 100% Organic Cotton
Label Ink: Synthetic (GOTS)

Materials

Fabric: 100% Royal Alpaca Wool
Fabric Dye: Natural Plant-Based
Fabric Finishing: Silicone (OEKO-TEX)
Thread Dye: Natural
Label: 100% Organic Cotton
Label Ink: Synthetic (GOTS)

Materials
Fabric: 100% Royal Alpaca Wool
Fabric Dye: Low Impact Dyes (GOTS)
Fabric Finishing: Silicone (OEKO-TEX)
Thread Dye: Reactive Dye
Label: 100% Organic Cotton
Label Ink: Synthetic (GOTS)
Materials
Regular price
$75.00
Sale price
$75.00
Unit price
per
0% OFF
Or save 7% with a pack
Alpaca Wool outperforms Merino.
Alpaca fibers evolved in the harsh Peruvian Andes over millennia, to keep you protected on any adventure.
Unique Semi-Hollow Fibers:
• Lighter Weight
• Higher Insulation
Smoothest Fiber Scales:
• Moisture Wicking
• Softer without Felting
Pack lighter, travel farther.
Get the most out of nature with the ultimate performance fiber. Explore the outdoors clean and dry, with naturally anti-bacterial and temperature regulating Alpaca Wool.

❊ Anti-bacterial & Odor-resistant
↻ High sweat-wicking
☁ High breathability
☀ UV - Protection
✓ Light & durable
We put a stop to plastic pollution.
It is our mission to make clothes that allow you to explore nature without contaminating it with microplastics.
This is the first step in making our entire catalog petroleum-free and biodegradable.
We use only biodegradable materials:
• 100% Royal Alpaca Wool Fabric
• 100% Cotton Threads
• 100% Cotton Labels
Size & Fit

• Regular Fit

• Model wears Black Crew Neck Shirt size S

• Model is 5'5", has 33.8" chest and 37.7" hips
Shipping & Returns

Free Shipping for US orders over $200 that are purchased from our US warehouse.*

*Items stocked in Peru will occur a shipping fee. This fee includes customs & duties.
View full details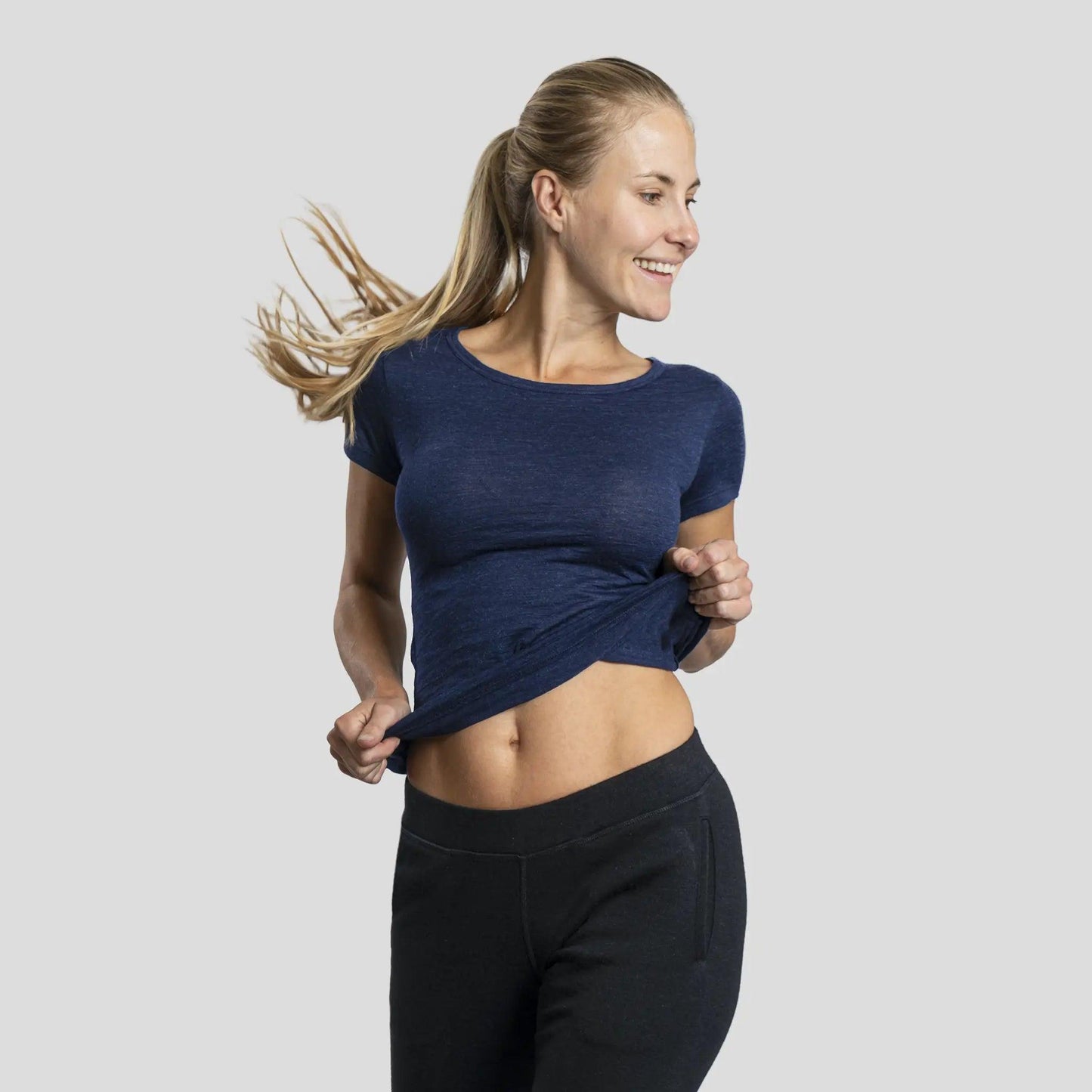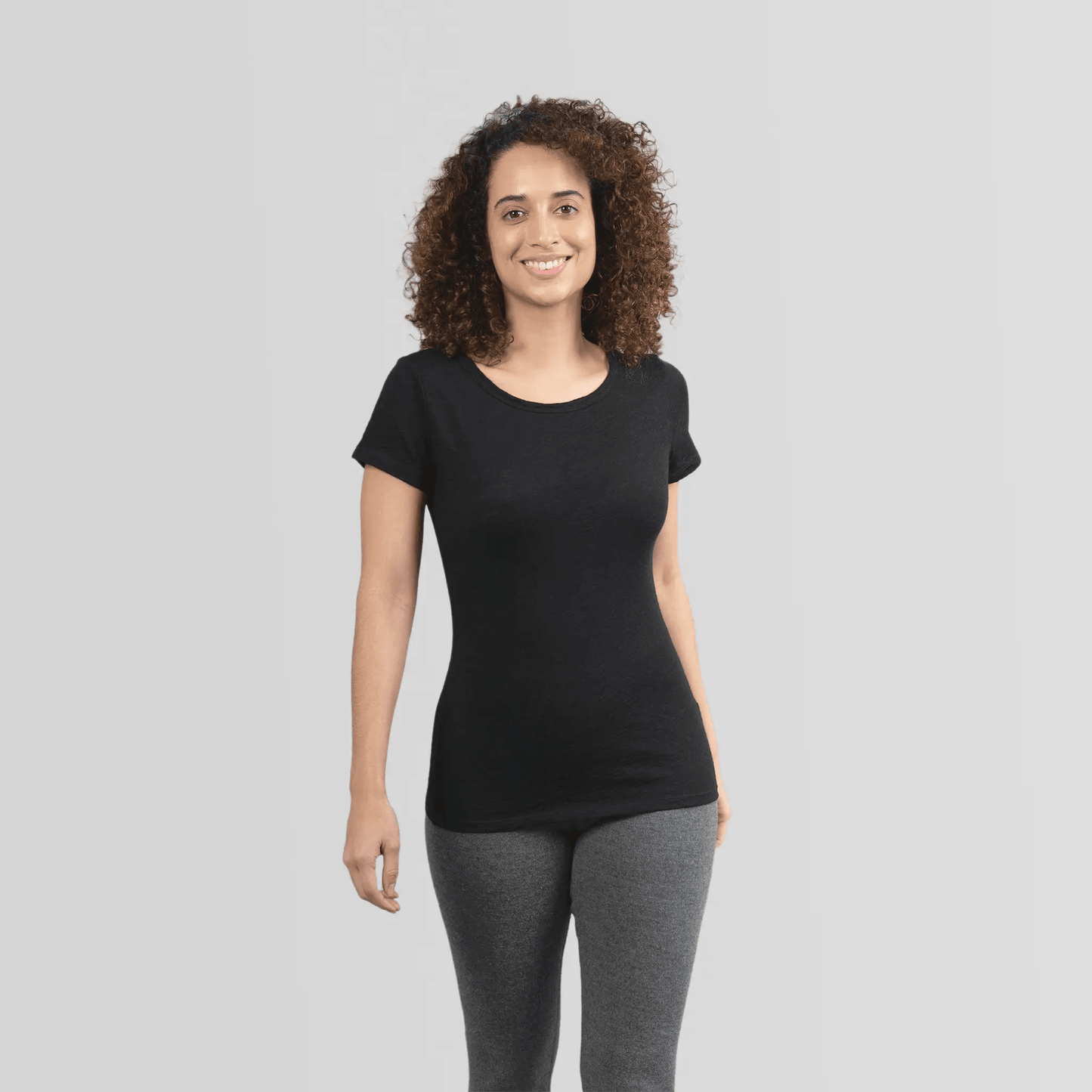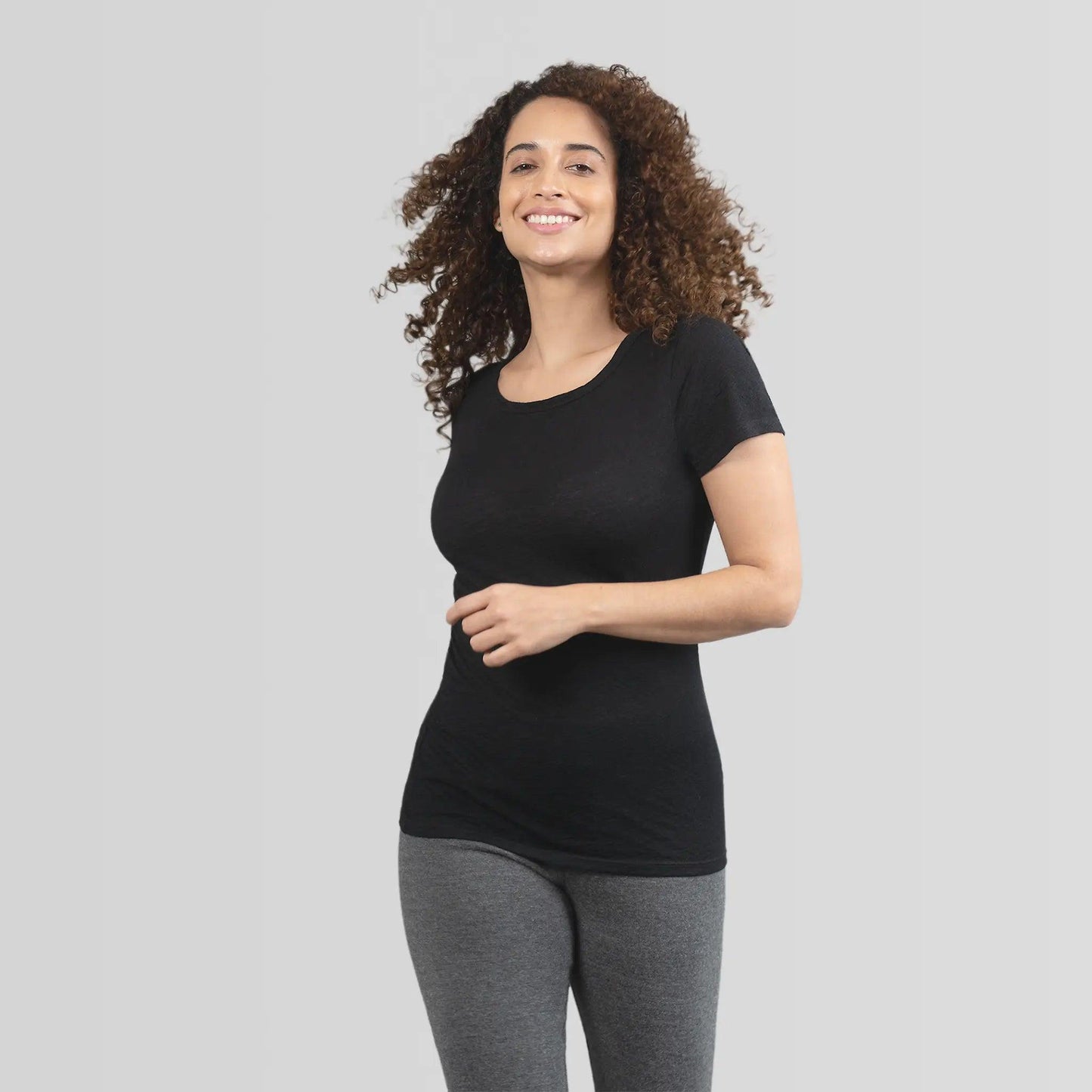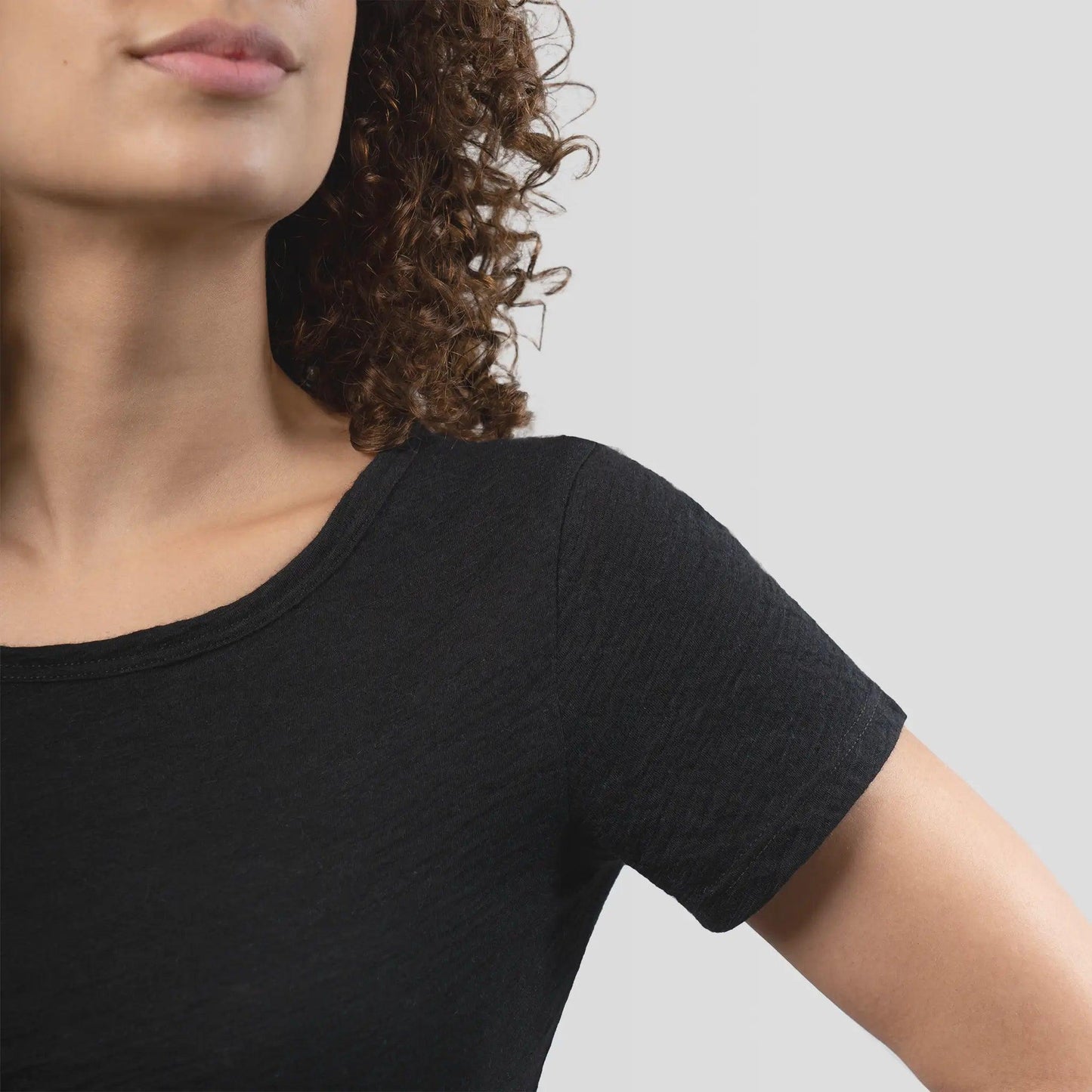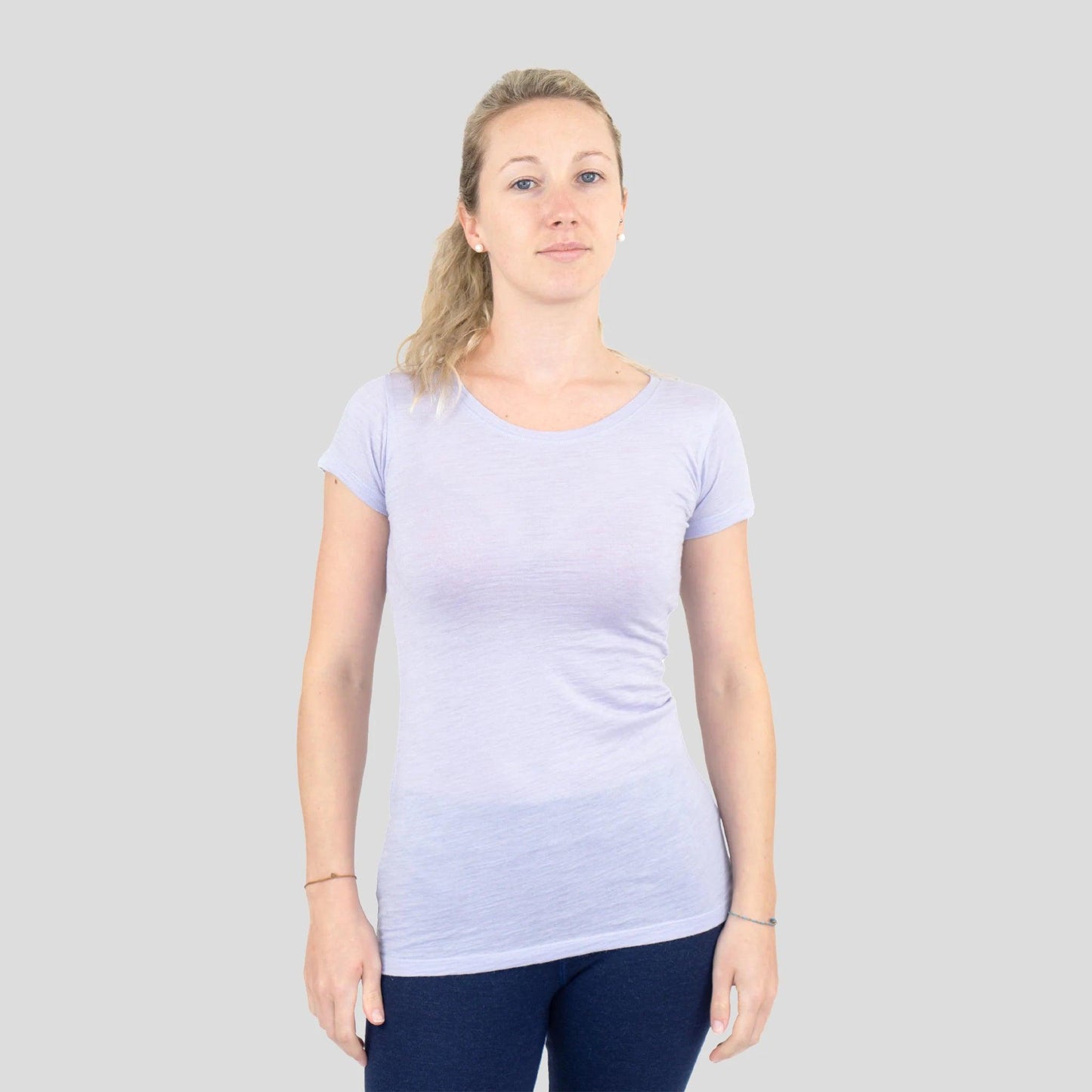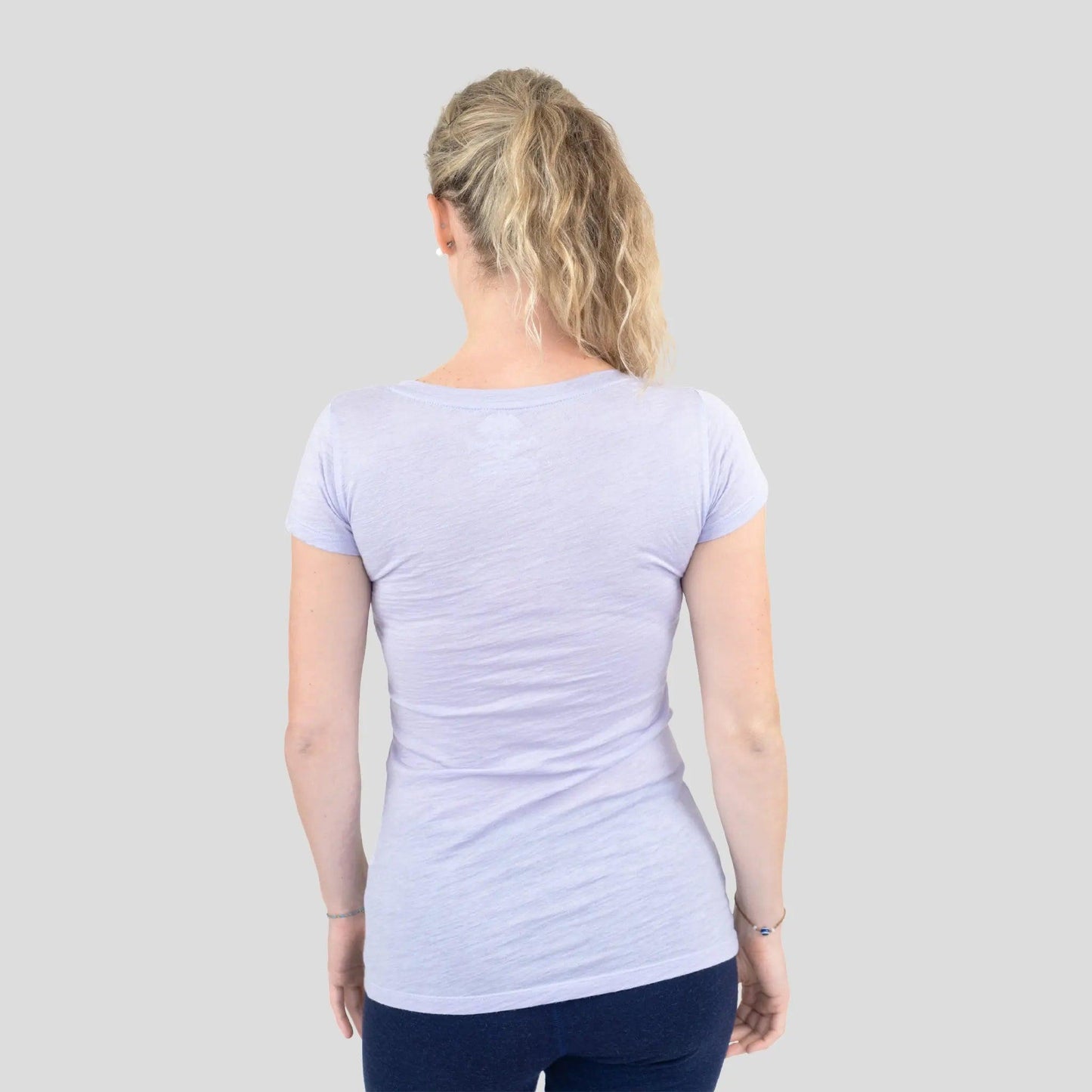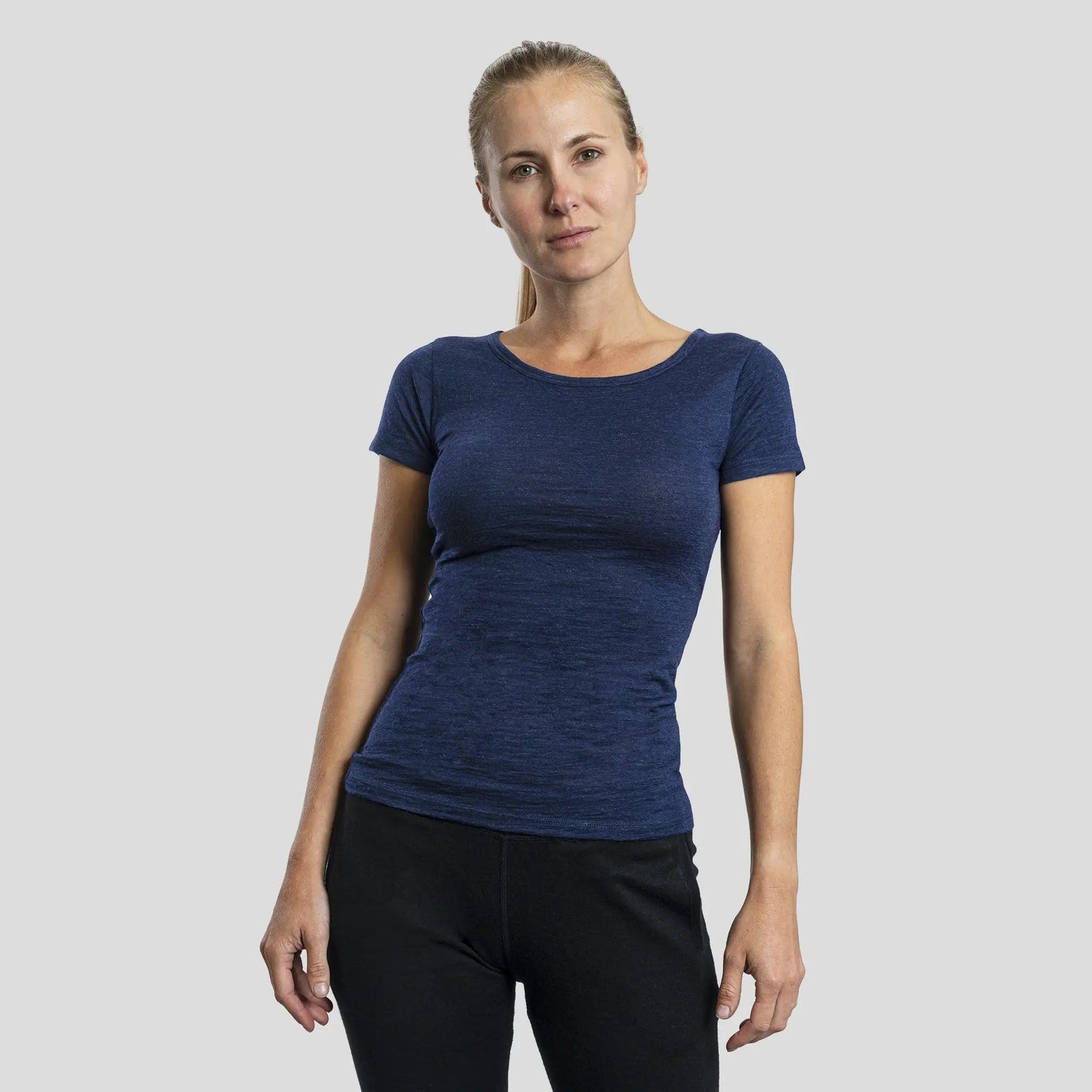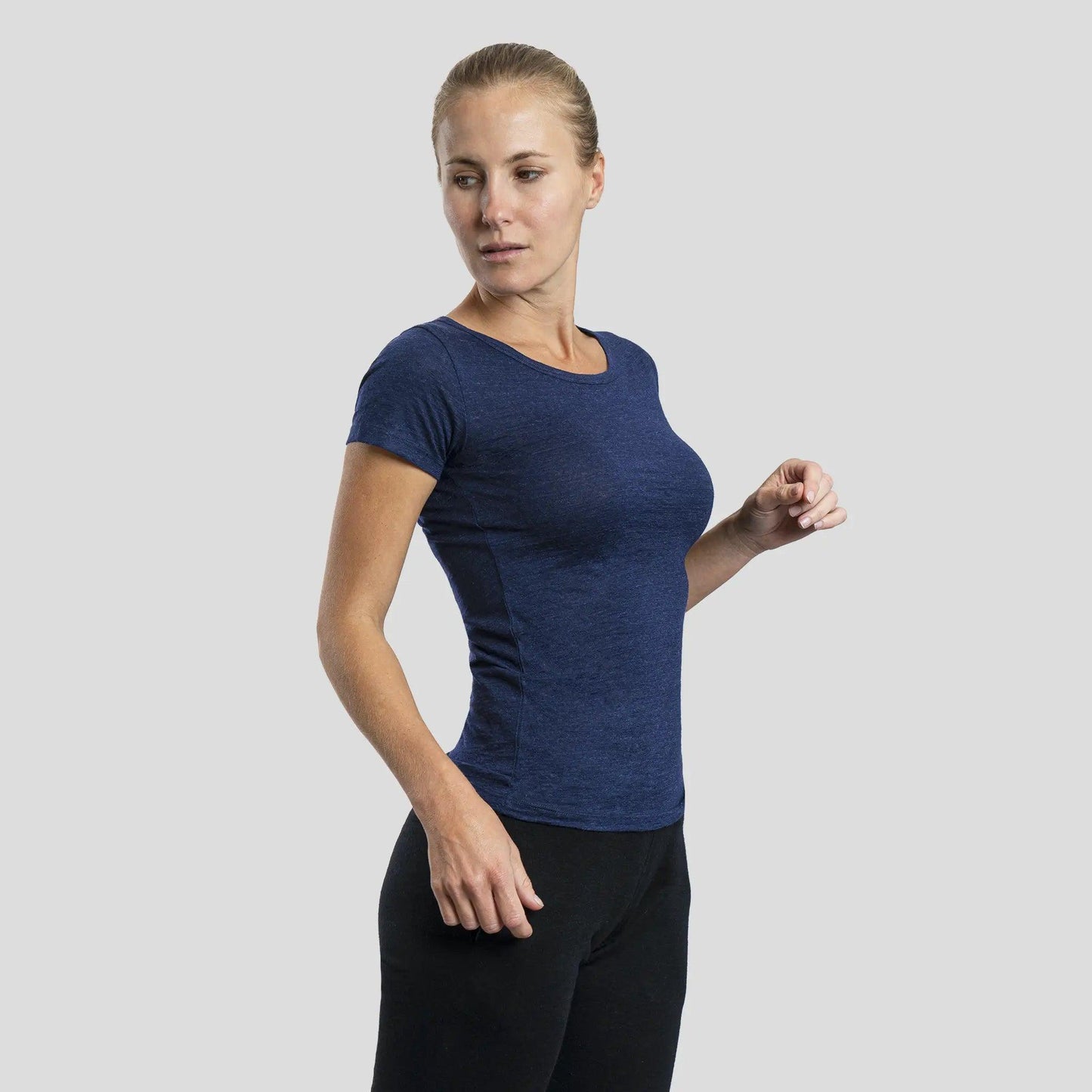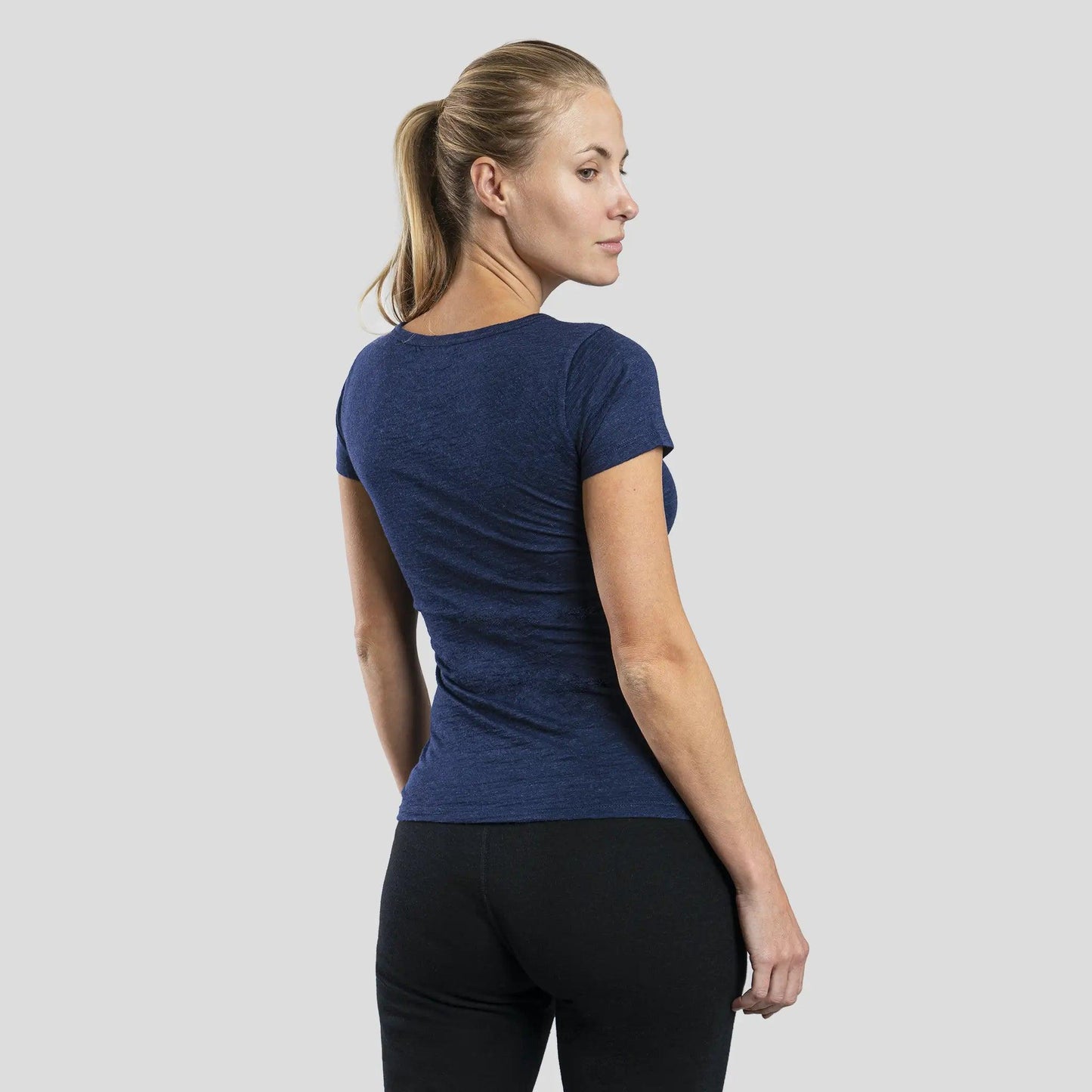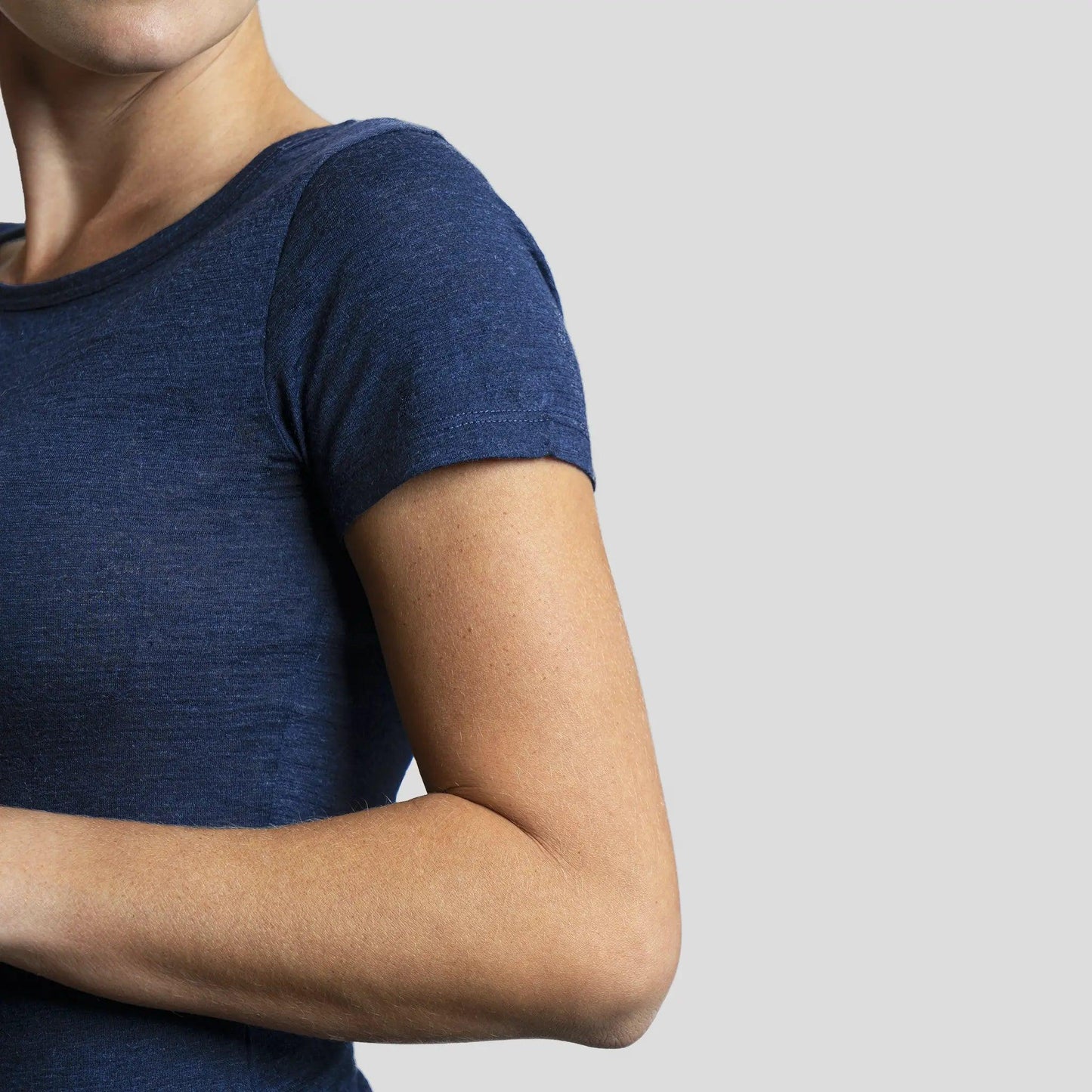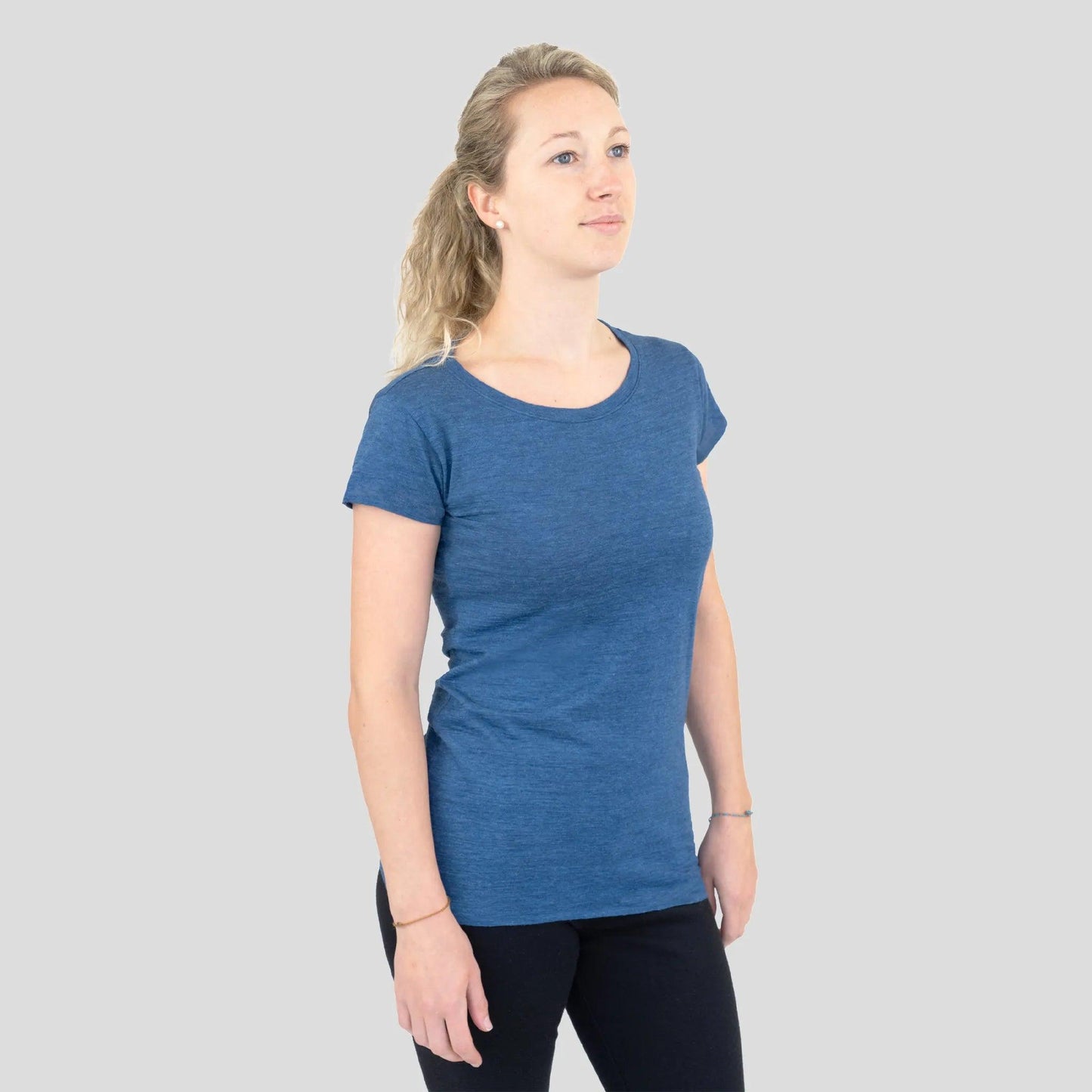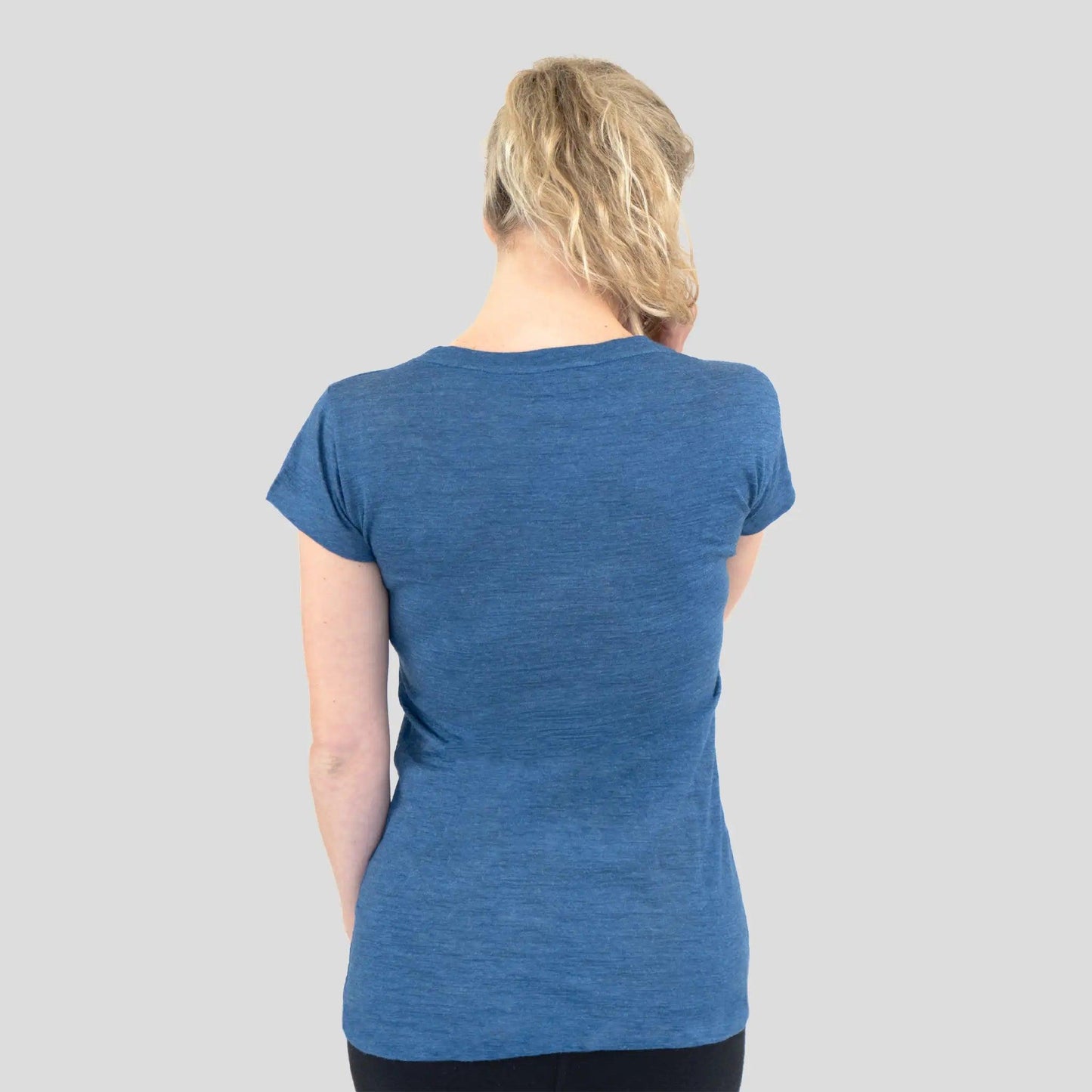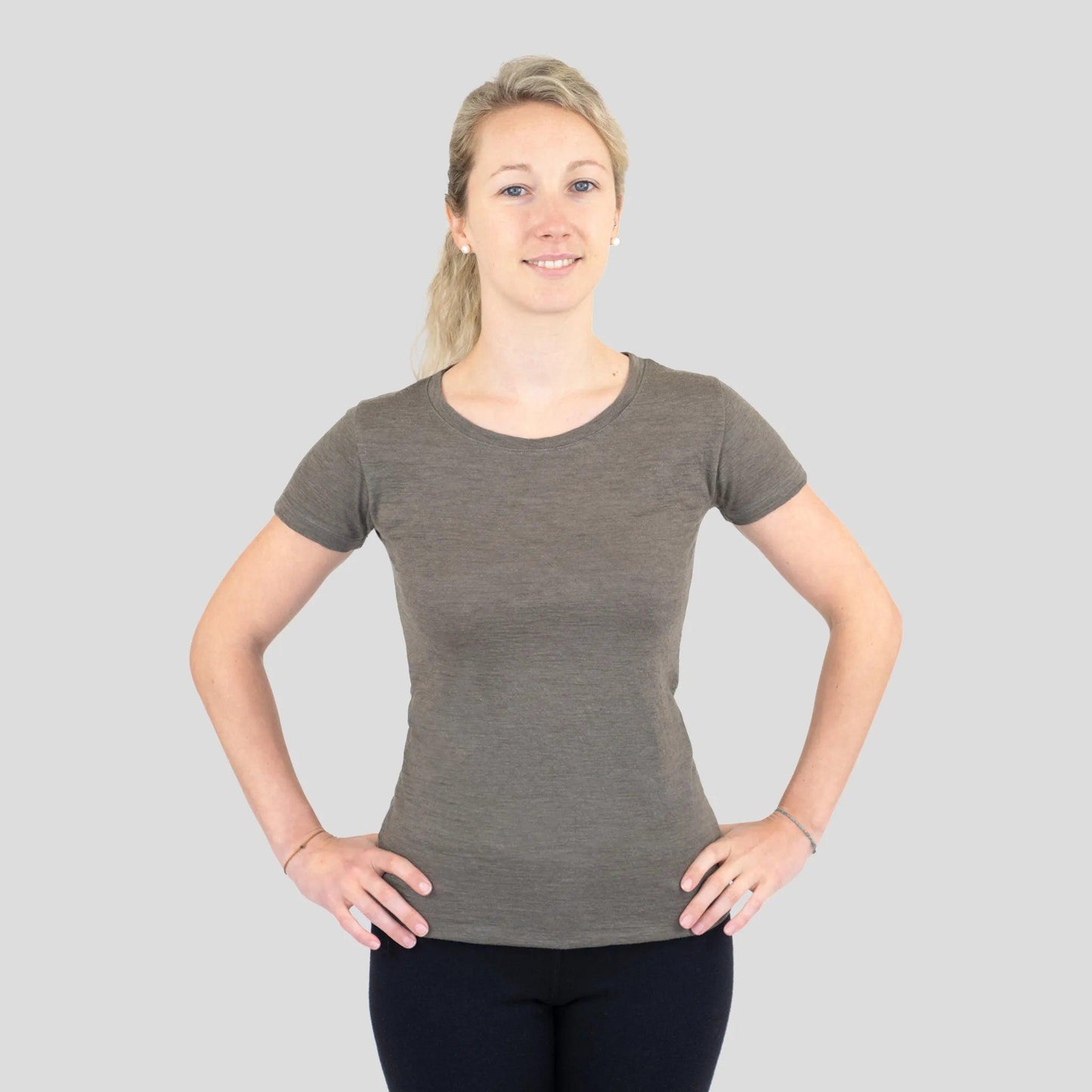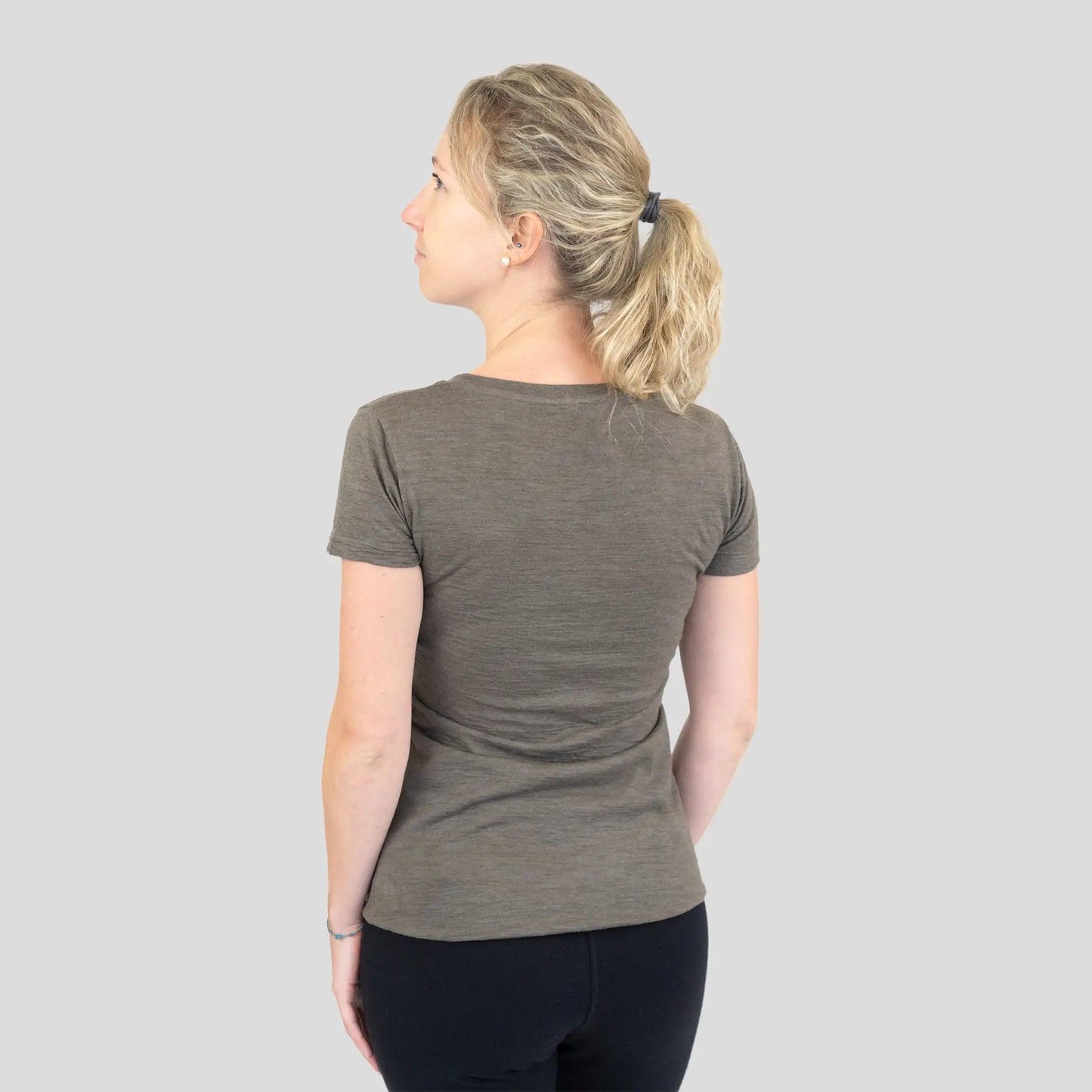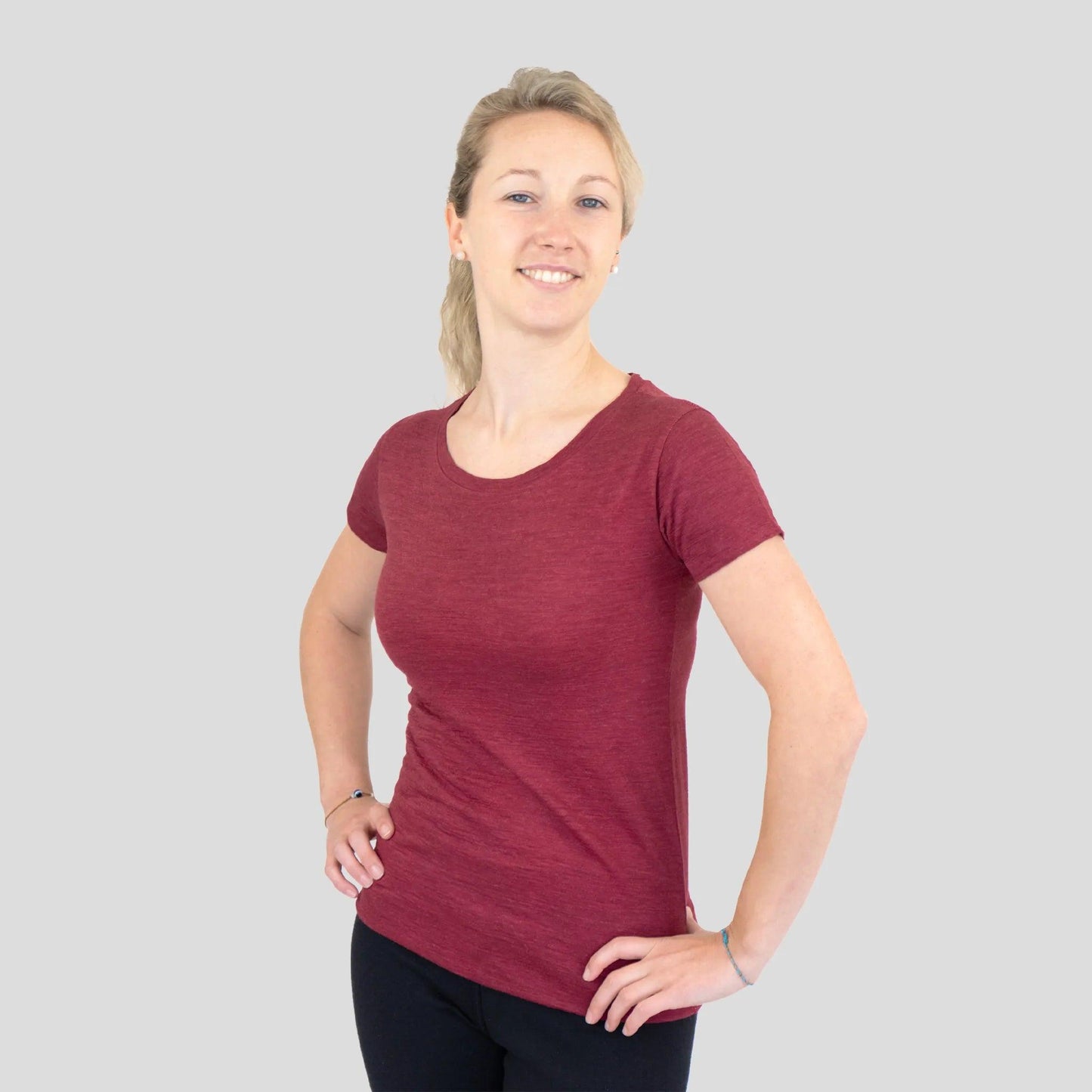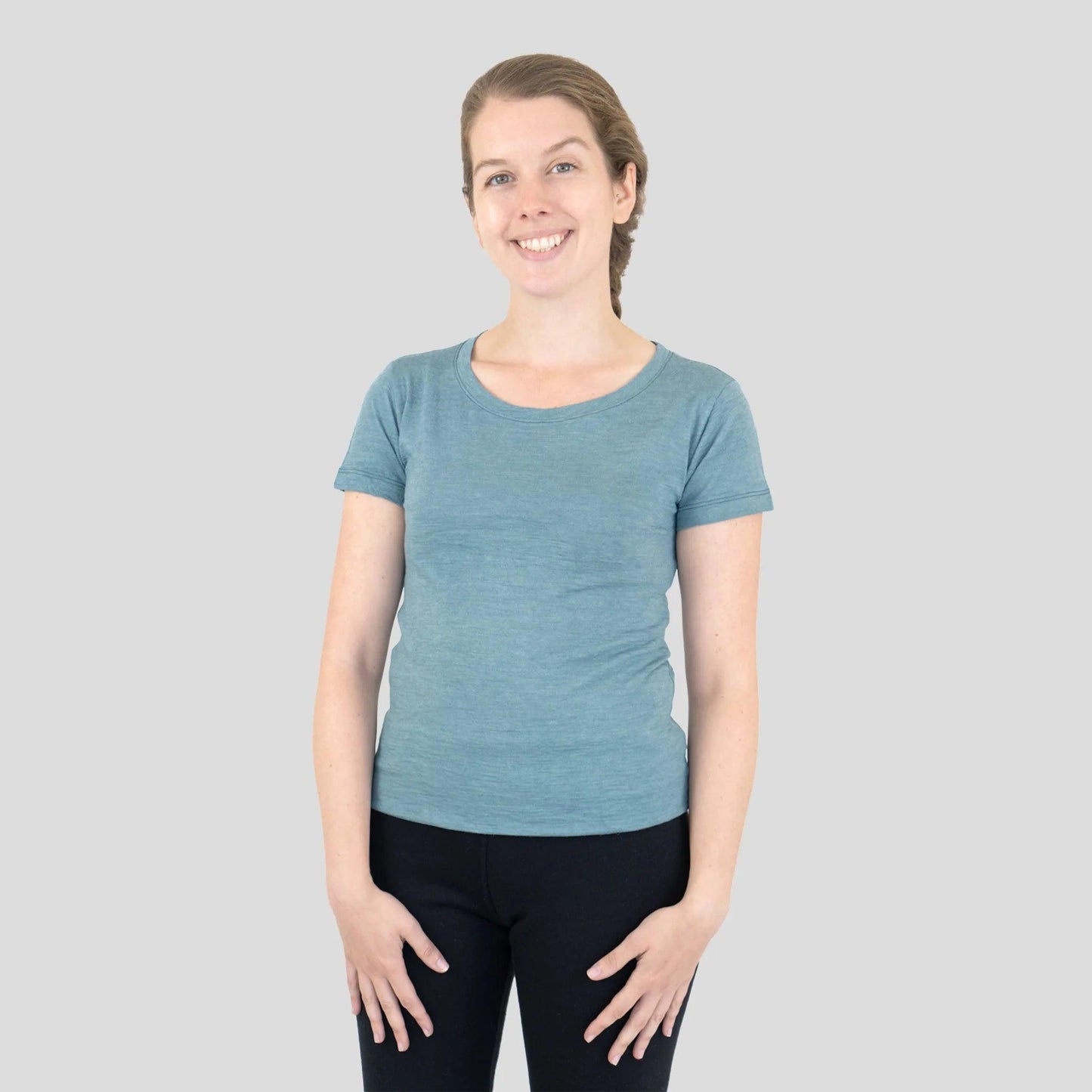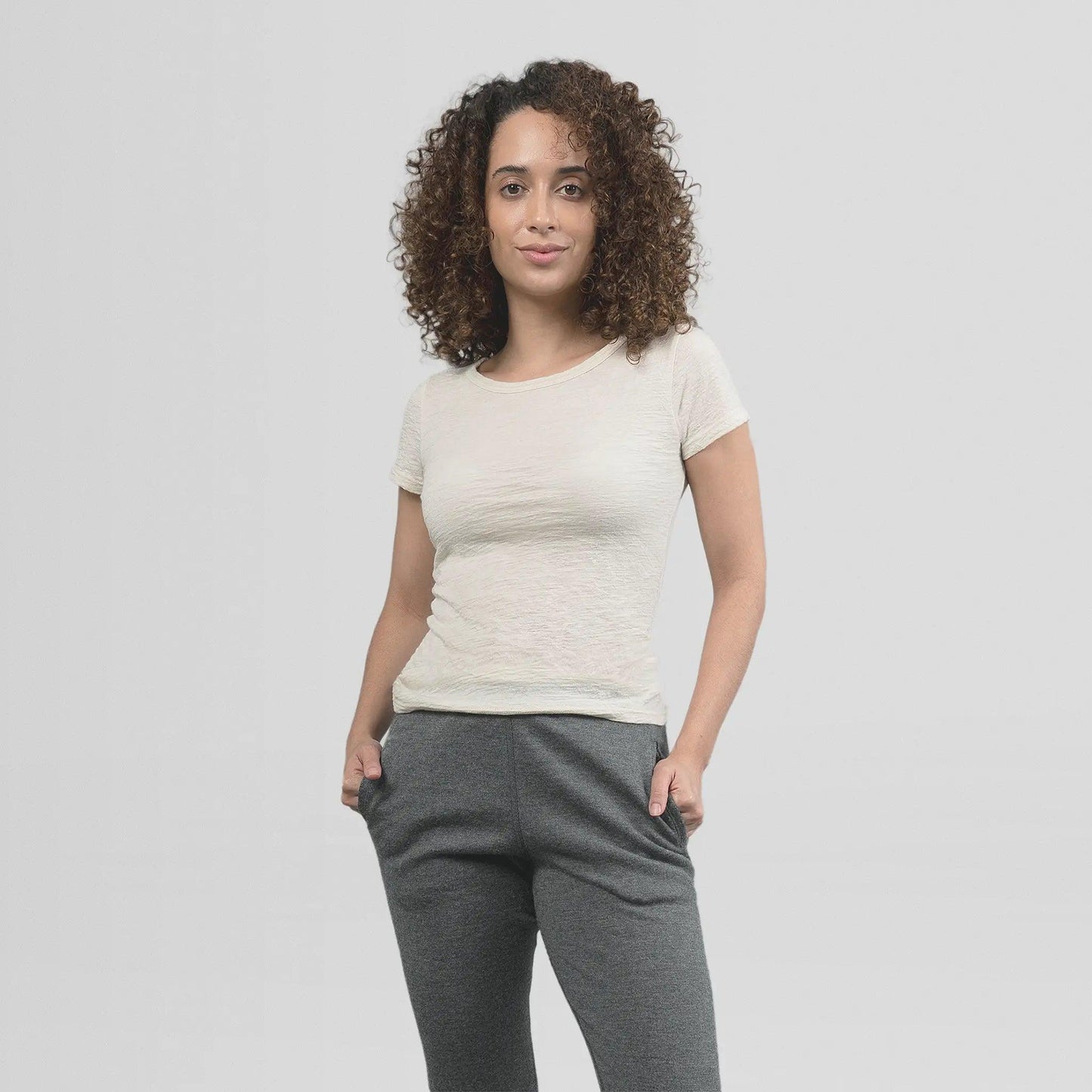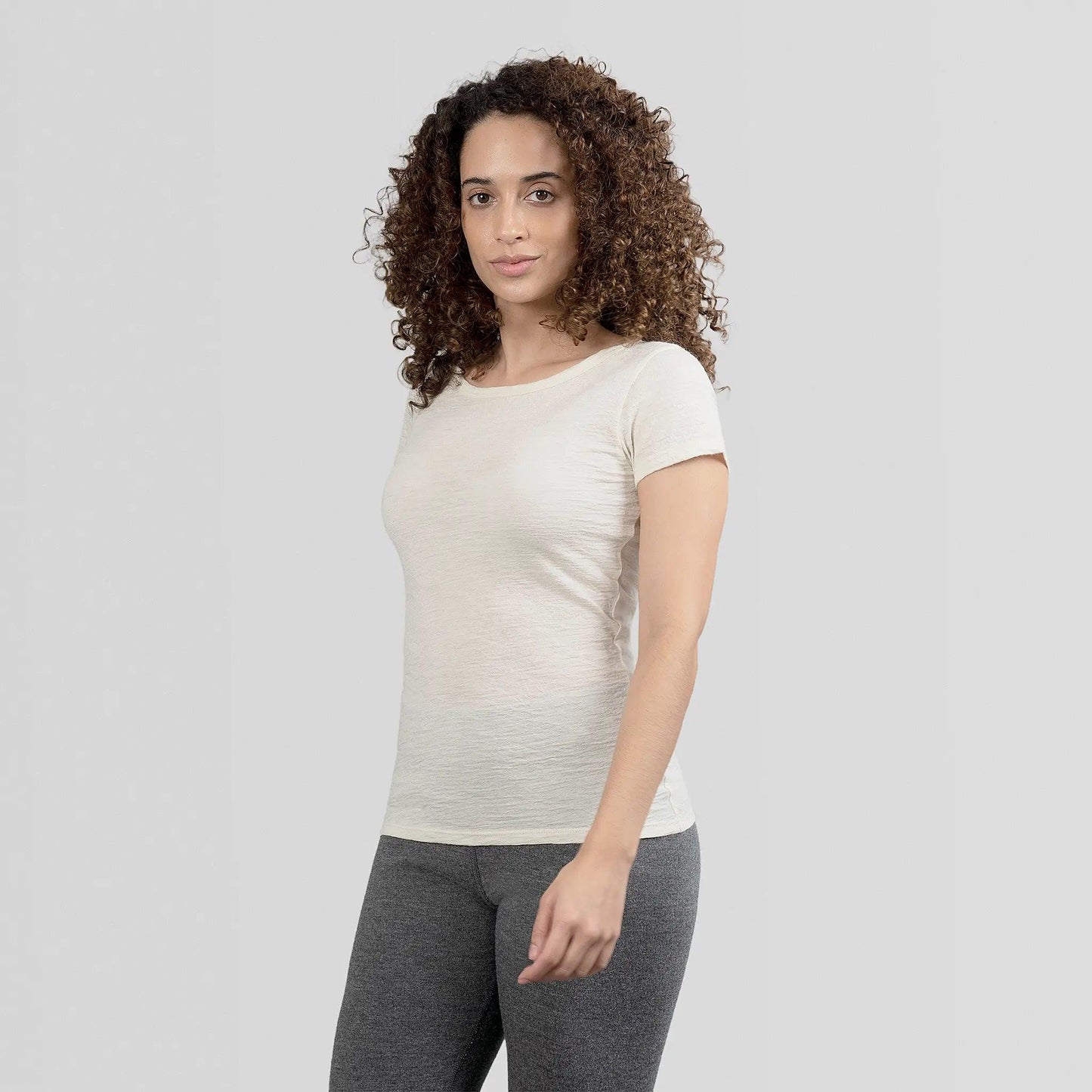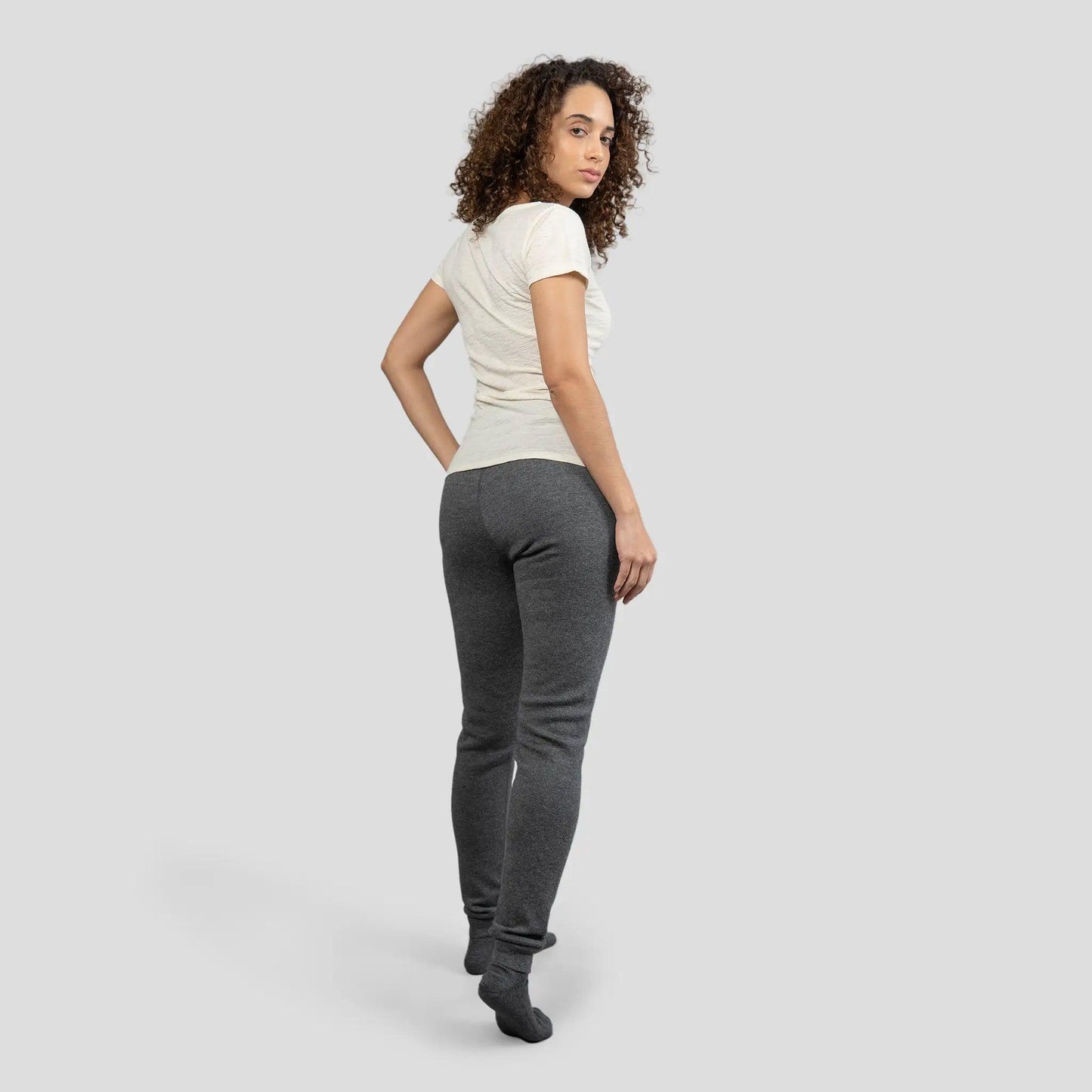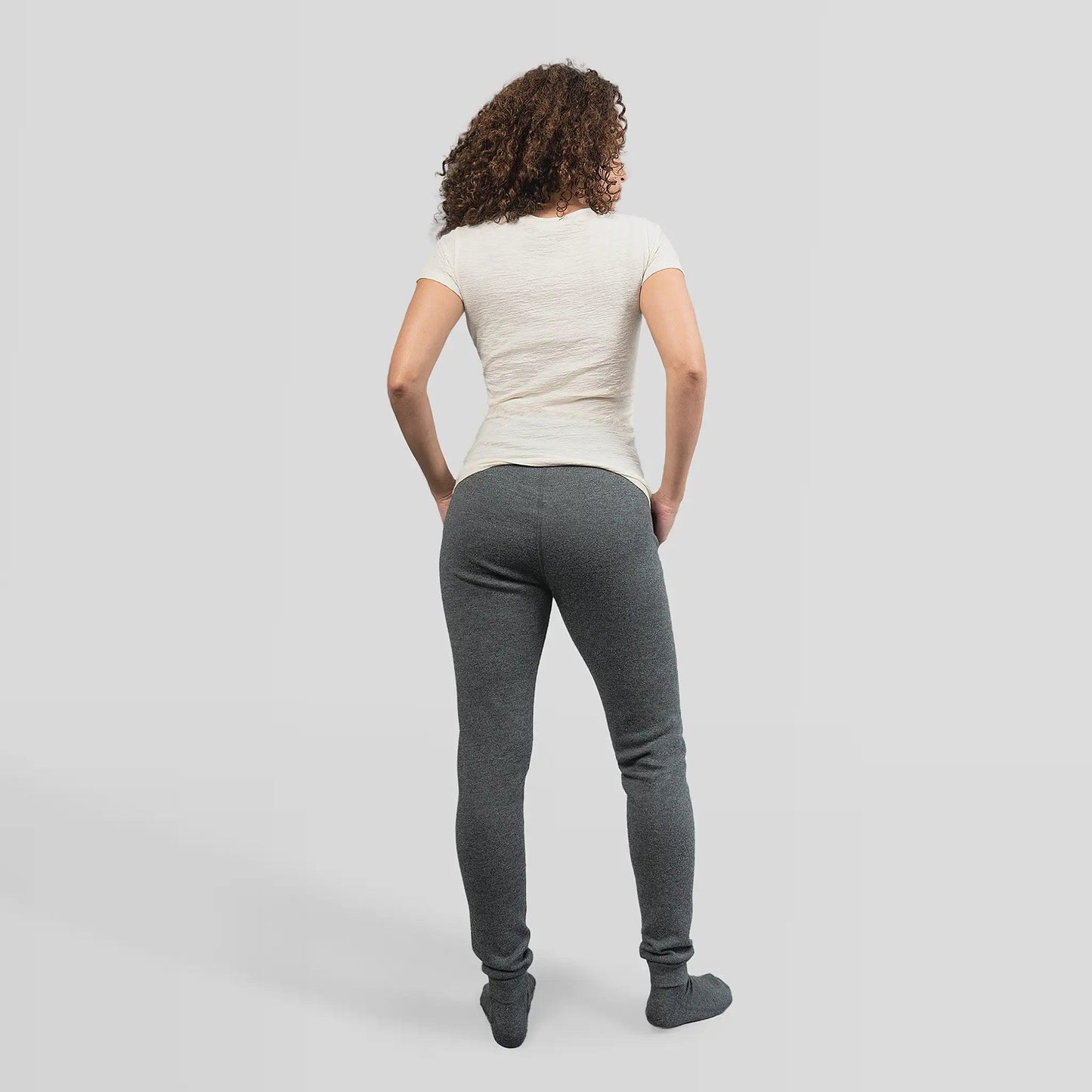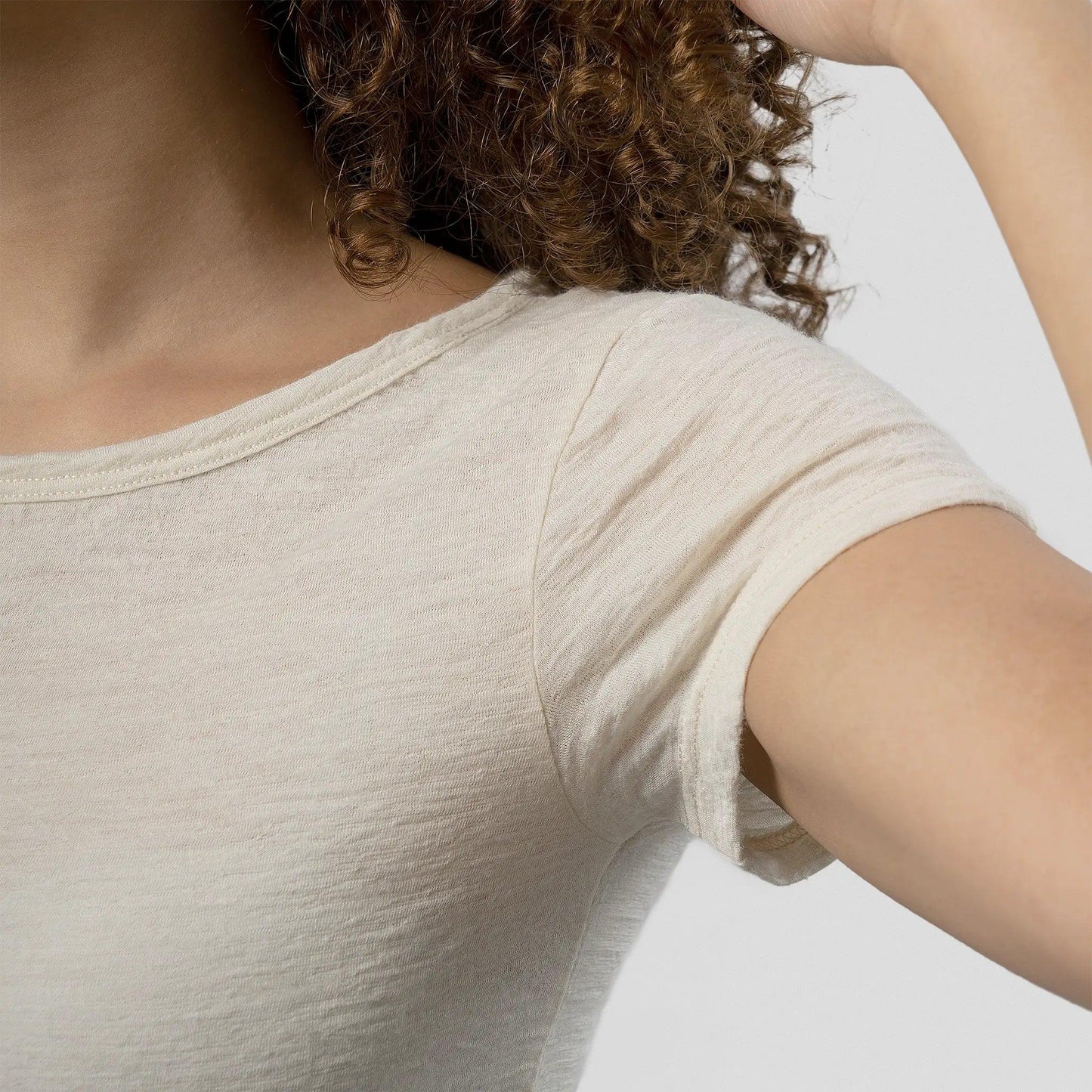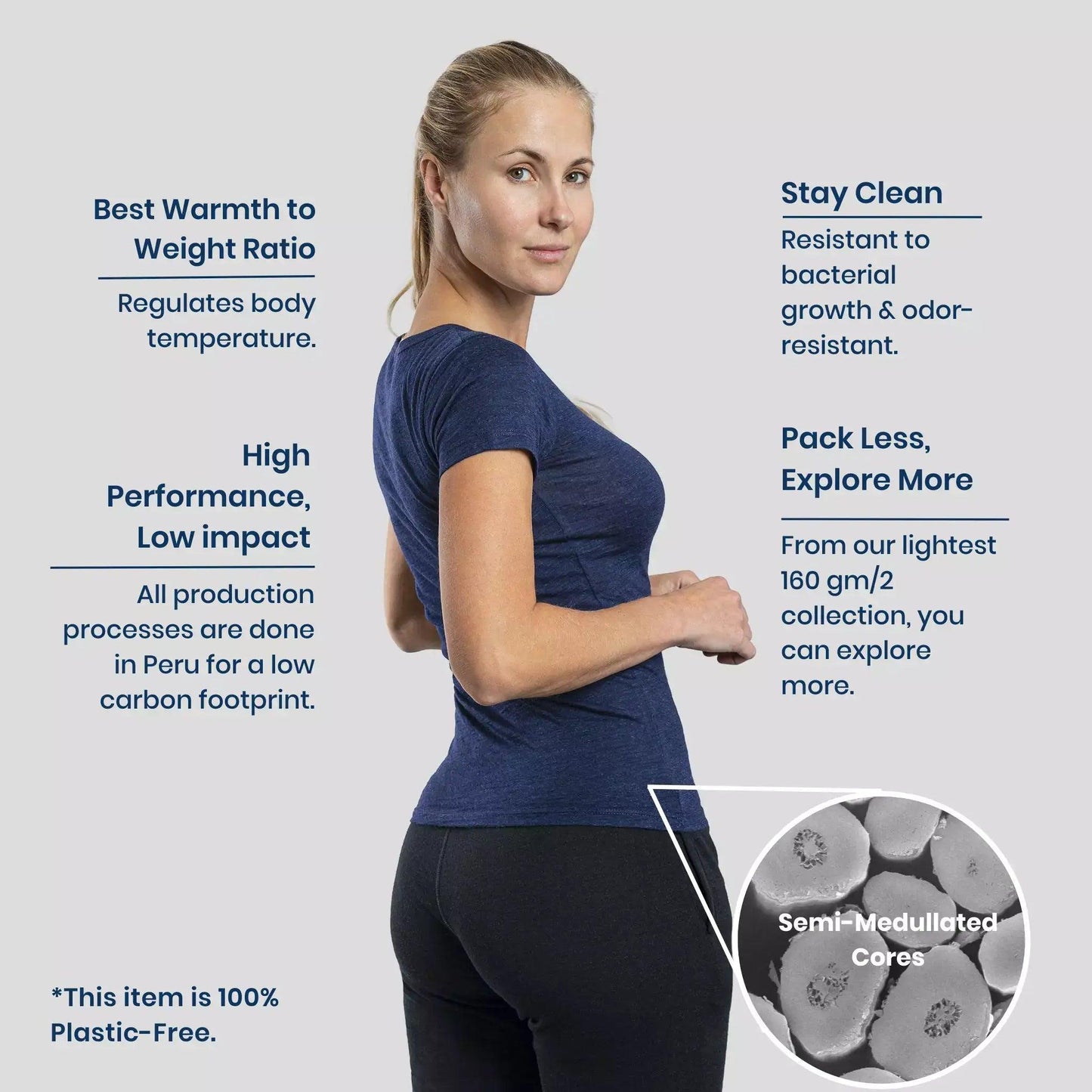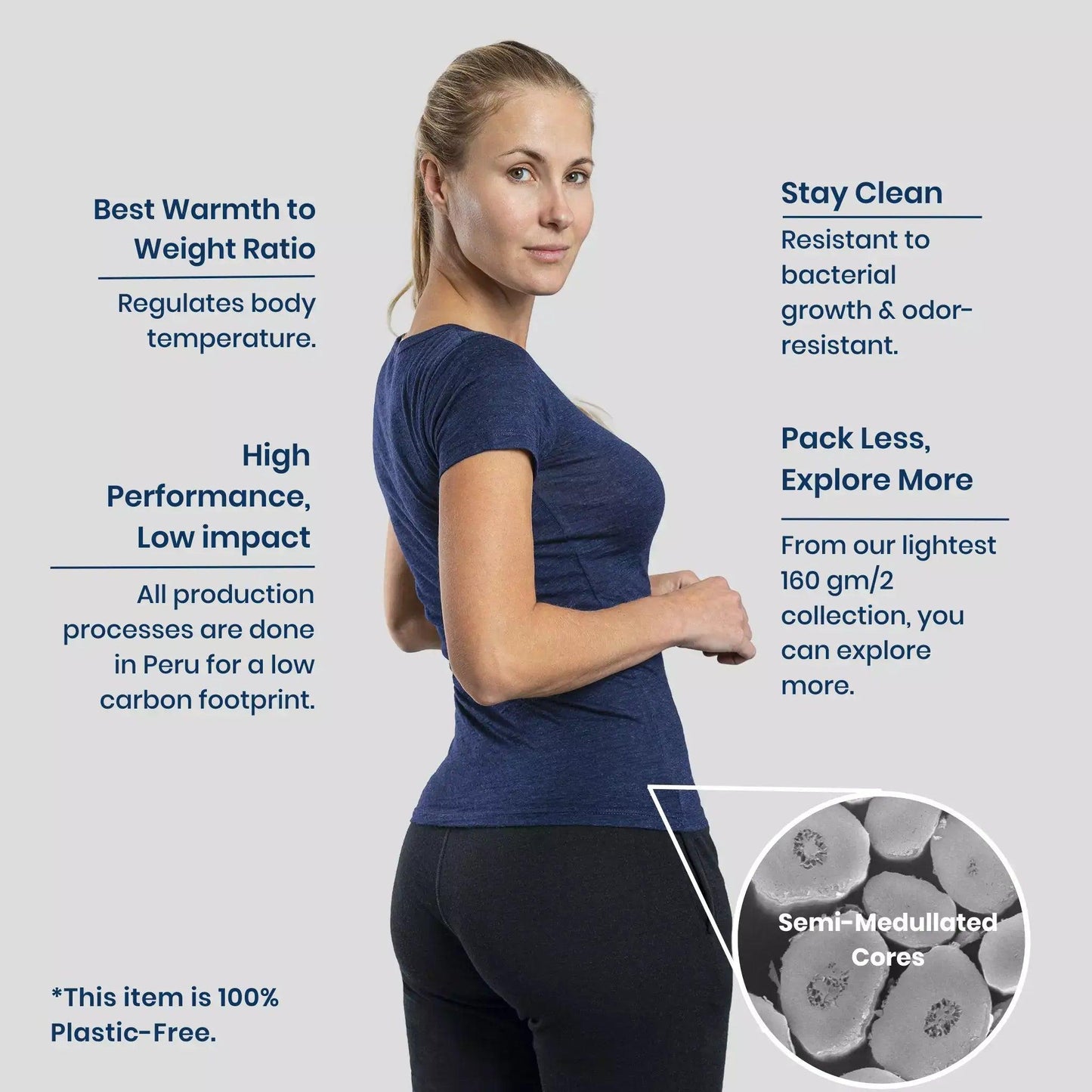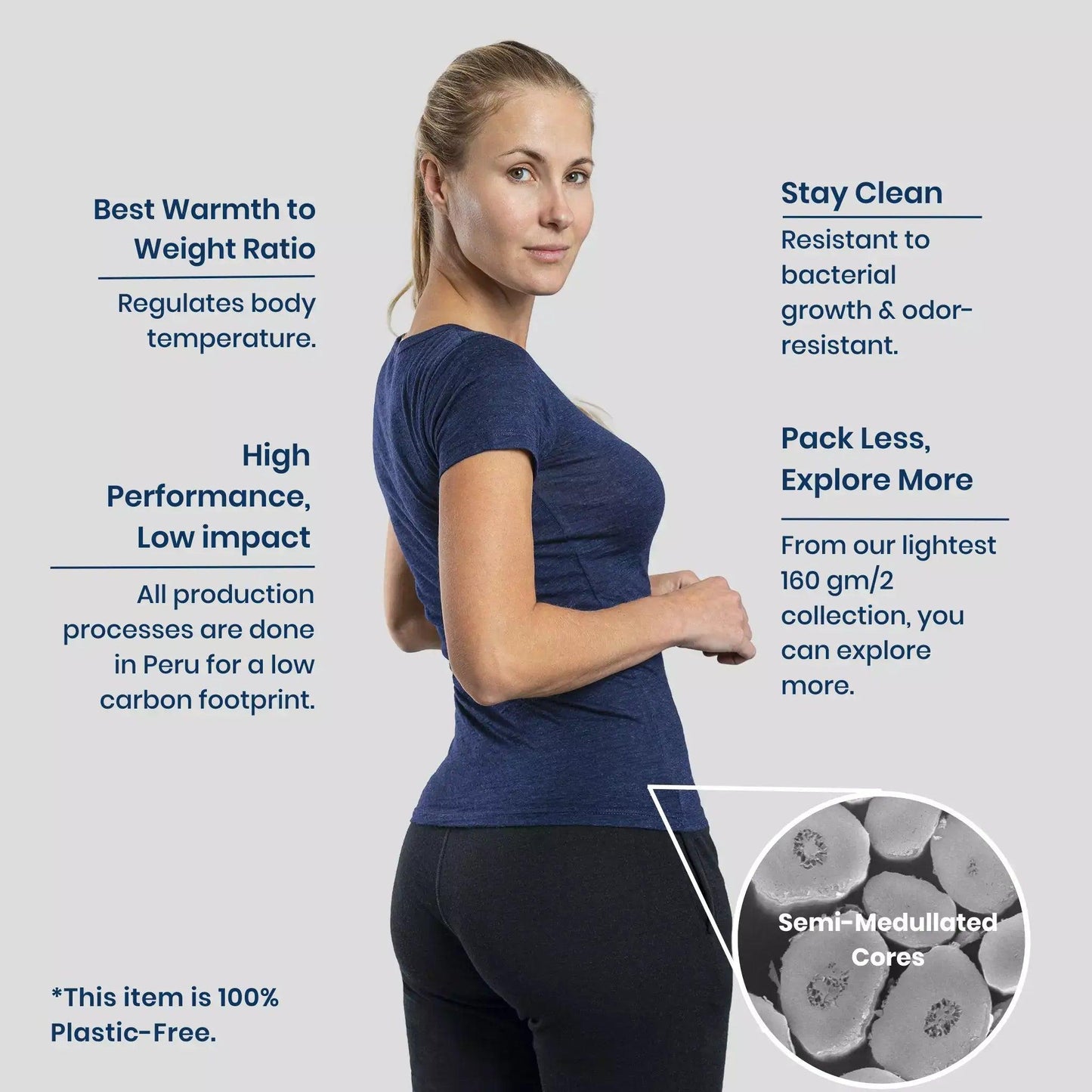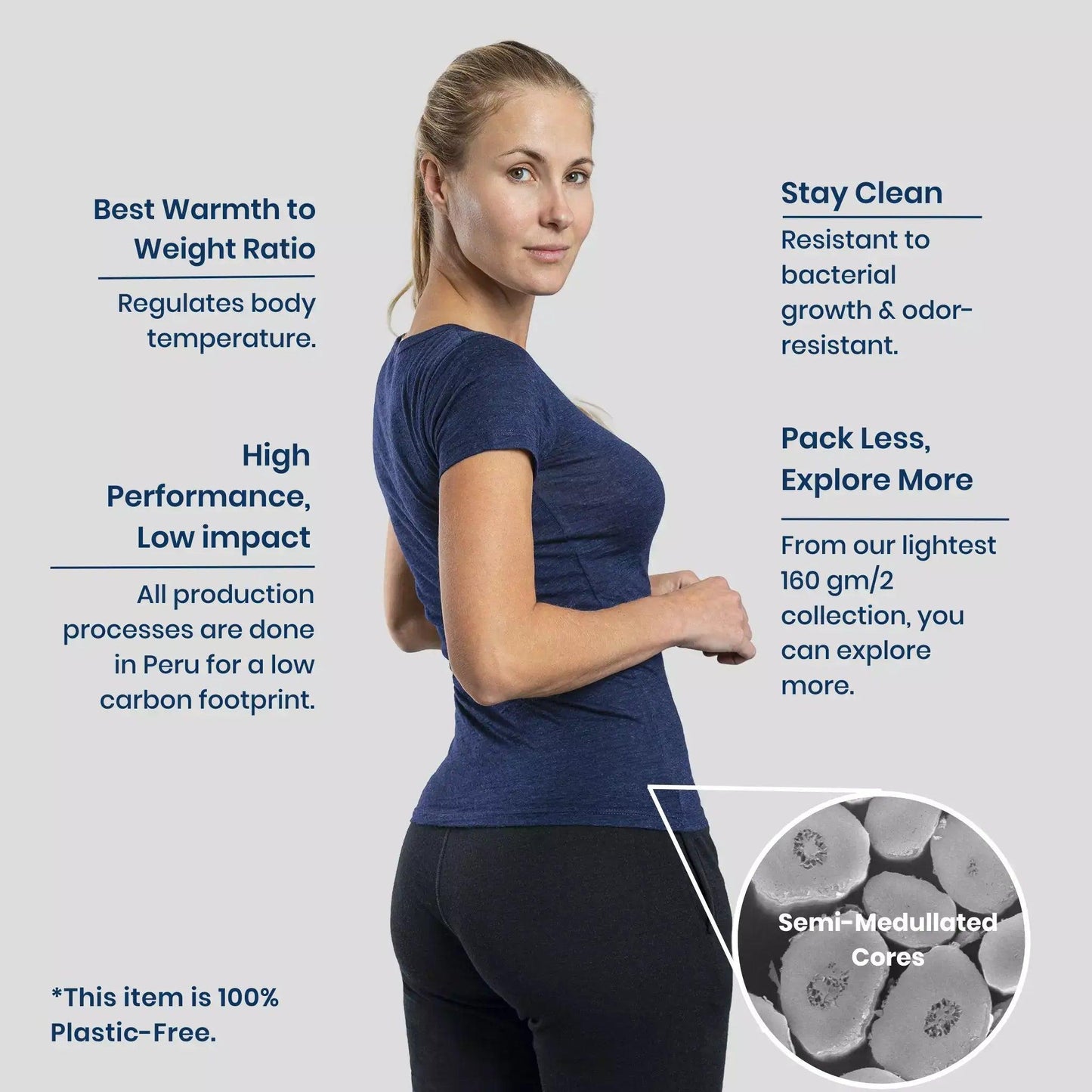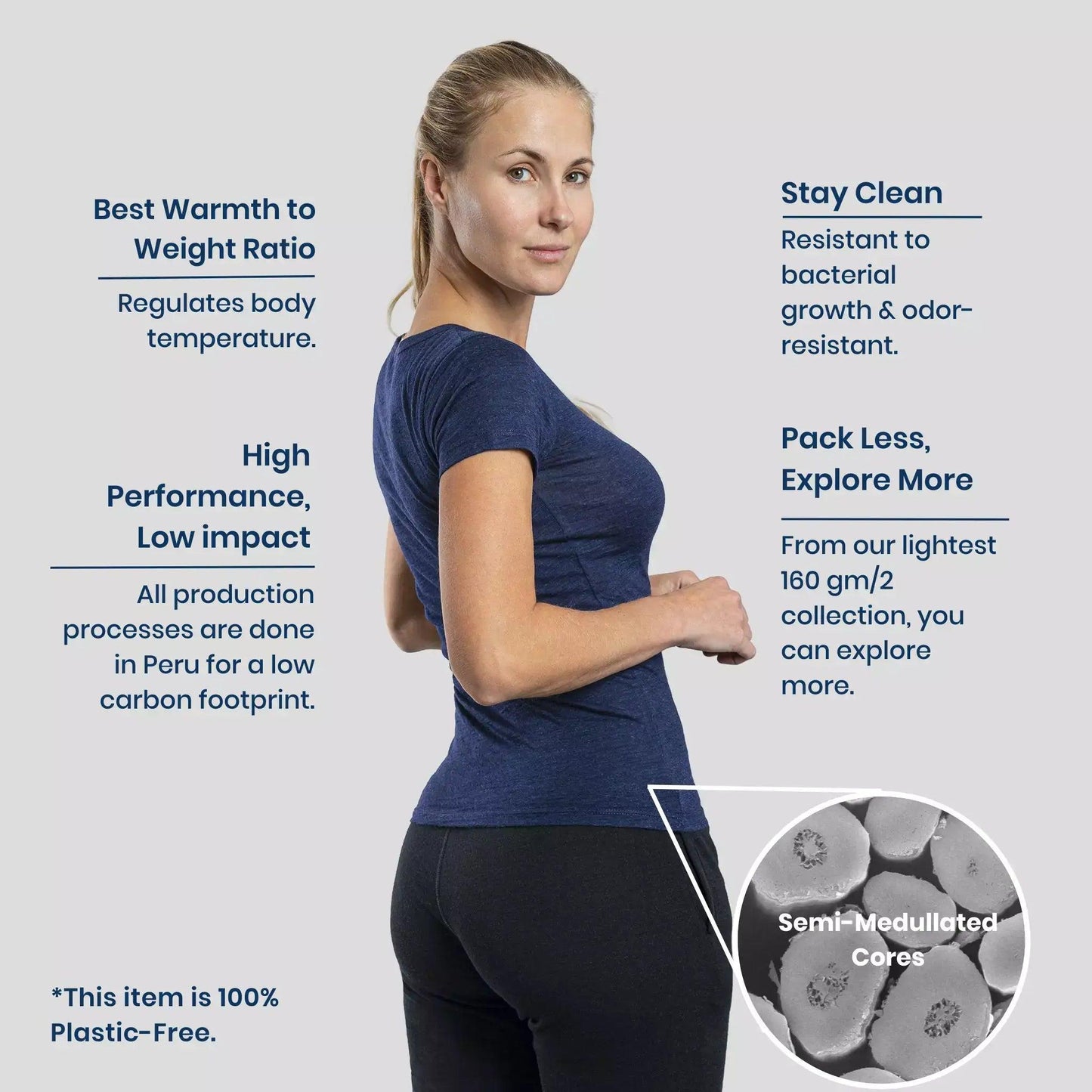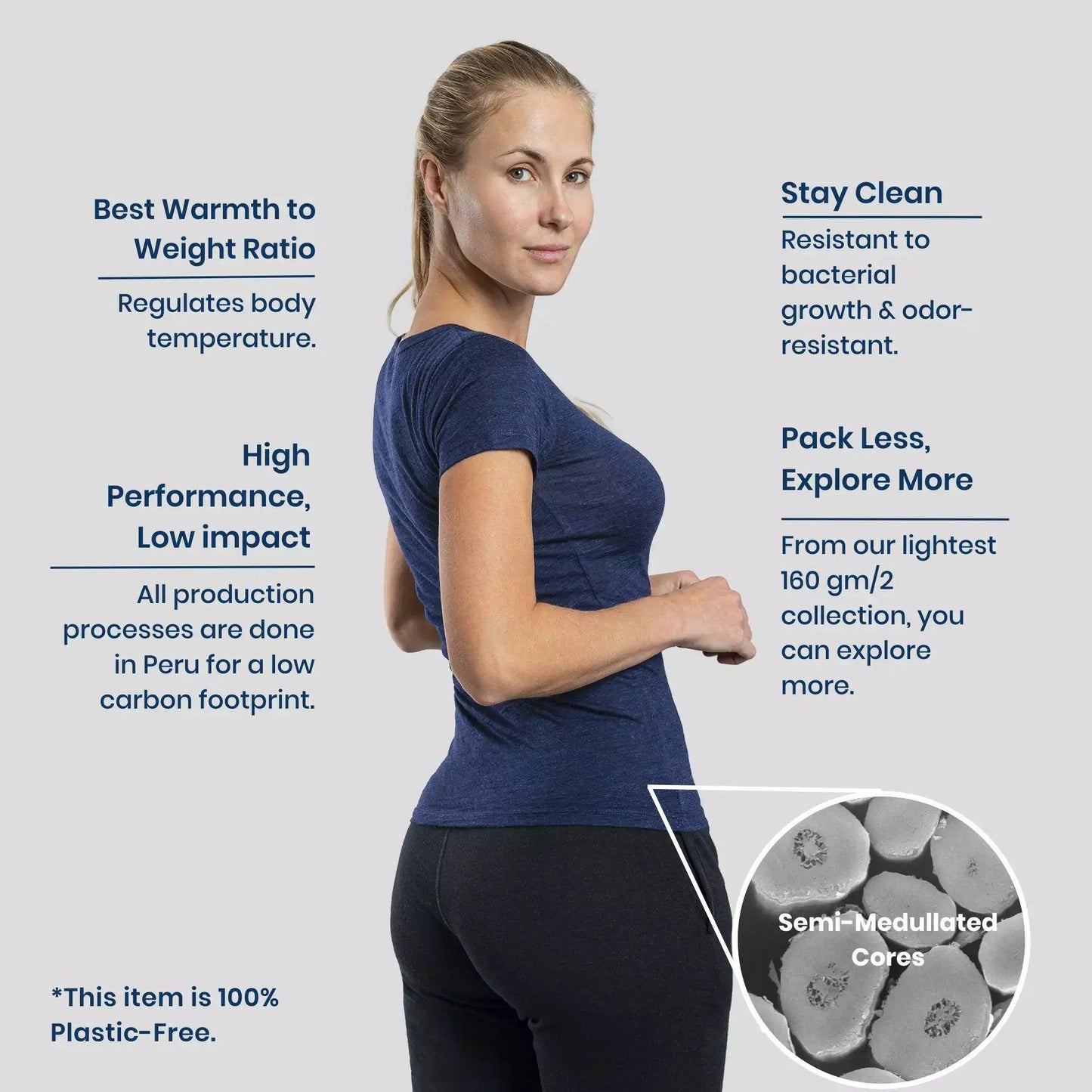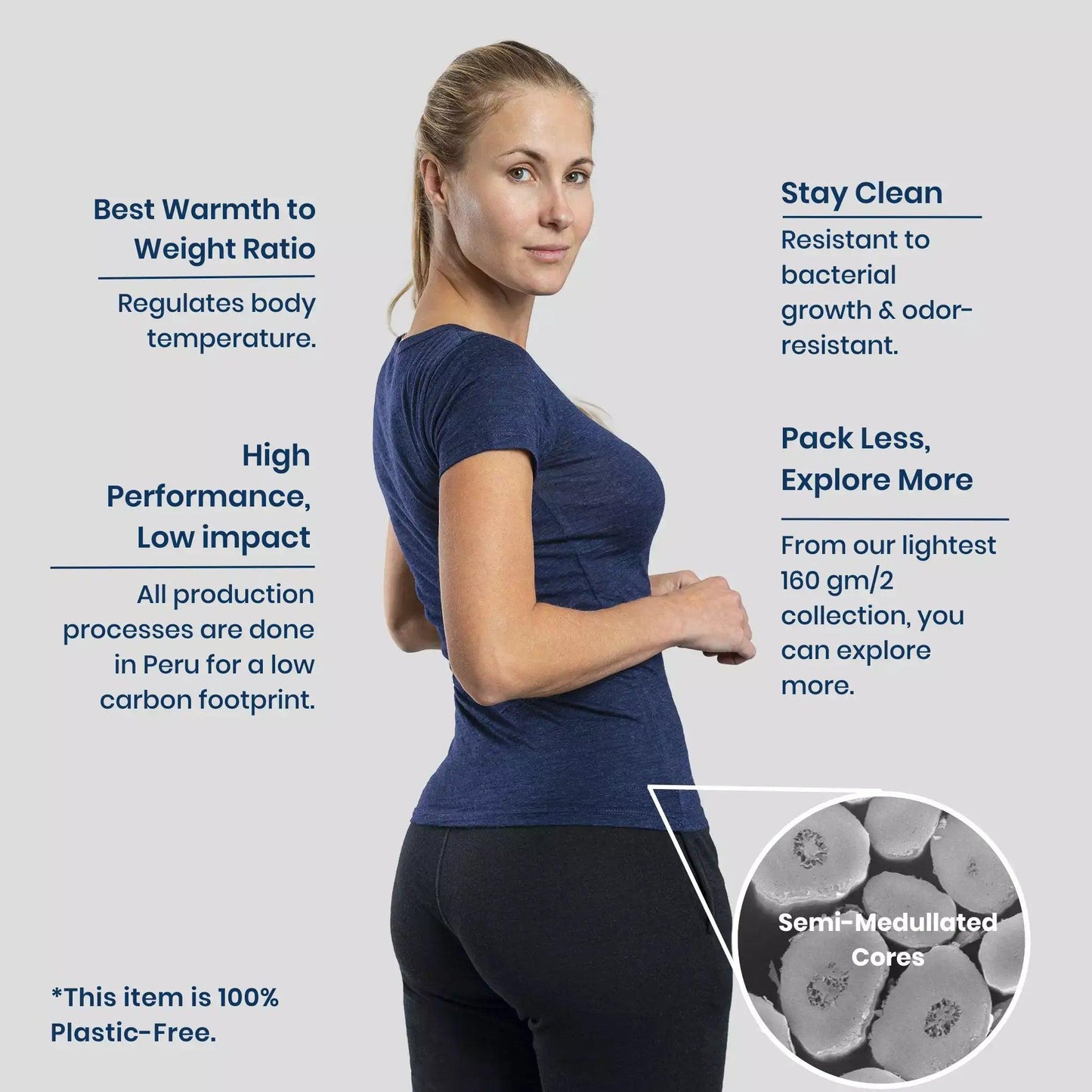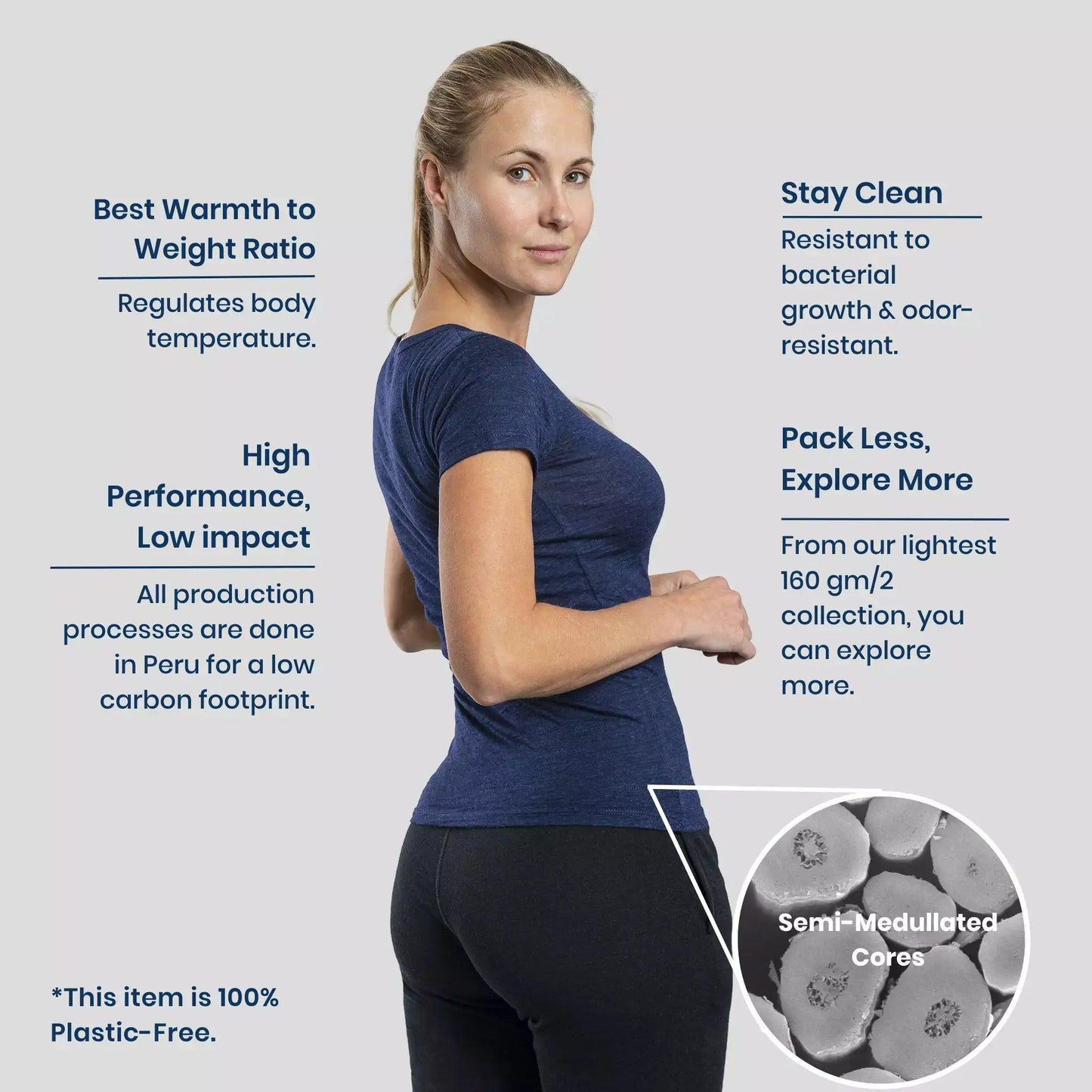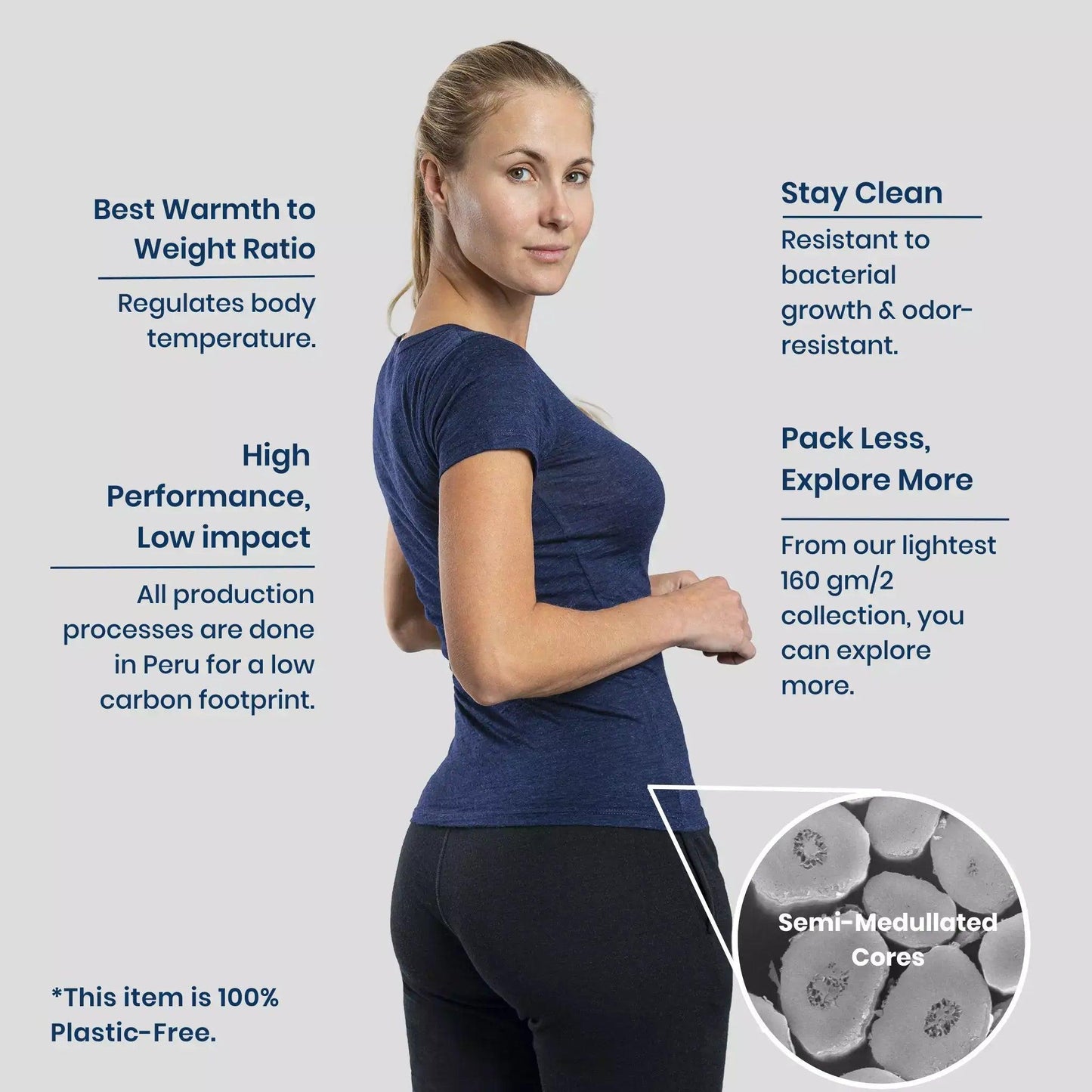 LESS WEIGHT, LESS WASHING
The Ultimate Outdoor T-Shirt
We have created the perfect T-shirt to get you closer to nature. 100% Royal Alpaca wool is the most sustainable fiber that also protects your body. Our women's wool t-shirt keeps your body dry and feeling fresh no matter what adventure you are on. Alpaca fibers wick away sweat and prevent odor causing bacteria. Explore more and embrace nature with Arms of Andes.
NATURAL HIGH-PERFORMANCE
Soft & Sweat-Wicking T-Shirt
For thousands of years, alpacas have been adapting to extreme environments of the Andes Mountains, where temperatures range widely. The harsh highland conditions created the ultimate outdoor fiber, designed to keep you protected, clean, and comfortable.