Skip to product information
Fabric: 100% Royal Alpaca Wool
Fabric Dye: Low Impact Dyes (GOTS)
Fabric Finishing: Silicone (OEKO-TEX)
Thread Dye: Reactive Dye
Label: 100% Organic Cotton
Label Ink: Synthetic (GOTS)

Materials

Fabric: 100% Royal Alpaca Wool
Fabric Dye: Natural Plant-Based
Fabric Finishing: Silicone (OEKO-TEX)
Thread Dye: Natural
Label: 100% Organic Cotton
Label Ink: Synthetic (GOTS)

Materials

Fabric: 100% Royal Alpaca Wool
Fabric Dye: Low Impact Dyes (GOTS)
Fabric Finishing: Silicone (OEKO-TEX)
Thread Dye: Reactive Dye
Label: 100% Organic Cotton
Label Ink: Synthetic (GOTS)

Materials

Fabric: 100% Royal Alpaca Wool
Fabric Dye: Natural Plant-Based
Fabric Finishing: Silicone (OEKO-TEX)
Thread Dye: Natural
Label: 100% Organic Cotton
Label Ink: Synthetic (GOTS)

Materials

Fabric: 100% Royal Alpaca Wool
Fabric Dye: Low Impact Dyes (GOTS)
Fabric Finishing: Silicone (OEKO-TEX)
Thread Dye: Reactive Dye
Label: 100% Organic Cotton
Label Ink: Synthetic (GOTS)

Materials

Fabric: 100% Royal Alpaca Wool
Fabric Dye: Natural Plant-Based
Fabric Finishing: Silicone (OEKO-TEX)
Thread Dye: Natural
Label: 100% Organic Cotton
Label Ink: Synthetic (GOTS)

Materials

Fabric: 100% Royal Alpaca Wool
Fabric Dye: Low Impact Dyes (GOTS)
Fabric Finishing: Silicone (OEKO-TEX)
Thread Dye: Reactive Dye
Label: 100% Organic Cotton
Label Ink: Synthetic (GOTS)

Materials

Fabric: 100% Royal Alpaca Wool
Fabric Dye: Natural Plant-Based
Fabric Finishing: Silicone (OEKO-TEX)
Thread Dye: Natural
Label: 100% Organic Cotton
Label Ink: Synthetic (GOTS)

Materials

Fabric: 100% Royal Alpaca Wool
Fabric Dye: Low Impact Dyes (GOTS)
Fabric Finishing: Silicone (OEKO-TEX)
Thread Dye: Reactive Dye
Label: 100% Organic Cotton
Label Ink: Synthetic (GOTS)

Materials

Fabric: 100% Royal Alpaca Wool
Fabric Dye: Natural Plant-Based
Fabric Finishing: Silicone (OEKO-TEX)
Thread Dye: Natural
Label: 100% Organic Cotton
Label Ink: Synthetic (GOTS)

Materials

Fabric: 100% Royal Alpaca Wool
Fabric Dye: Low Impact Dyes (GOTS)
Fabric Finishing: Silicone (OEKO-TEX)
Thread Dye: Reactive Dye
Label: 100% Organic Cotton
Label Ink: Synthetic (GOTS)

Materials

Fabric: 100% Royal Alpaca Wool
Fabric Dye: Natural Plant-Based
Fabric Finishing: Silicone (OEKO-TEX)
Thread Dye: Natural
Label: 100% Organic Cotton
Label Ink: Synthetic (GOTS)

Materials

Fabric: 100% Royal Alpaca Wool
Fabric Dye: Low Impact Dyes (GOTS)
Fabric Finishing: Silicone (OEKO-TEX)
Thread Dye: Reactive Dye
Label: 100% Organic Cotton
Label Ink: Synthetic (GOTS)

Materials

Fabric: 100% Royal Alpaca Wool
Fabric Dye: Natural Plant-Based
Fabric Finishing: Silicone (OEKO-TEX)
Thread Dye: Natural
Label: 100% Organic Cotton
Label Ink: Synthetic (GOTS)

Materials

Fabric: 100% Royal Alpaca Wool
Fabric Dye: Low Impact Dyes (GOTS)
Fabric Finishing: Silicone (OEKO-TEX)
Thread Dye: Reactive Dye
Label: 100% Organic Cotton
Label Ink: Synthetic (GOTS)

Materials

Fabric: 100% Royal Alpaca Wool
Fabric Dye: Natural Plant-Based
Fabric Finishing: Silicone (OEKO-TEX)
Thread Dye: Natural
Label: 100% Organic Cotton
Label Ink: Synthetic (GOTS)

Materials

Fabric: 100% Royal Alpaca Wool
Fabric Dye: Low Impact Dyes (GOTS)
Fabric Finishing: Silicone (OEKO-TEX)
Thread Dye: Reactive Dye
Label: 100% Organic Cotton
Label Ink: Synthetic (GOTS)

Materials

Fabric: 100% Royal Alpaca Wool
Fabric Dye: Natural Plant-Based
Fabric Finishing: Silicone (OEKO-TEX)
Thread Dye: Natural
Label: 100% Organic Cotton
Label Ink: Synthetic (GOTS)

Materials

Fabric: 100% Royal Alpaca Wool
Fabric Dye: Low Impact Dyes (GOTS)
Fabric Finishing: Silicone (OEKO-TEX)
Thread Dye: Reactive Dye
Label: 100% Organic Cotton
Label Ink: Synthetic (GOTS)

Materials

Fabric: 100% Royal Alpaca Wool
Fabric Dye: Natural Plant-Based
Fabric Finishing: Silicone (OEKO-TEX)
Thread Dye: Natural
Label: 100% Organic Cotton
Label Ink: Synthetic (GOTS)

Materials

Fabric: 100% Royal Alpaca Wool
Fabric Dye: Low Impact Dyes (GOTS)
Fabric Finishing: Silicone (OEKO-TEX)
Thread Dye: Reactive Dye
Label: 100% Organic Cotton
Label Ink: Synthetic (GOTS)

Materials

Fabric: 100% Royal Alpaca Wool
Fabric Dye: Natural Plant-Based
Fabric Finishing: Silicone (OEKO-TEX)
Thread Dye: Natural
Label: 100% Organic Cotton
Label Ink: Synthetic (GOTS)

Materials

Fabric: 100% Royal Alpaca Wool
Fabric Dye: Low Impact Dyes (GOTS)
Fabric Finishing: Silicone (OEKO-TEX)
Thread Dye: Reactive Dye
Label: 100% Organic Cotton
Label Ink: Synthetic (GOTS)

Materials

Fabric: 100% Royal Alpaca Wool
Fabric Dye: Natural Plant-Based
Fabric Finishing: Silicone (OEKO-TEX)
Thread Dye: Natural
Label: 100% Organic Cotton
Label Ink: Synthetic (GOTS)

Materials

Fabric: 100% Royal Alpaca Wool
Fabric Dye: Low Impact Dyes (GOTS)
Fabric Finishing: Silicone (OEKO-TEX)
Thread Dye: Reactive Dye
Label: 100% Organic Cotton
Label Ink: Synthetic (GOTS)

Materials

Fabric: 100% Royal Alpaca Wool
Fabric Dye: Natural Plant-Based
Fabric Finishing: Silicone (OEKO-TEX)
Thread Dye: Natural
Label: 100% Organic Cotton
Label Ink: Synthetic (GOTS)

Materials

Fabric: 100% Royal Alpaca Wool
Fabric Dye: Low Impact Dyes (GOTS)
Fabric Finishing: Silicone (OEKO-TEX)
Thread Dye: Reactive Dye
Label: 100% Organic Cotton
Label Ink: Synthetic (GOTS)

Materials

Fabric: 100% Royal Alpaca Wool
Fabric Dye: Natural Plant-Based
Fabric Finishing: Silicone (OEKO-TEX)
Thread Dye: Natural
Label: 100% Organic Cotton
Label Ink: Synthetic (GOTS)

Materials

Fabric: 100% Royal Alpaca Wool
Fabric Dye: Low Impact Dyes (GOTS)
Fabric Finishing: Silicone (OEKO-TEX)
Thread Dye: Reactive Dye
Label: 100% Organic Cotton
Label Ink: Synthetic (GOTS)

Materials

Fabric: 100% Royal Alpaca Wool
Fabric Dye: Natural Plant-Based
Fabric Finishing: Silicone (OEKO-TEX)
Thread Dye: Natural
Label: 100% Organic Cotton
Label Ink: Synthetic (GOTS)

Materials

Fabric: 100% Royal Alpaca Wool
Fabric Dye: Low Impact Dyes (GOTS)
Fabric Finishing: Silicone (OEKO-TEX)
Thread Dye: Reactive Dye
Label: 100% Organic Cotton
Label Ink: Synthetic (GOTS)

Materials

Fabric: 100% Royal Alpaca Wool
Fabric Dye: Natural Plant-Based
Fabric Finishing: Silicone (OEKO-TEX)
Thread Dye: Natural
Label: 100% Organic Cotton
Label Ink: Synthetic (GOTS)

Materials

Fabric: 100% Royal Alpaca Wool
Fabric Dye: Low Impact Dyes (GOTS)
Fabric Finishing: Silicone (OEKO-TEX)
Thread Dye: Reactive Dye
Label: 100% Organic Cotton
Label Ink: Synthetic (GOTS)

Materials

Fabric: 100% Royal Alpaca Wool
Fabric Dye: Natural Plant-Based
Fabric Finishing: Silicone (OEKO-TEX)
Thread Dye: Natural
Label: 100% Organic Cotton
Label Ink: Synthetic (GOTS)

Materials

Fabric: 100% Royal Alpaca Wool
Fabric Dye: Low Impact Dyes (GOTS)
Fabric Finishing: Silicone (OEKO-TEX)
Thread Dye: Reactive Dye
Label: 100% Organic Cotton
Label Ink: Synthetic (GOTS)

Materials

Fabric: 100% Royal Alpaca Wool
Fabric Dye: Natural Plant-Based
Fabric Finishing: Silicone (OEKO-TEX)
Thread Dye: Natural
Label: 100% Organic Cotton
Label Ink: Synthetic (GOTS)

Materials

Fabric: 100% Royal Alpaca Wool
Fabric Dye: Low Impact Dyes (GOTS)
Fabric Finishing: Silicone (OEKO-TEX)
Thread Dye: Reactive Dye
Label: 100% Organic Cotton
Label Ink: Synthetic (GOTS)

Materials

Fabric: 100% Royal Alpaca Wool
Fabric Dye: Natural Plant-Based
Fabric Finishing: Silicone (OEKO-TEX)
Thread Dye: Natural
Label: 100% Organic Cotton
Label Ink: Synthetic (GOTS)

Materials

Fabric: 100% Royal Alpaca Wool
Fabric Dye: Low Impact Dyes (GOTS)
Fabric Finishing: Silicone (OEKO-TEX)
Thread Dye: Reactive Dye
Label: 100% Organic Cotton
Label Ink: Synthetic (GOTS)

Materials

Fabric: 100% Royal Alpaca Wool
Fabric Dye: Natural Plant-Based
Fabric Finishing: Silicone (OEKO-TEX)
Thread Dye: Natural
Label: 100% Organic Cotton
Label Ink: Synthetic (GOTS)

Materials

Fabric: 100% Royal Alpaca Wool
Fabric Dye: Low Impact Dyes (GOTS)
Fabric Finishing: Silicone (OEKO-TEX)
Thread Dye: Reactive Dye
Label: 100% Organic Cotton
Label Ink: Synthetic (GOTS)

Materials

Fabric: 100% Royal Alpaca Wool
Fabric Dye: Natural Plant-Based
Fabric Finishing: Silicone (OEKO-TEX)
Thread Dye: Natural
Label: 100% Organic Cotton
Label Ink: Synthetic (GOTS)

Materials
Fabric: 100% Royal Alpaca Wool
Fabric Dye: Low Impact Dyes (GOTS)
Fabric Finishing: Silicone (OEKO-TEX)
Thread Dye: Reactive Dye
Label: 100% Organic Cotton
Label Ink: Synthetic (GOTS)
Materials
Regular price
$130.00
Sale price
$130.00
Unit price
per
0% OFF
Alpaca Wool outperforms Merino.
Alpaca fibers evolved in the harsh Peruvian Andes over millennia, to keep you protected on any adventure.
Unique Semi-Hollow Fibers:
• Lighter Weight
• Higher Insulation
Smoothest Fiber Scales:
• Moisture Wicking
• Softer without Felting
Pack lighter, travel farther.
Get the most out of nature with the ultimate performance fiber. Explore the outdoors clean and dry, with naturally anti-bacterial and temperature regulating Alpaca Wool.

❊ Anti-bacterial & Odor-resistant
↻ High sweat-wicking
☁ High breathability
☀ UV - Protection
✓ Light & durable
We put a stop to plastic pollution.
It is our mission to make clothes that allow you to explore nature without contaminating it with microplastics.
This is the first step in making our entire catalog petroleum-free and biodegradable.
We use only biodegradable materials:
• 100% Royal Alpaca Wool Fabric
• 100% Cotton Threads
• 100% Cotton Labels
Shipping & Returns

Free Shipping for US orders over $200 that are purchased from our US warehouse.*

*Items stocked in Peru will occur a shipping fee. This fee includes customs & duties.
View full details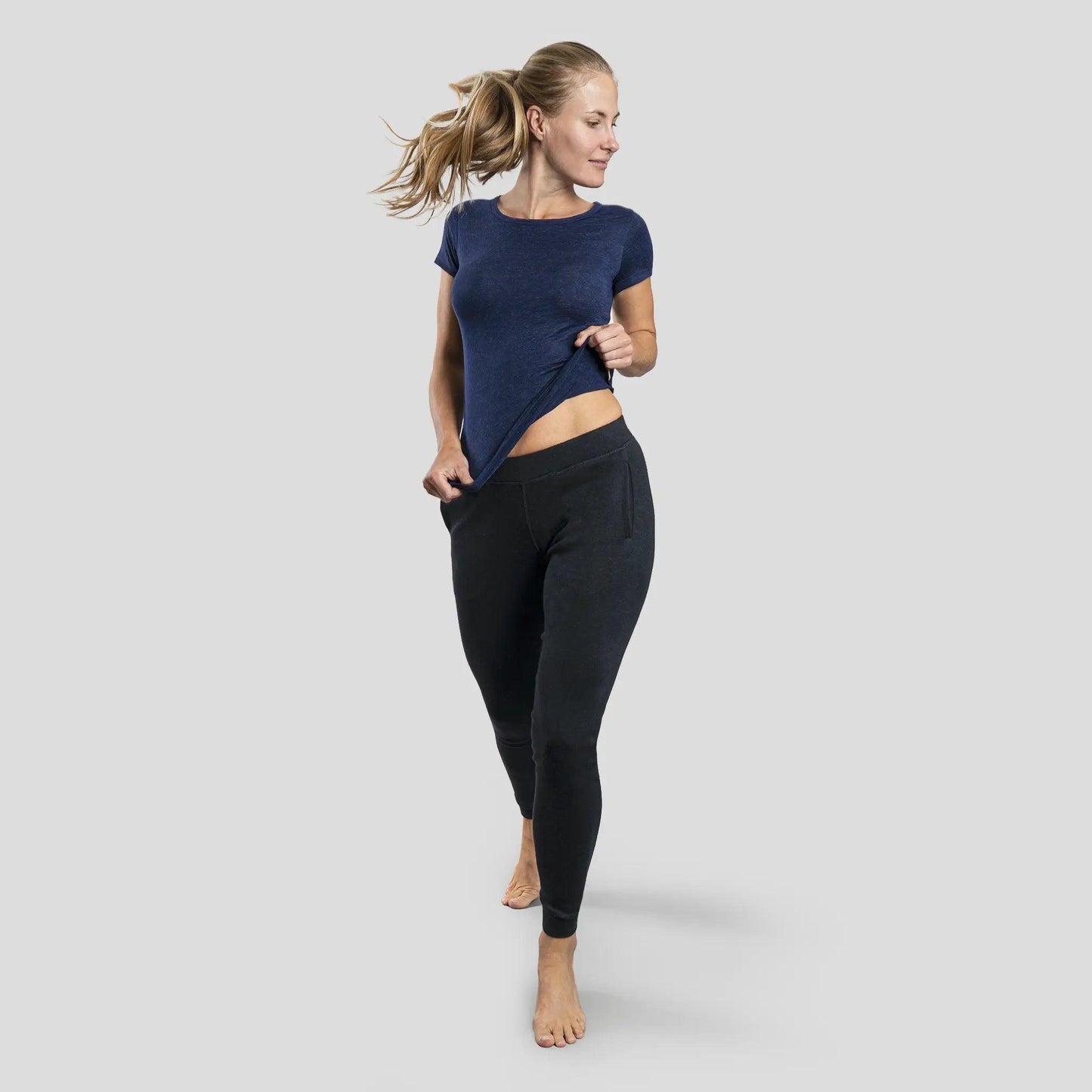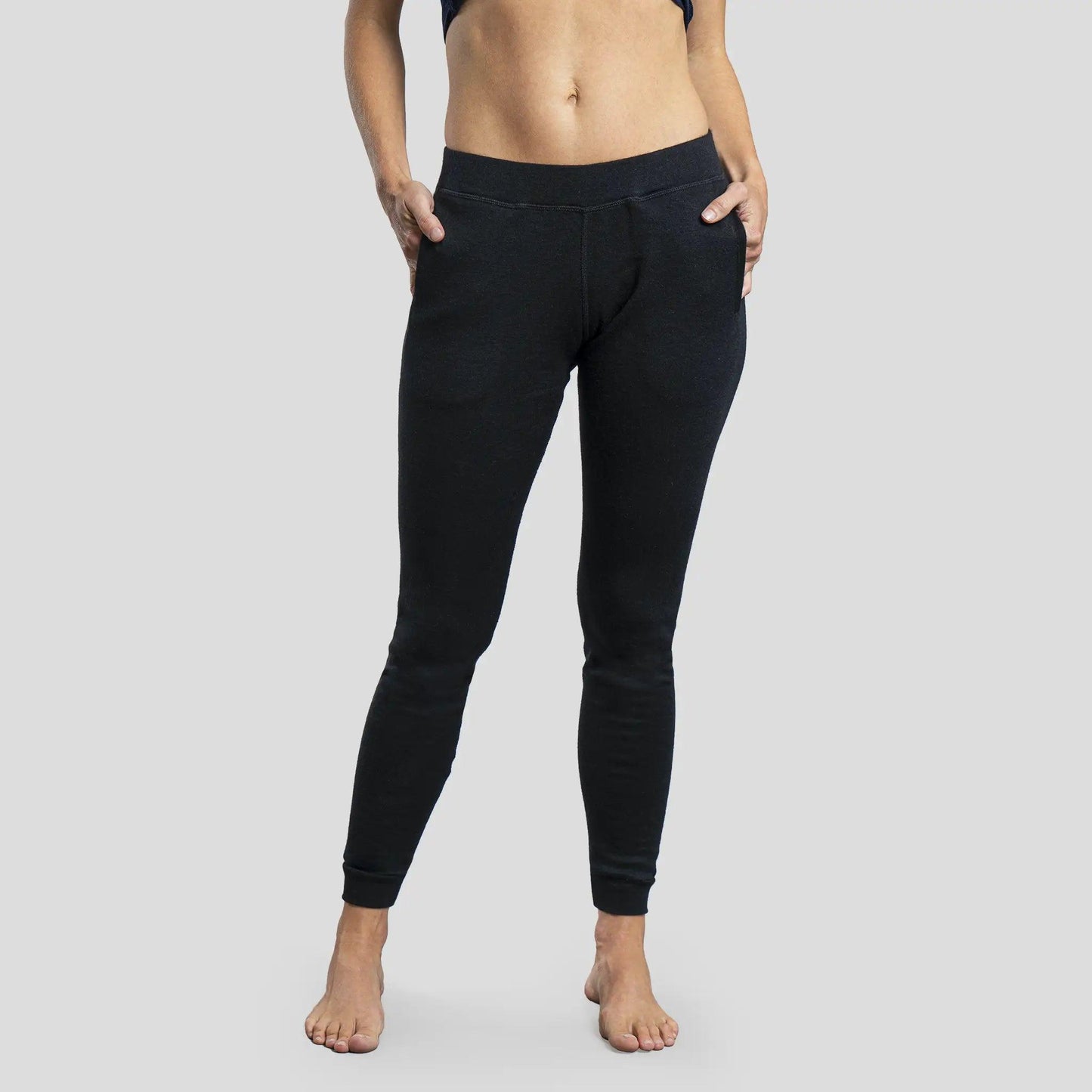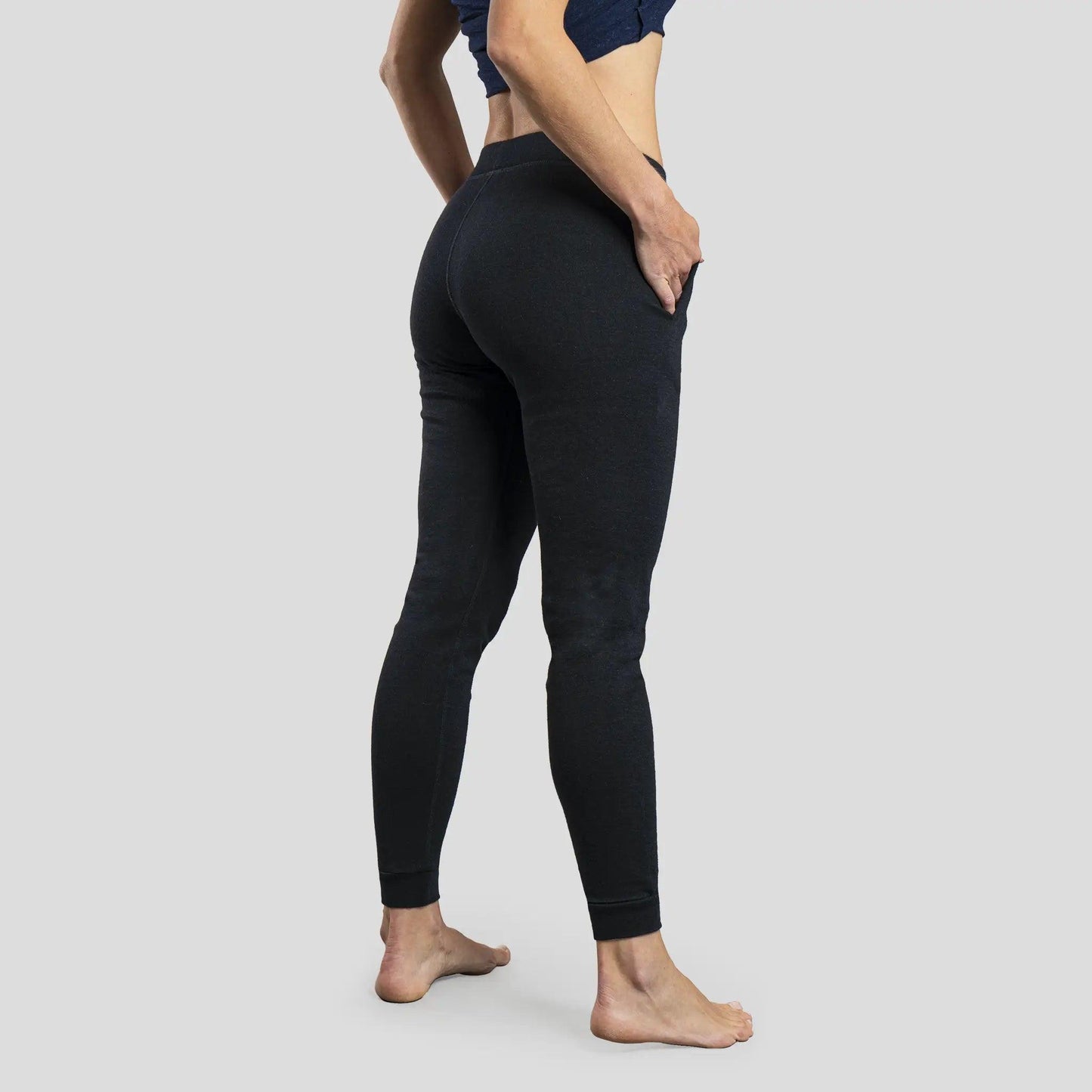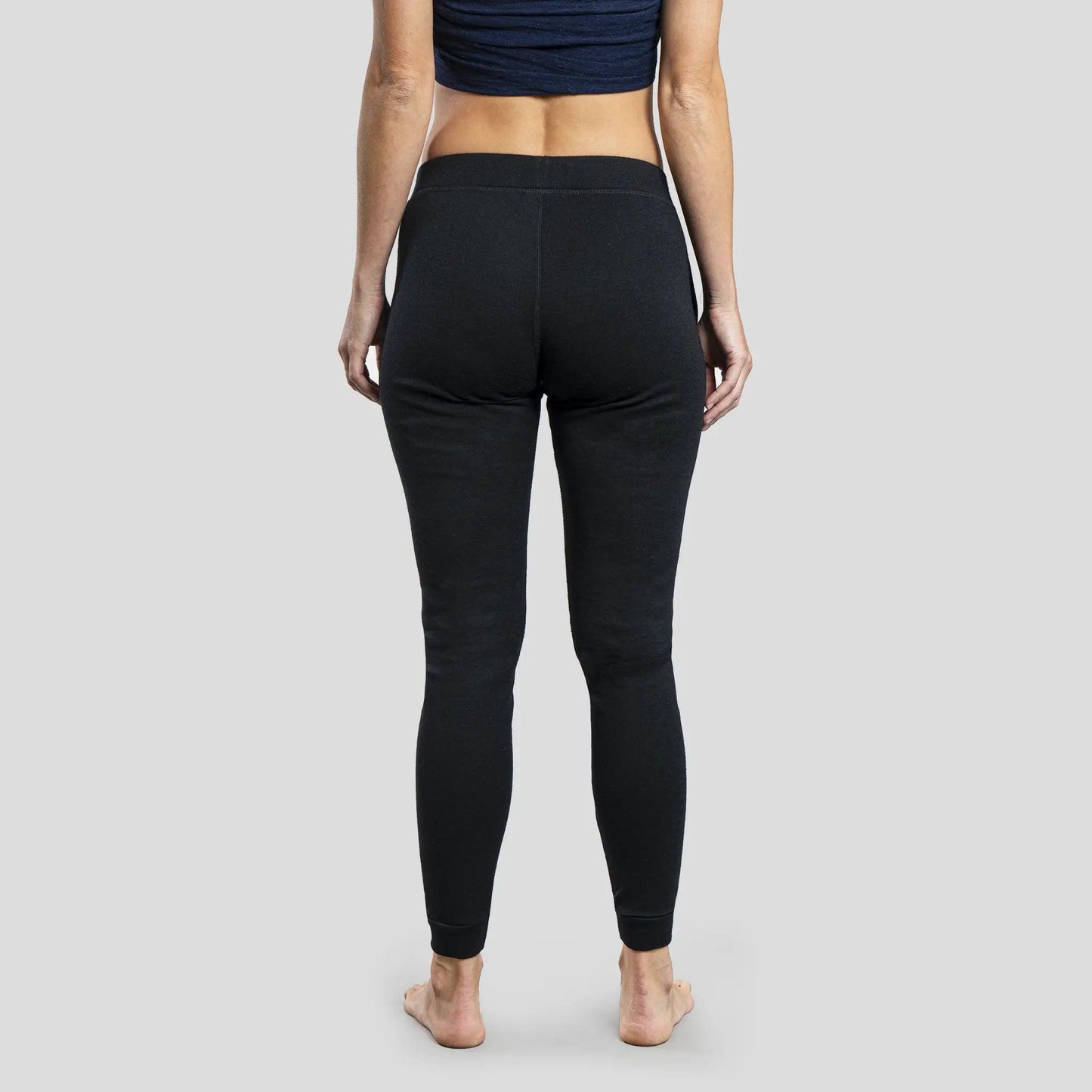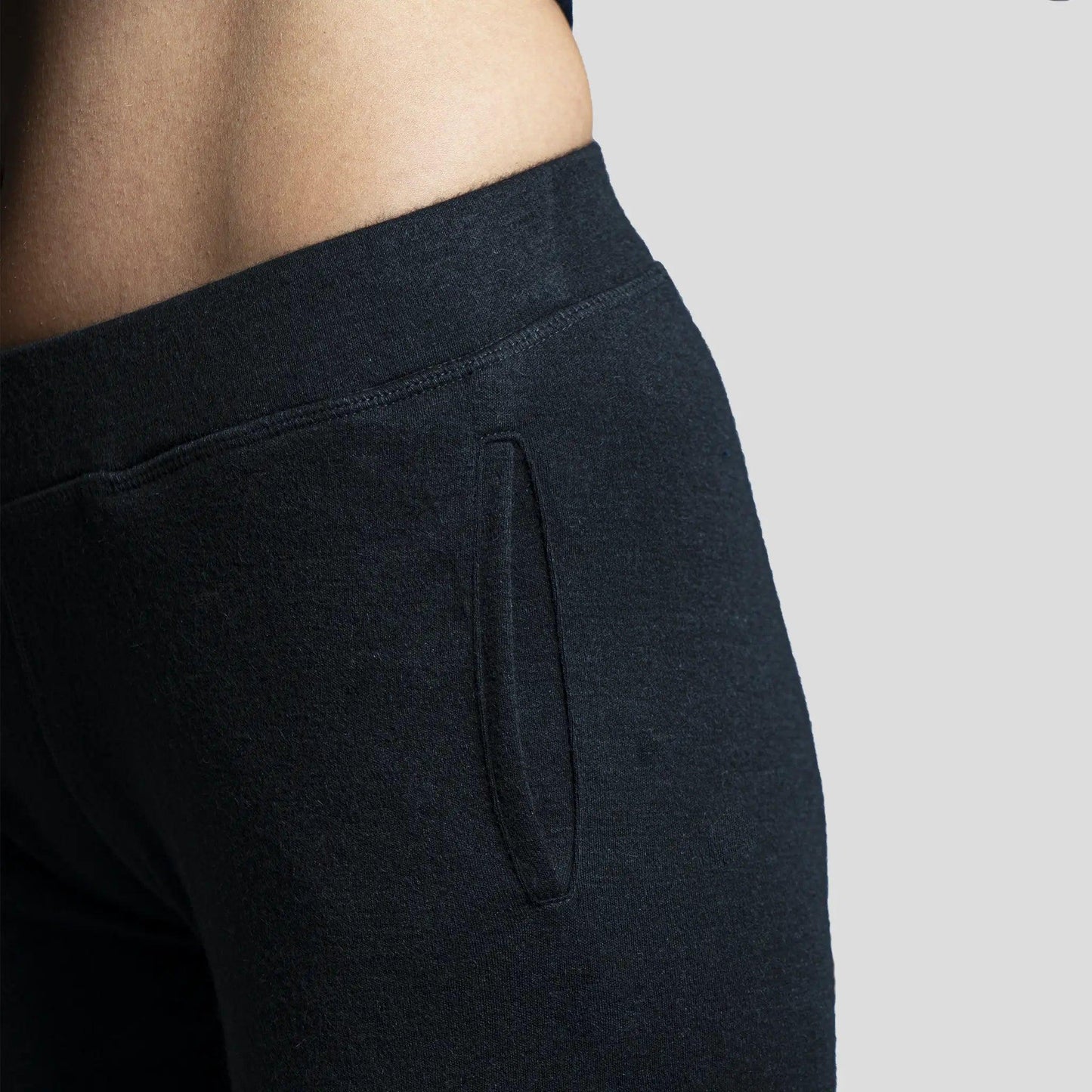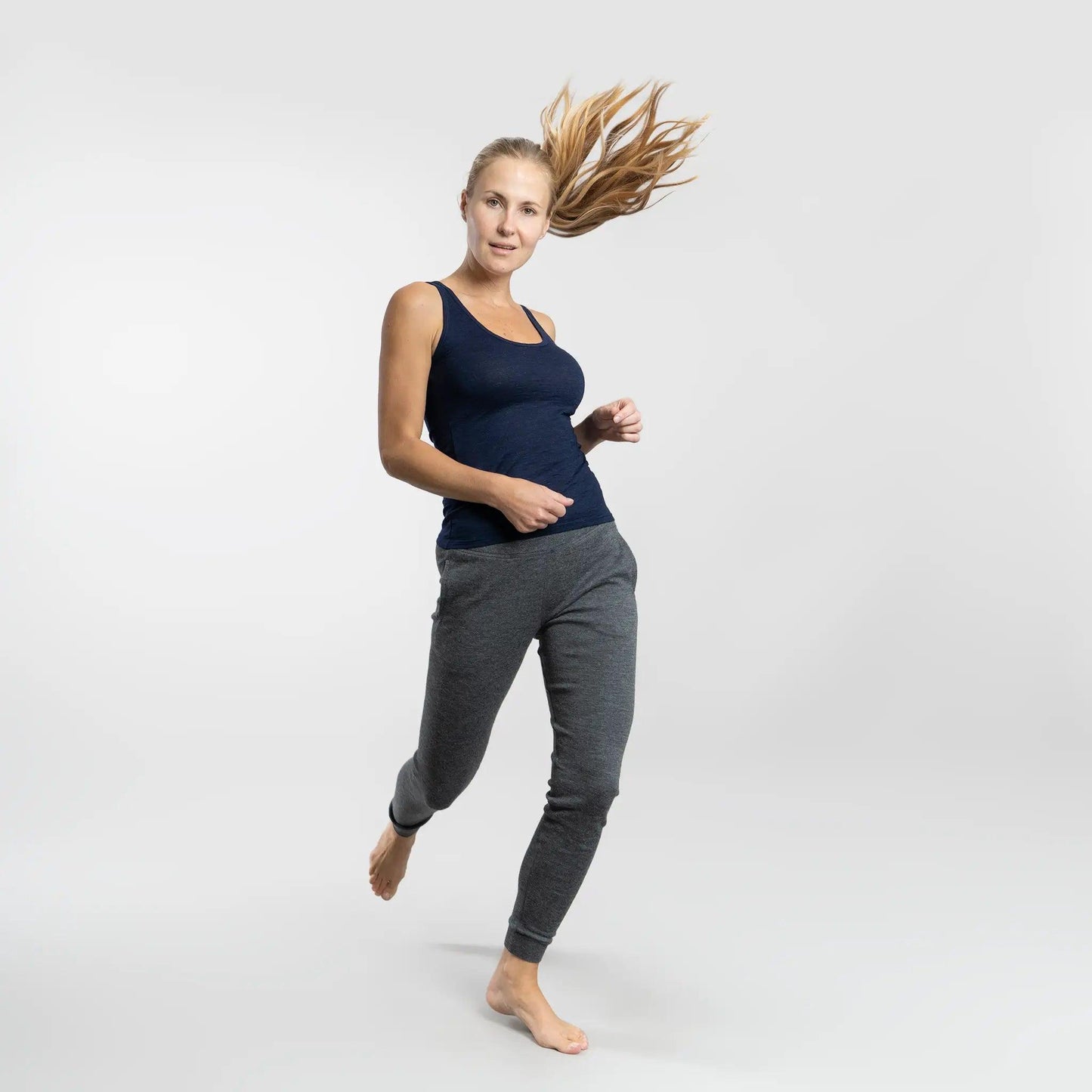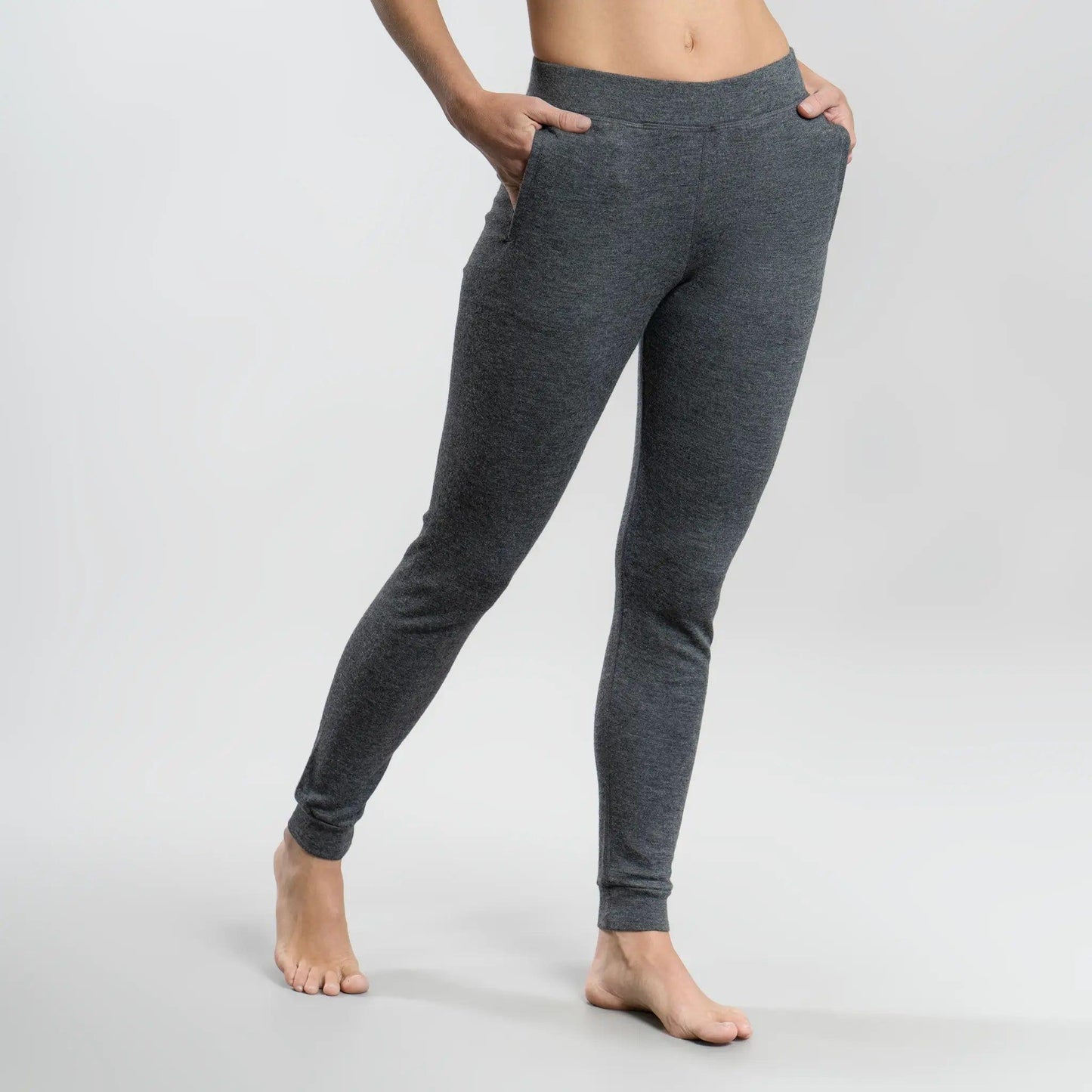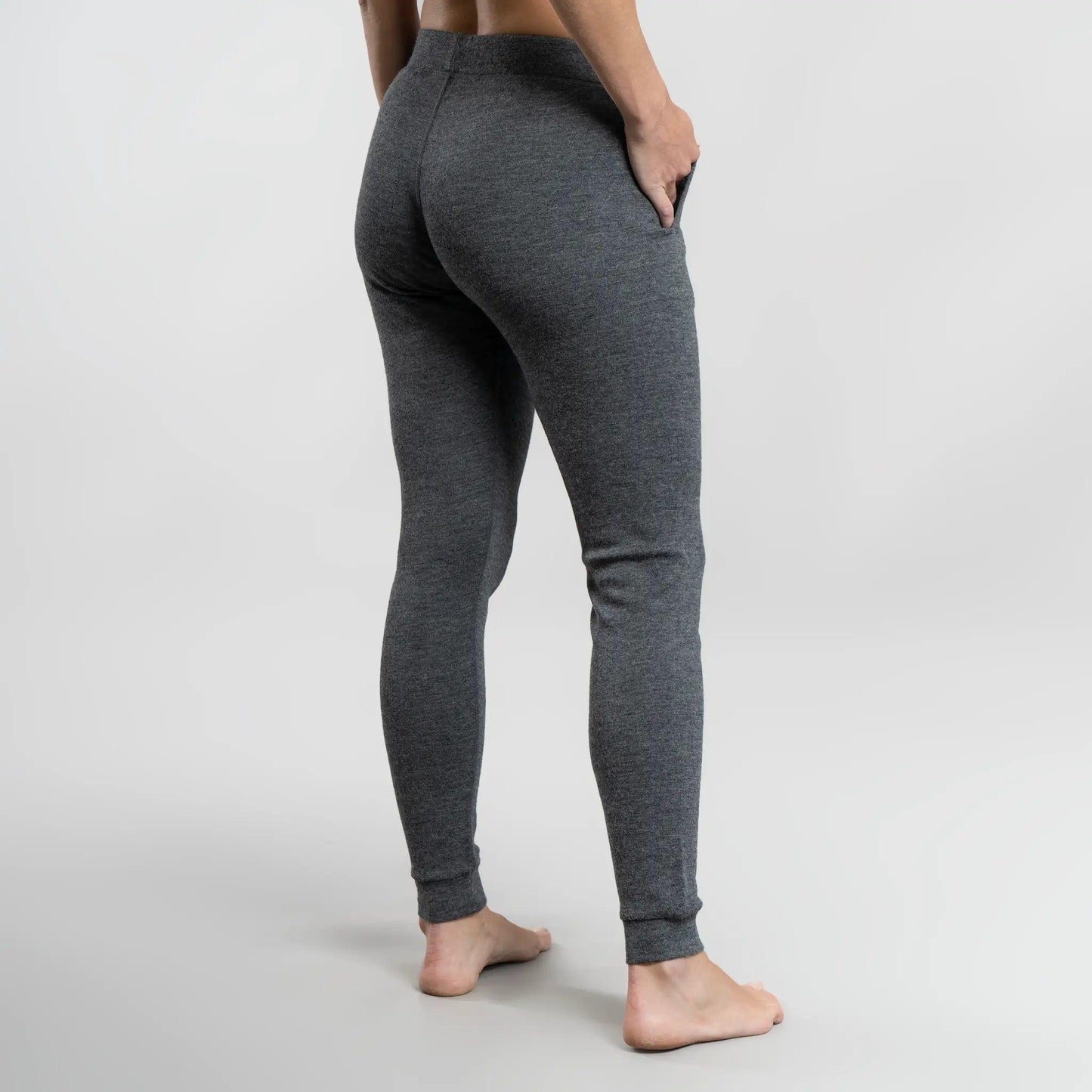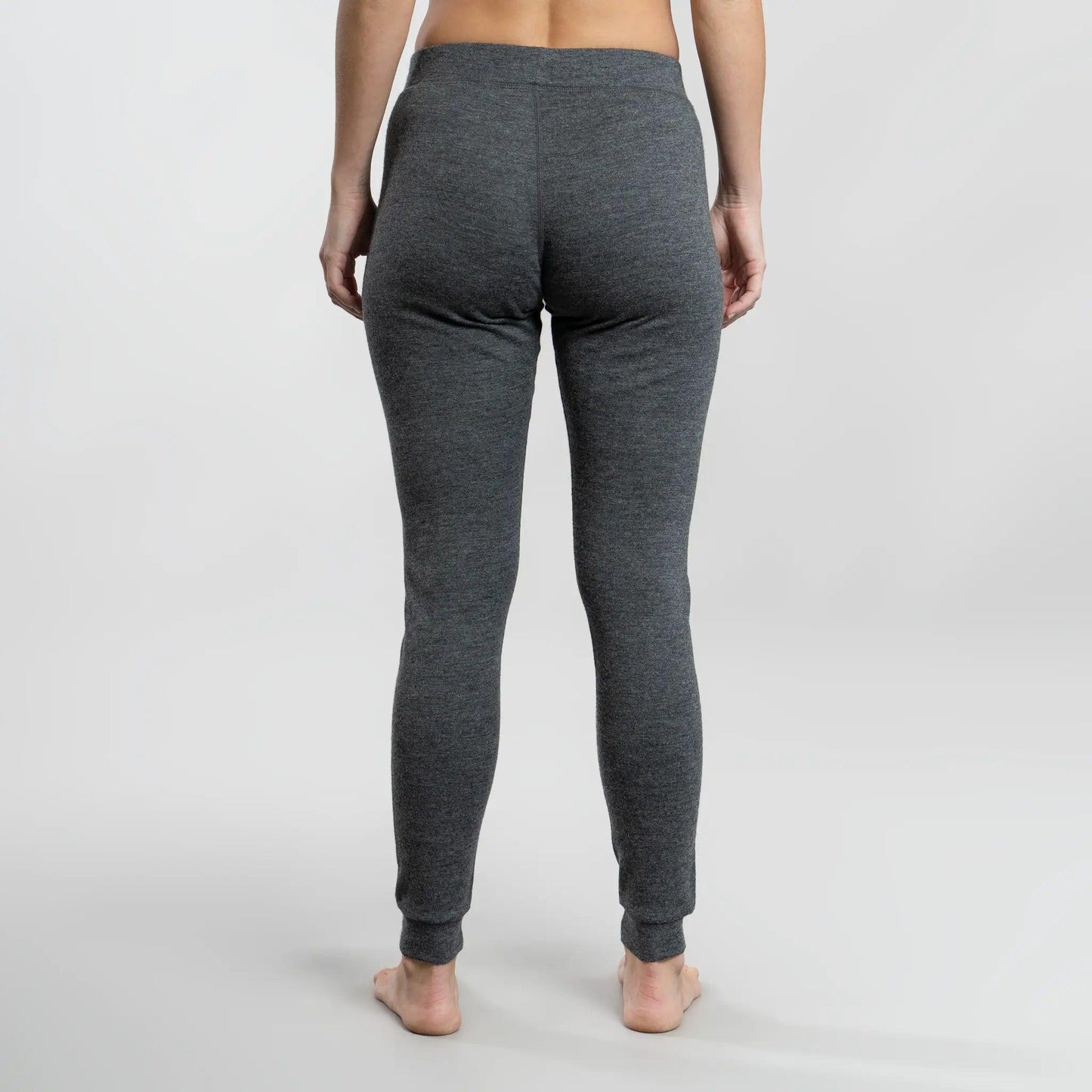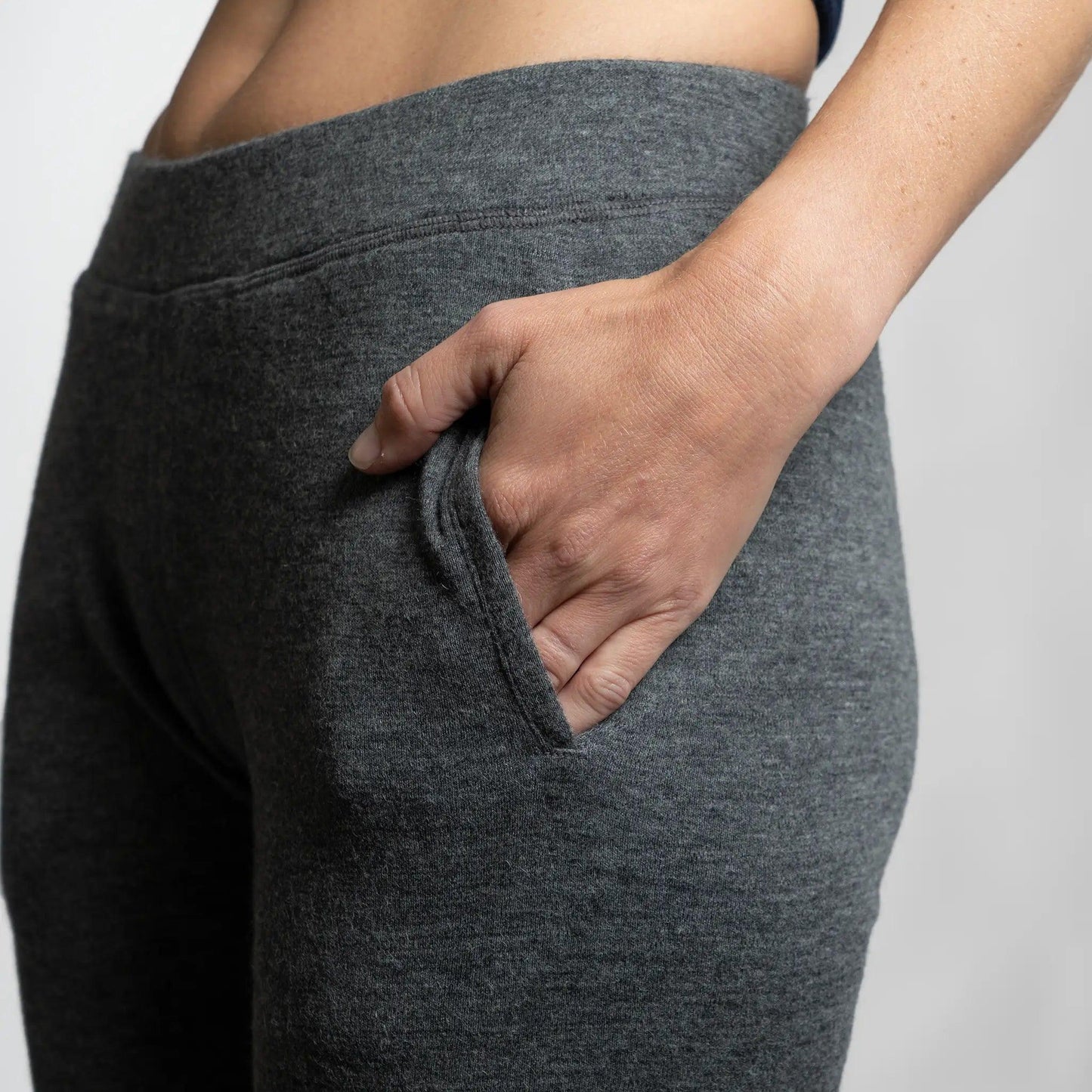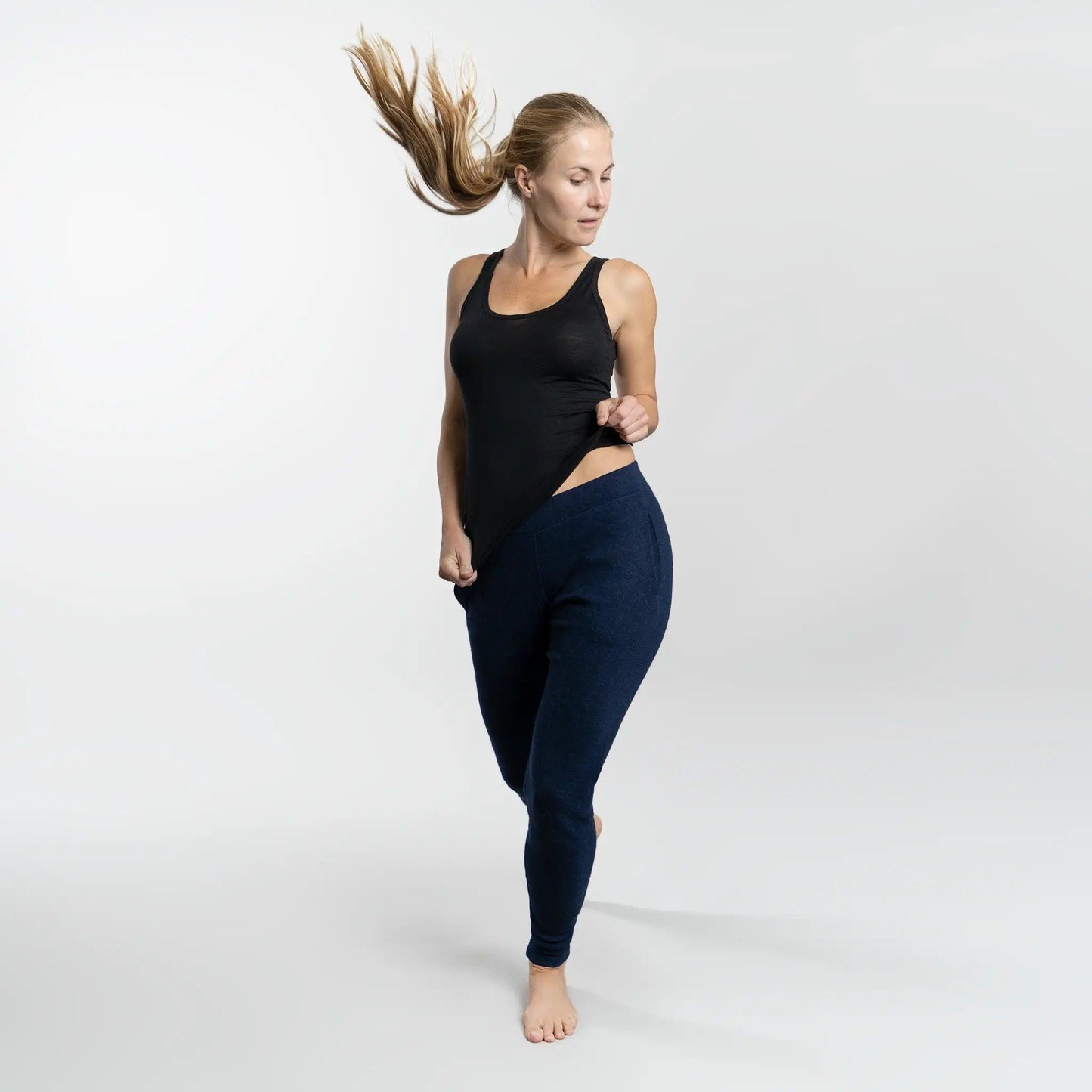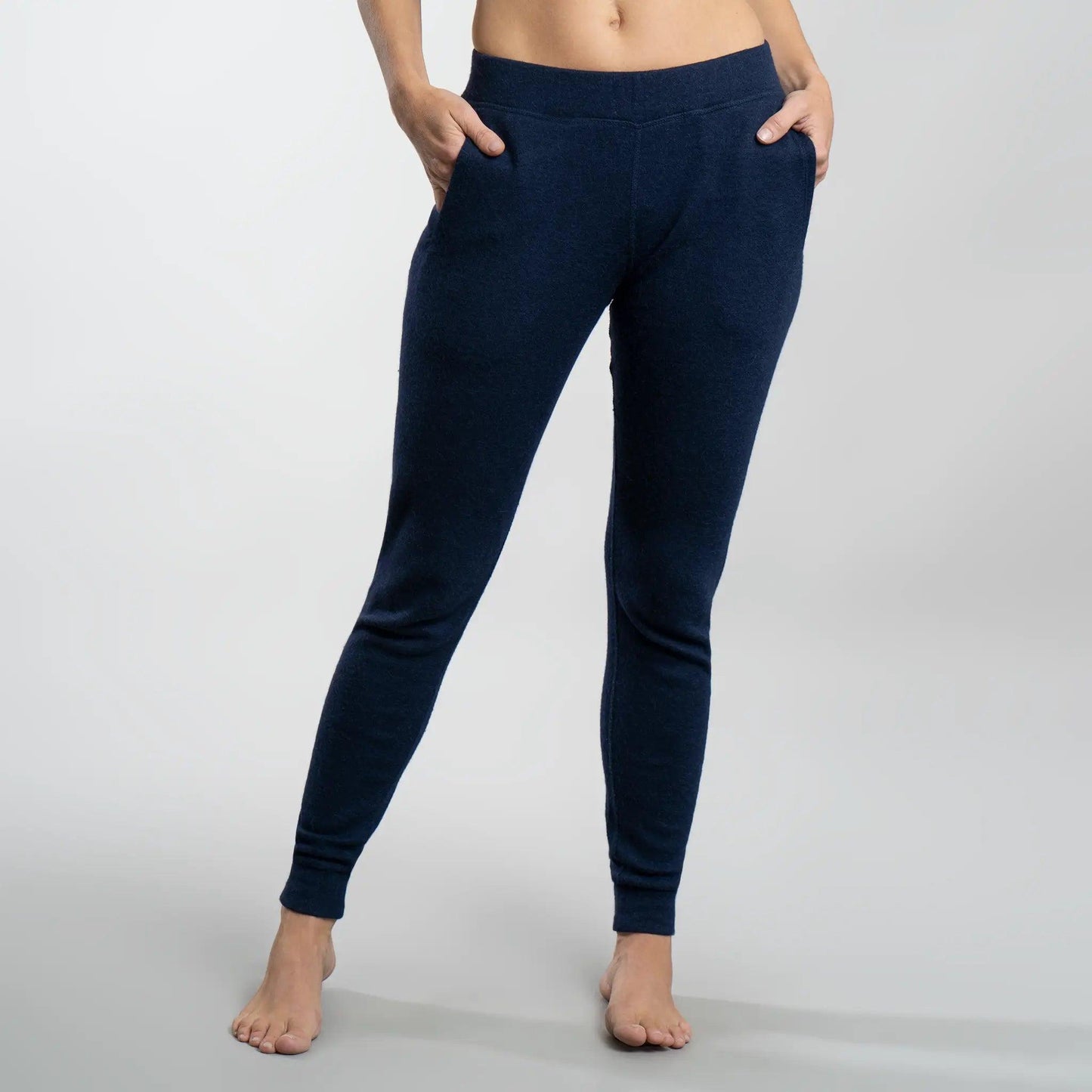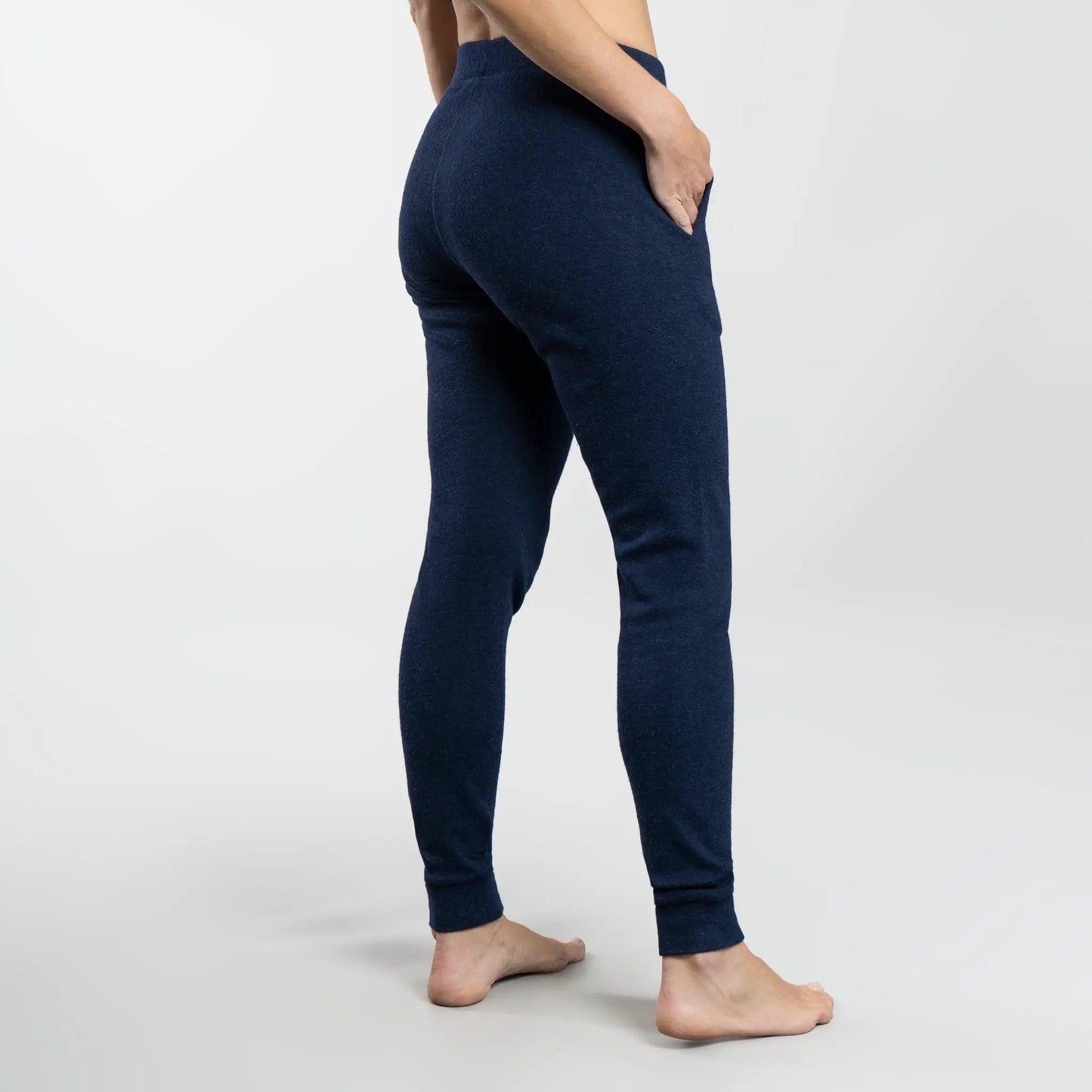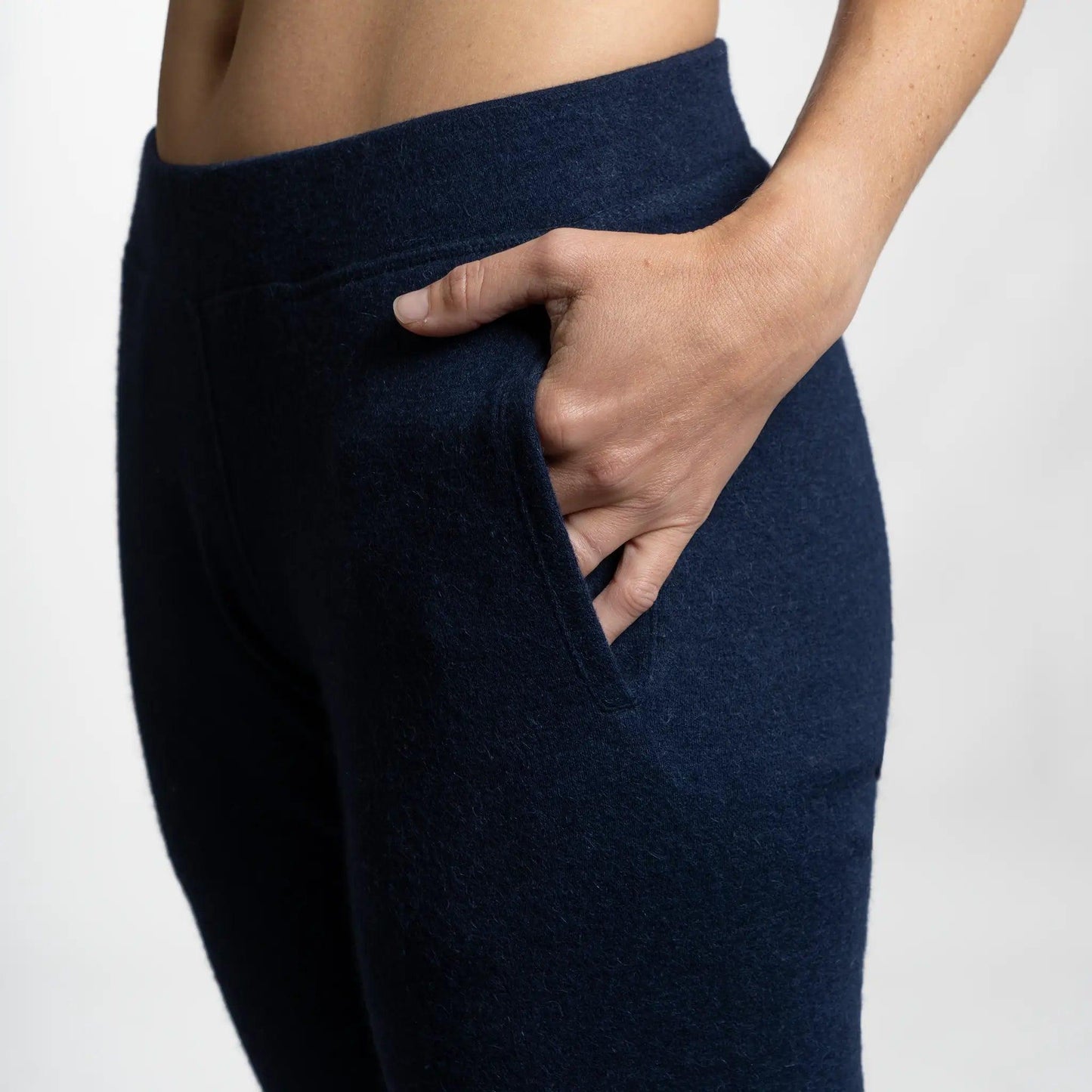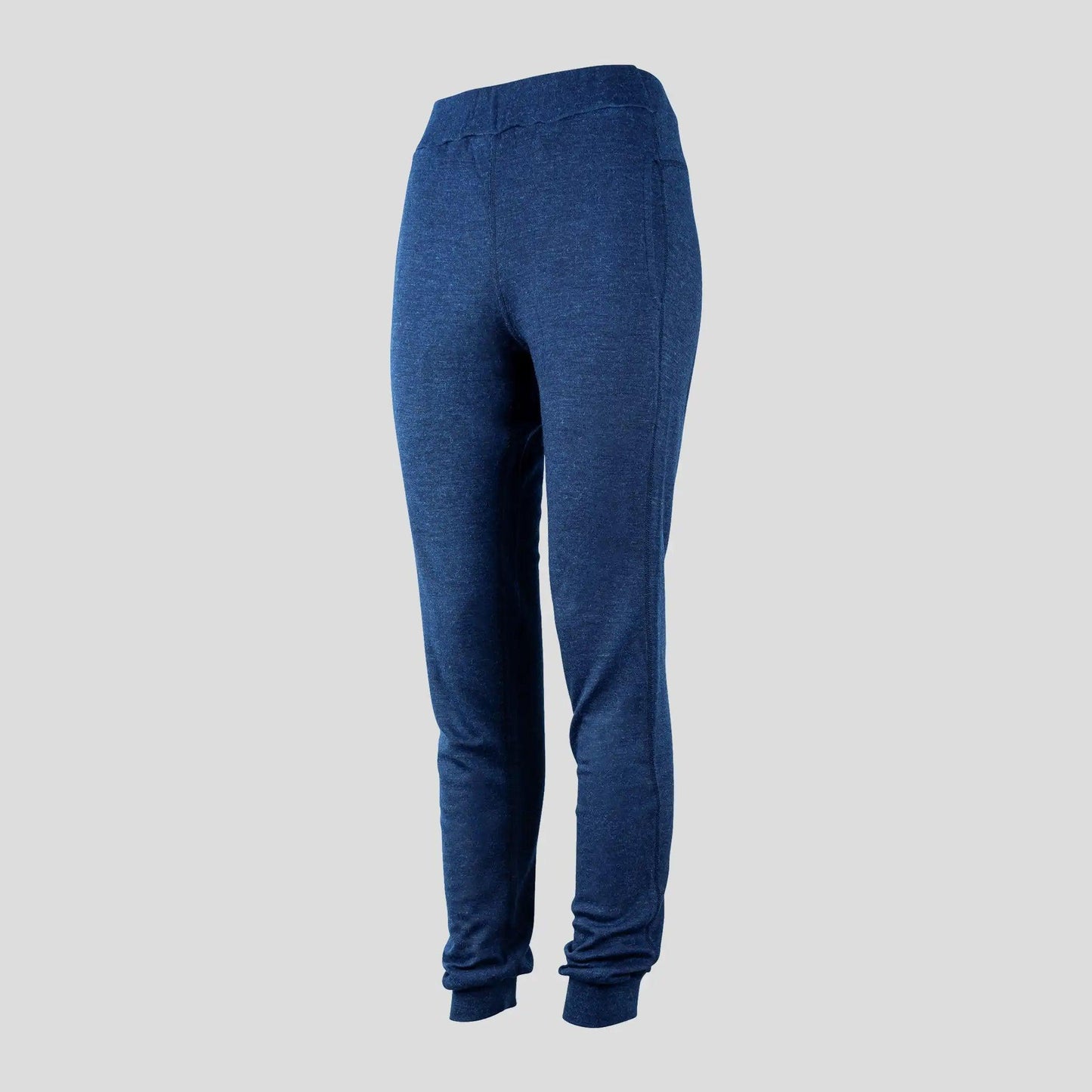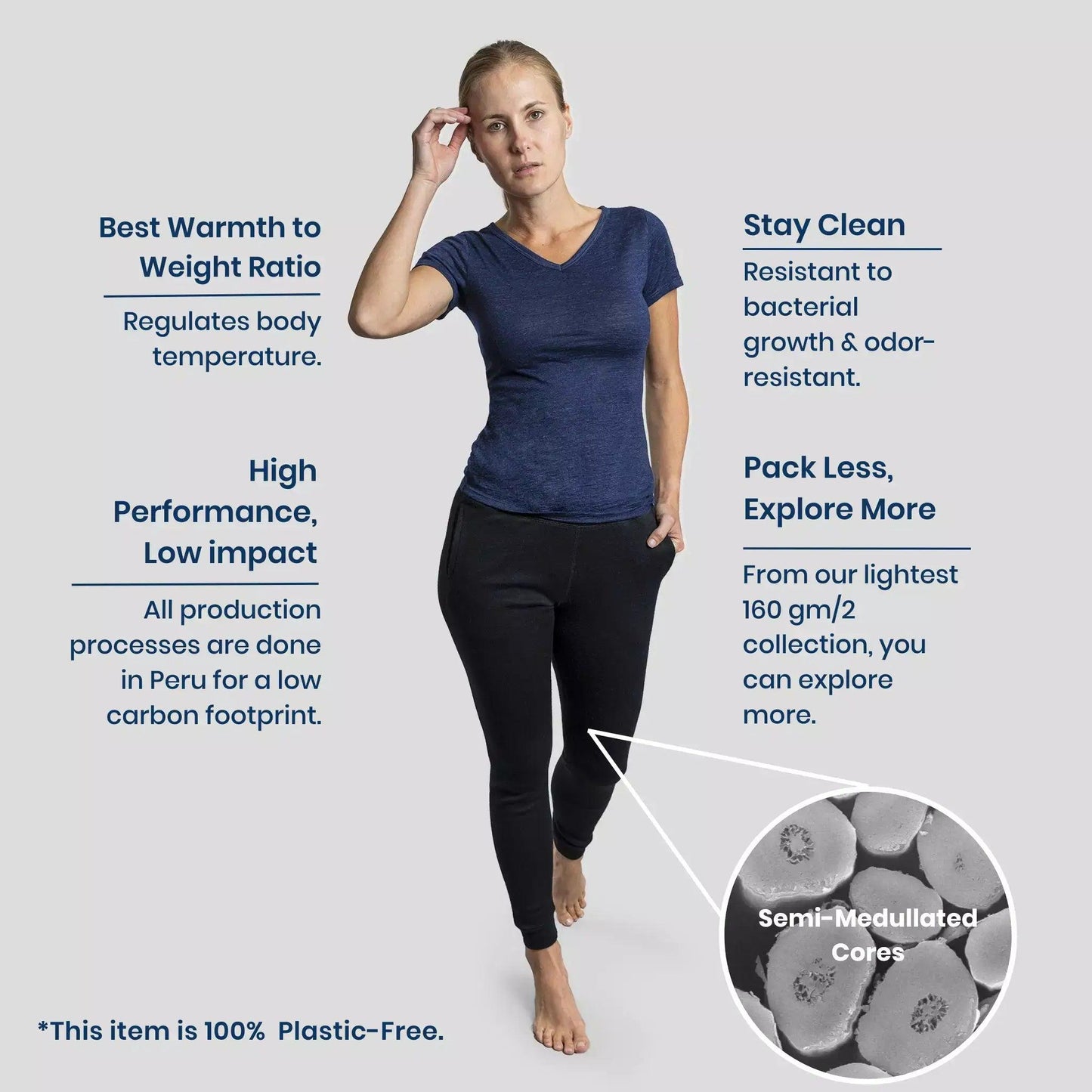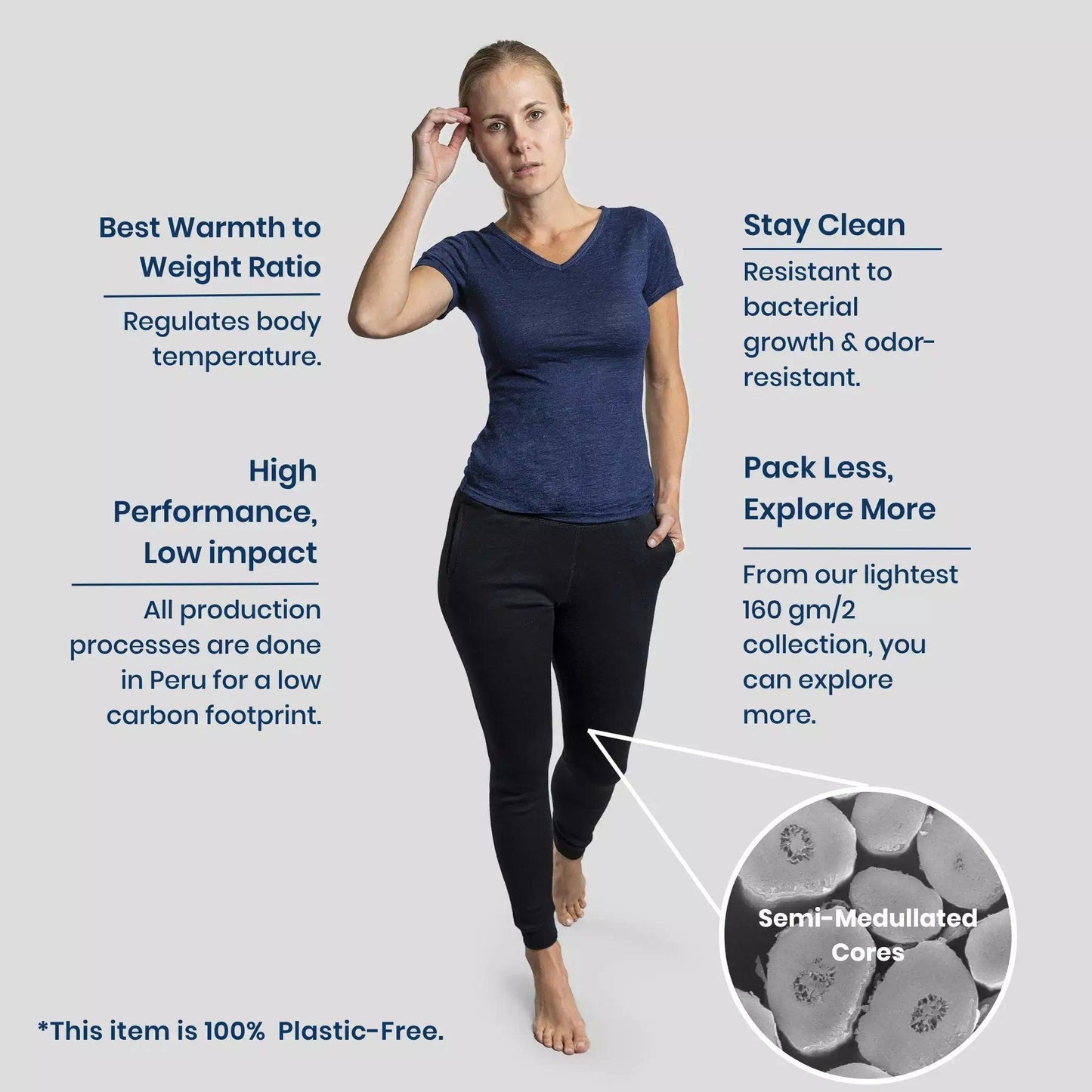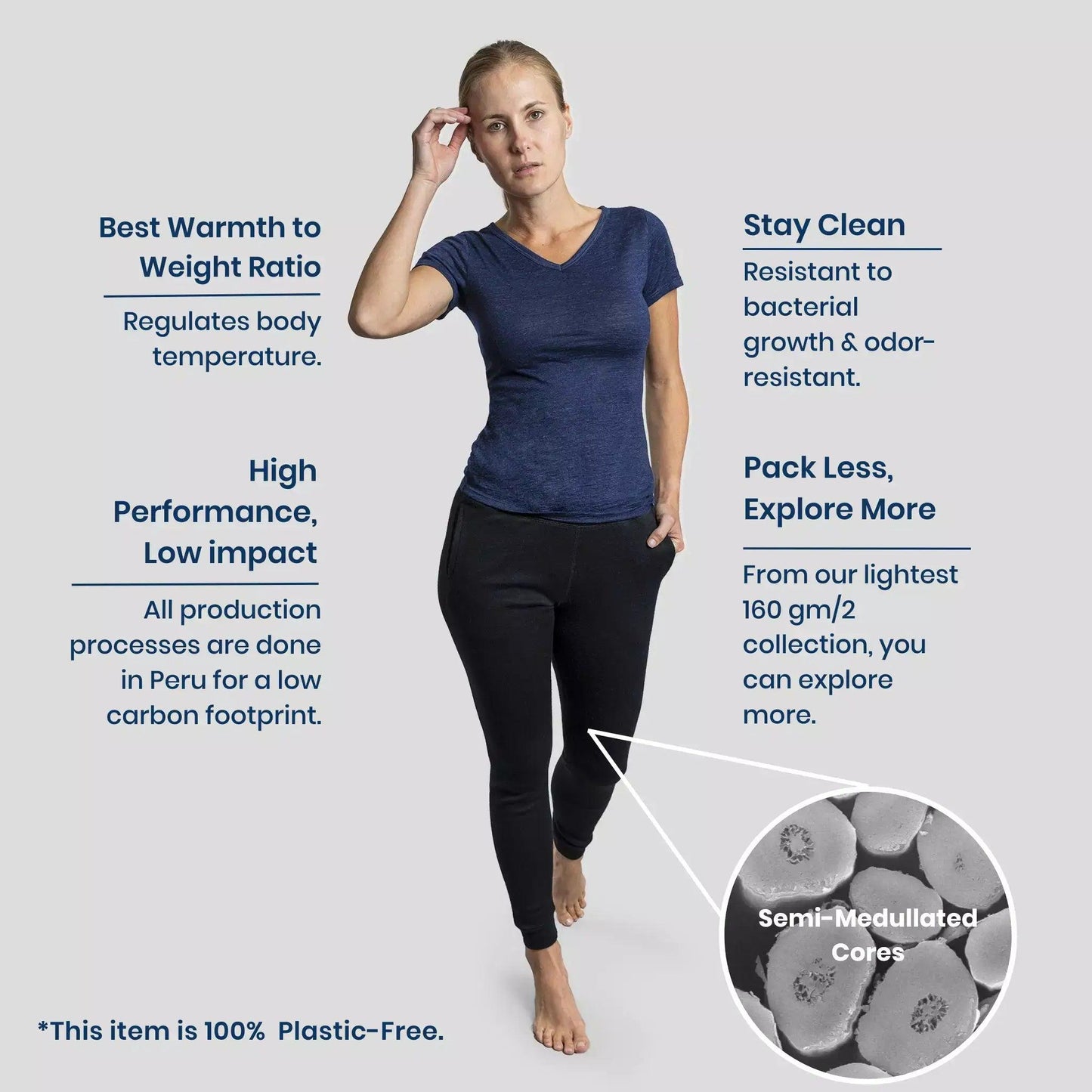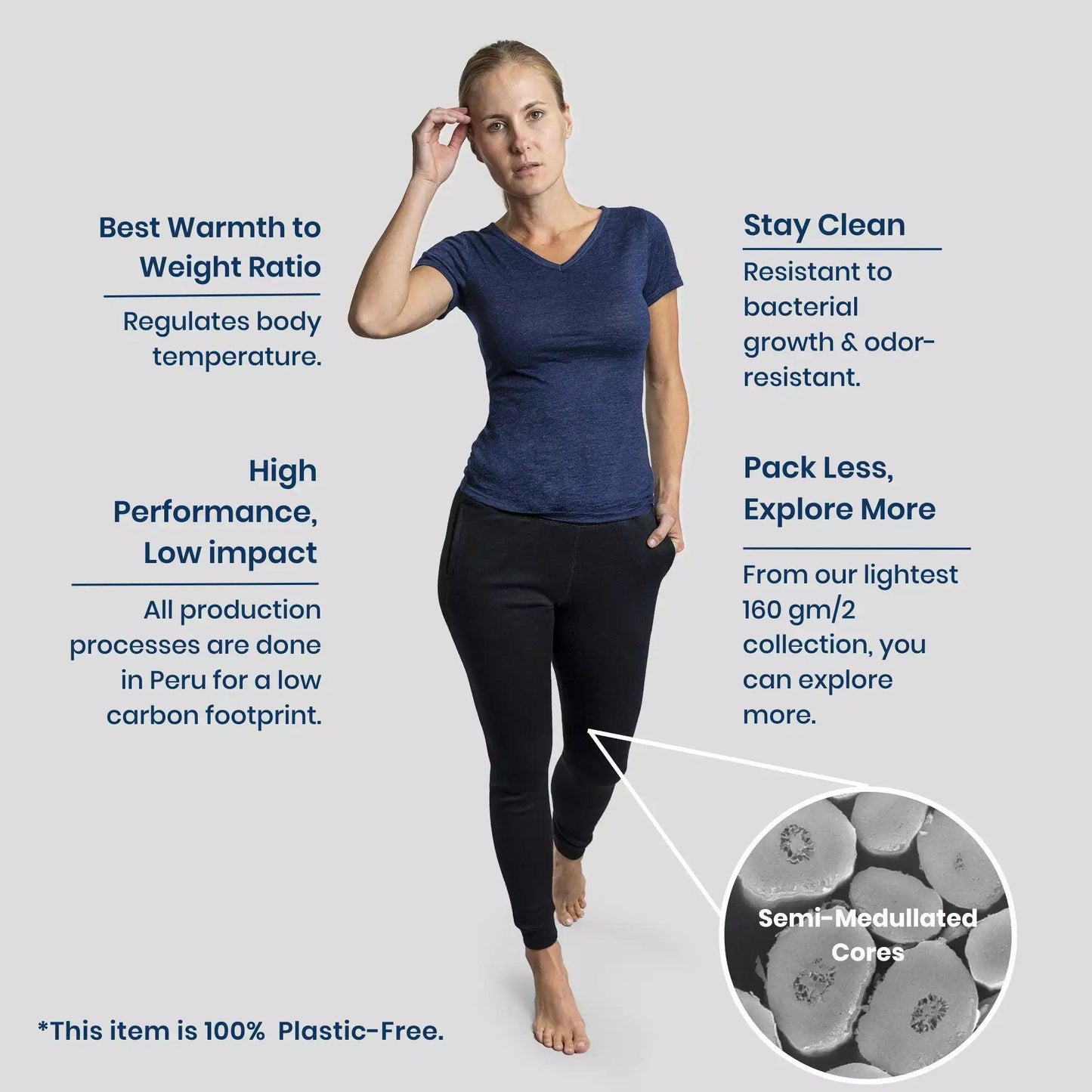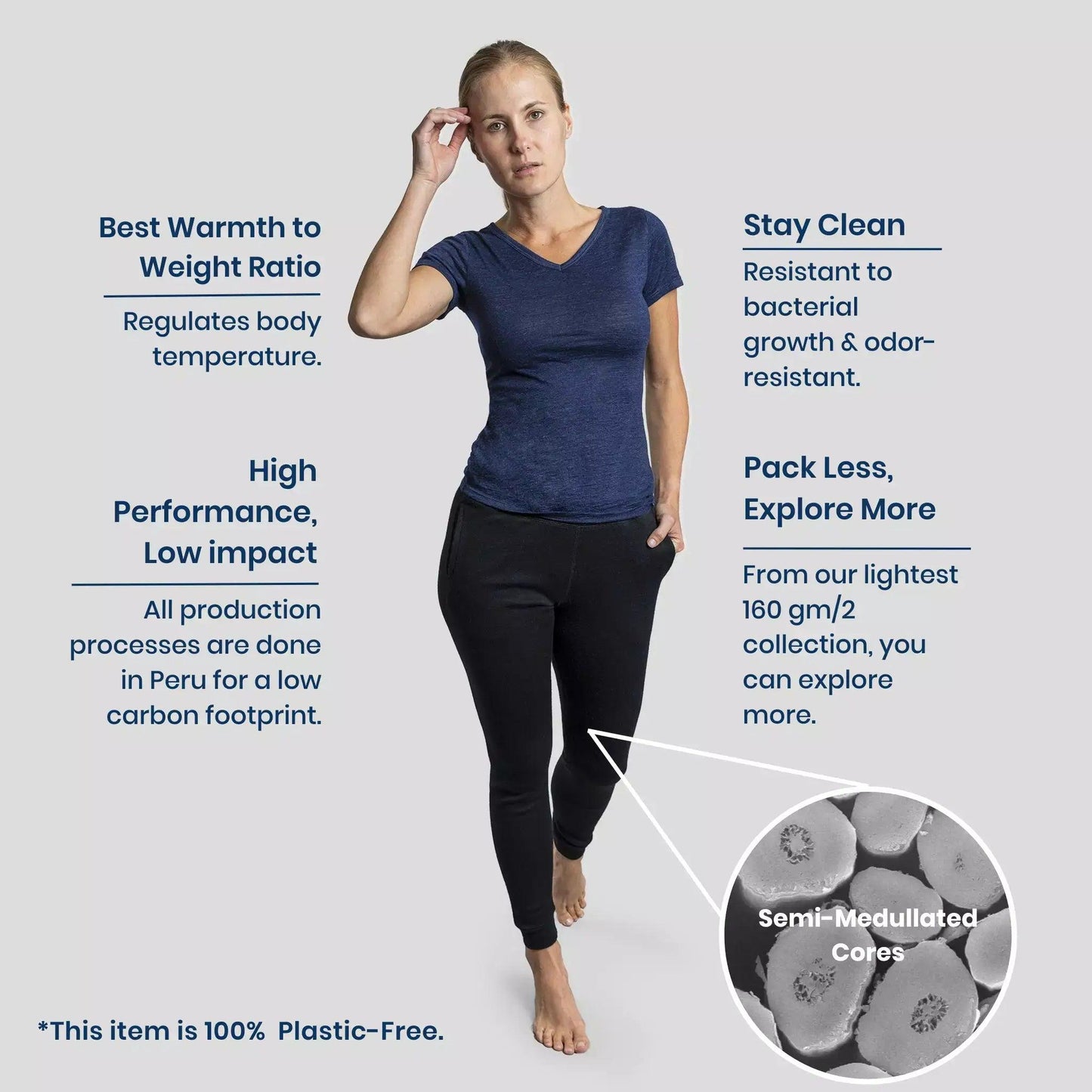 Exceeded my (already high) expectations!
I expected to love these since I've been practically living in an alpaca hoody for the last year and a half, and know how comfortable alpaca is. But I layer the hoody over a base layer so only my arms and neck touch the alpaca. But I don't layer the joggers, so the whole length of my legs get to luxuriate in alpaca fluffy-cloud softness. No, really! It kind of blew me away. And I think Arms of Andes alpaca is softer and "fluffier" than my hoody made by another company. Needless to say, I've been living in, and sleeping in, these joggers since I got them and still can't quite get over how soft they are. I took a chance and bought my usual size since I couldn't find the sizing chart on the site, and the fit is perfect. The pockets are great and a deal-breaker for me, if they don't have 'em, I don't buy 'em, and I'm so glad they have the "joggers" with pockets and not just the tights, without pockets. I absolutely adore these pants and intend to buy many more products from Arms of Andes in the future. Thank you for making such comfortable, natural, and ethical products, Arms of Andes!
A cozy sweater for your legs
And the guilt-free packaging is REALLY appreciated. Thanks for being a role model.
Love them, love them
Love them, love them, love- I'm almost ready to wish it was winter again (NOT really) but I can't wait to put them on when the weather gets cold again. Super soft, great fit, love the look and feel!
Beautiful quality and perfect fit.
Beautiful quality and perfect fit. Surpassed my expectation.
Nice quality and very soft.
Nice quality and very soft. These are a lightweight fabric, but warm and cozy.